Digital Kit Product » Goblin Robot Elastic Tension Figure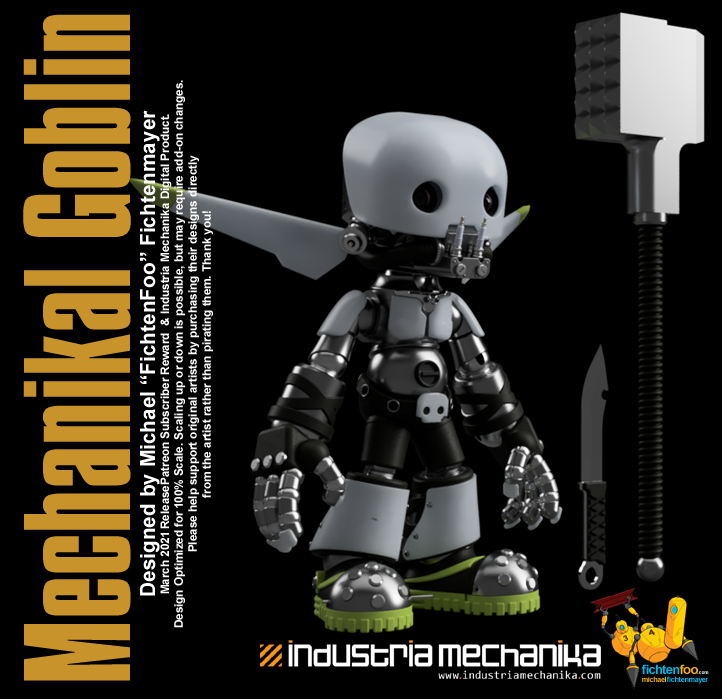 Before learning 3D design, I had created several "ball joint dolls" aka BJDs aka Elastic Tension Figures. These figures utilize elastic cord which holds all of the parts together while providing tension and friction to keep the figures posed as intended. At the time I hadn't used Fusion 360 for anything particularly organic so a small robot seemed like a good way to start doing that.
I wanted a design that was mechanical and layered while being a bit cartoonish. A mix of modern sci-fi and medieval aesthetics. But mostly I wanted it to be fun. Parts were separated as they were for articulation and ease of painting. The hand are interchangable using magnets which allows different fixed-pose hands to be used with his hammer and dagger.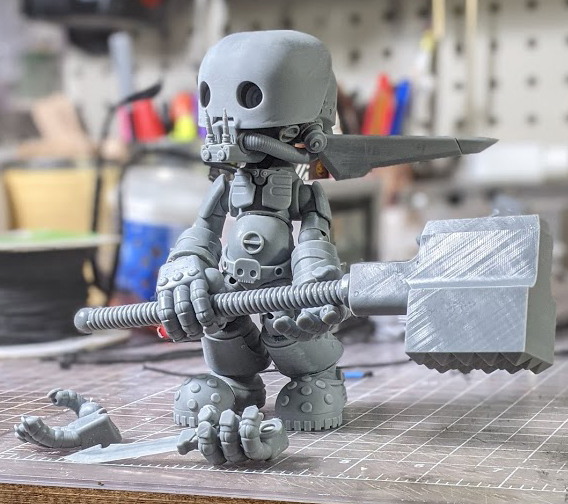 The Goblin Robot was designed as a digital kit using Autodesk Fusion 360. I did print one for myself, but have not yet painted it. This kit is 1:1 or Non-Scale but I always consider the intended scale/print-size when designing to maximize what can be done to make sure all of the details are crisp and not too thin or thick visually.
The Goblin Robot was available to my upper-tier FichtenFoo Patreon subscribers as part of my monthly digital-kit drops during March 2021. After that month, the files were added to the Industria Mechanika shop as a retail-priced digital kit product. You can purchase the digital-kit files complete with instructions and print your own Goblin Robot Elastic Tension Figure here.