The Autonomous Utility Group (AUG) Otis.M is the military version of the popular Otis.A semi-autonomous construction mecha. (That design variant only exists in my mind currently) This small piloted mech features wheeled feet and a narrow width making it perfect for rapid urban deployment.
After the release of my fully-articulated hand-made Clyde.A resin kit via Industria Mechanika, I wanted to do a follow-up design in 3D for my Patreon using the same machine screws and nuts that made the Clyde.A poseable. I learned however that even if you provide a list of where to get all of the hardware as well as where to acquire it for a good price, customers will find sourcing it on their own difficult. As a result this is the only hardware-use digital-kit I've released (besides the arms of the squid) as to avoid those issues in the future. I've since developed and released several elastic-tension (BJD) joint designs which work well and am currently working on developing kits that use rubbery polycaps, however that may cause the same sourcing issue for customers as there are not many rubbery finish resins on the market besides Siraya-Tech Tenacious.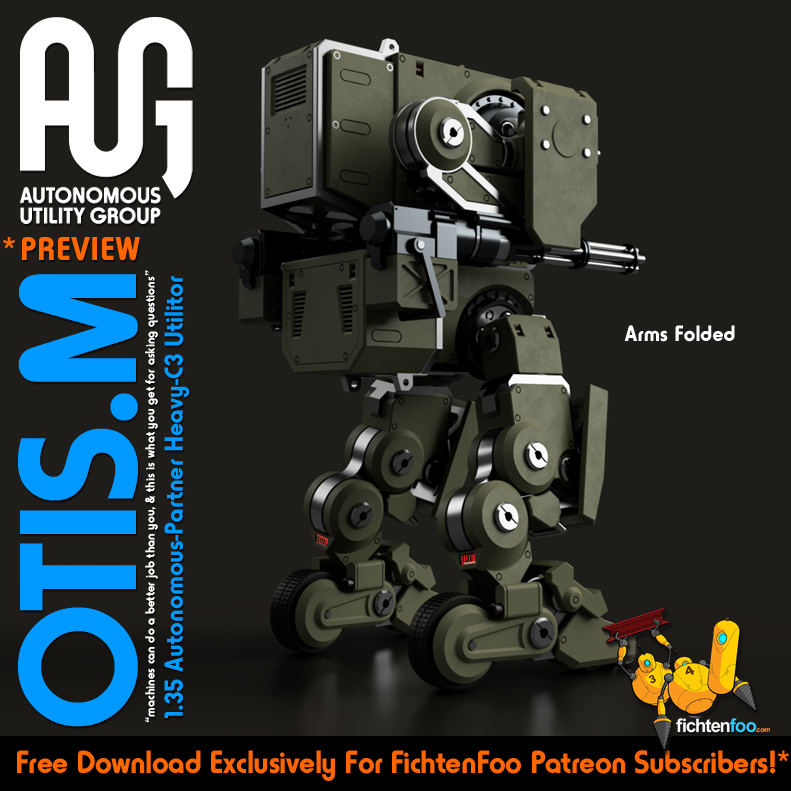 Because this design was small and my first Patreon release, I created not only the 1/35 scale version, but an articulated 1/24 scale and reduced, no-hardware gaming-scale version as well that same month in order to help gain more subscribers.
The OTIS.M was designed as a digital kit using Autodesk Fusion 360 a month after learning the software. Due to the rush of constantly designing new monthly content, I have not been able to assemble or clean the one print I've made of it. I always consider the intended scale/print-size when designing to maximize what can be done to make sure all of the details are crisp and not too thin or thick visually.
The Otis.M was available to my upper-tier FichtenFoo Patreon subscribers as part of my monthly digital-kit drops during January 2021. After that month, the files were added to the Industria Mechanika shop as a retail-priced digital kit product. You can purchase the digital-kit files complete with instructions and print your own Otis.M here.