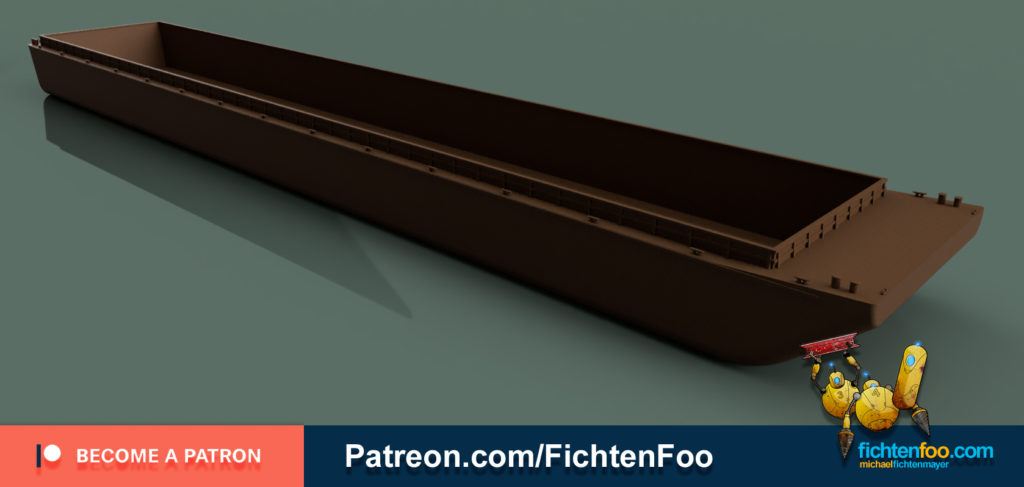 This quick digital kit design was done mostly for fun as it would be a somewhat unreasonable 5 feet long (150cm) when completed. My dad worked on these most of his life so I have a bit of a soft spot for them. And who knows? Maybe someone would do something cool with it like use the District 74 shipping-container housing sets I designed to make it into a floating city. The kit was designed to be printed in small subsections so one could make whatever length barge they wanted or just use the front of back as part of a diorama.
The Hopper Barge was designed as a digital kit using Autodesk Fusion 360. I have not been able to assemble or clean the one print I've made of it for obvious reasons. I designed and optimized this kit to be resin-printed in 1/35 scale to match my other designs in the same scale. I always consider the intended scale/print-size when designing to maximize what can be done to make sure all of the details are crisp and not too thin or thick visually.
The Hopper Barge was available to my upper-tier FichtenFoo Patreon subscribers as part of my monthly digital-kit drops during February 2021. After that month, the files were added to the Industria Mechanika shop as a retail-priced digital kit product. You can purchase the digital-kit files complete with instructions and print your own Hopper Barge here.