---
And now for something completely different. Usually my work is sci-fi and cyberpunk focused, but now and then I get the urge to so something different and see where it leads. I get to learn new techniques and see how far I've come in the 15+ years since I created this website. This latest piece… or should I say "collection of pieces" fits into that.
These creepy Mummified Egyptian Cat and Kitten dolls stemmed from a mummy doll idea I've had in the back of my head for some time now. My initial thoughts were to have a more zombie-human painted resin face mounted on a soft body similar to above, but at the time I didn't have a sewing machine or the skills to pull it off. Sure, I could stitch buttons, and do minor stitch-witch stuff to hem… and I'd had a little training waaaay back in middle school where I made a stuffed animal (a beaver which I don't remember realizing just how funny that was. Middle school me was a total spaz!) But that was long ago. The past 5 years or so however I've been refining my sewing skills, making a lot of 1/6 scale figure clothing, and while I don't think I could make actual human clothing, making dolls and figure clothes is still a fine and fun challenge.
First I sculpted the adult mummy cat face from Sculpey using glass cabochon for the eyes, making sore to have a flat back to attach to a doll body. I would have to place the eyes into the molds before pouring,  but I've done a lot of that before on my Torptiles. (They're also for sale!) After the head was baked, I got to work designing the doll body. This took 3-4 prototypes before I dialed it in, but that's normal when I design a new pattern. And now I have a good doll block pattern I can modify for other uses. The trick was getting it to sit properly and figuring out just the right amount of pellet filling.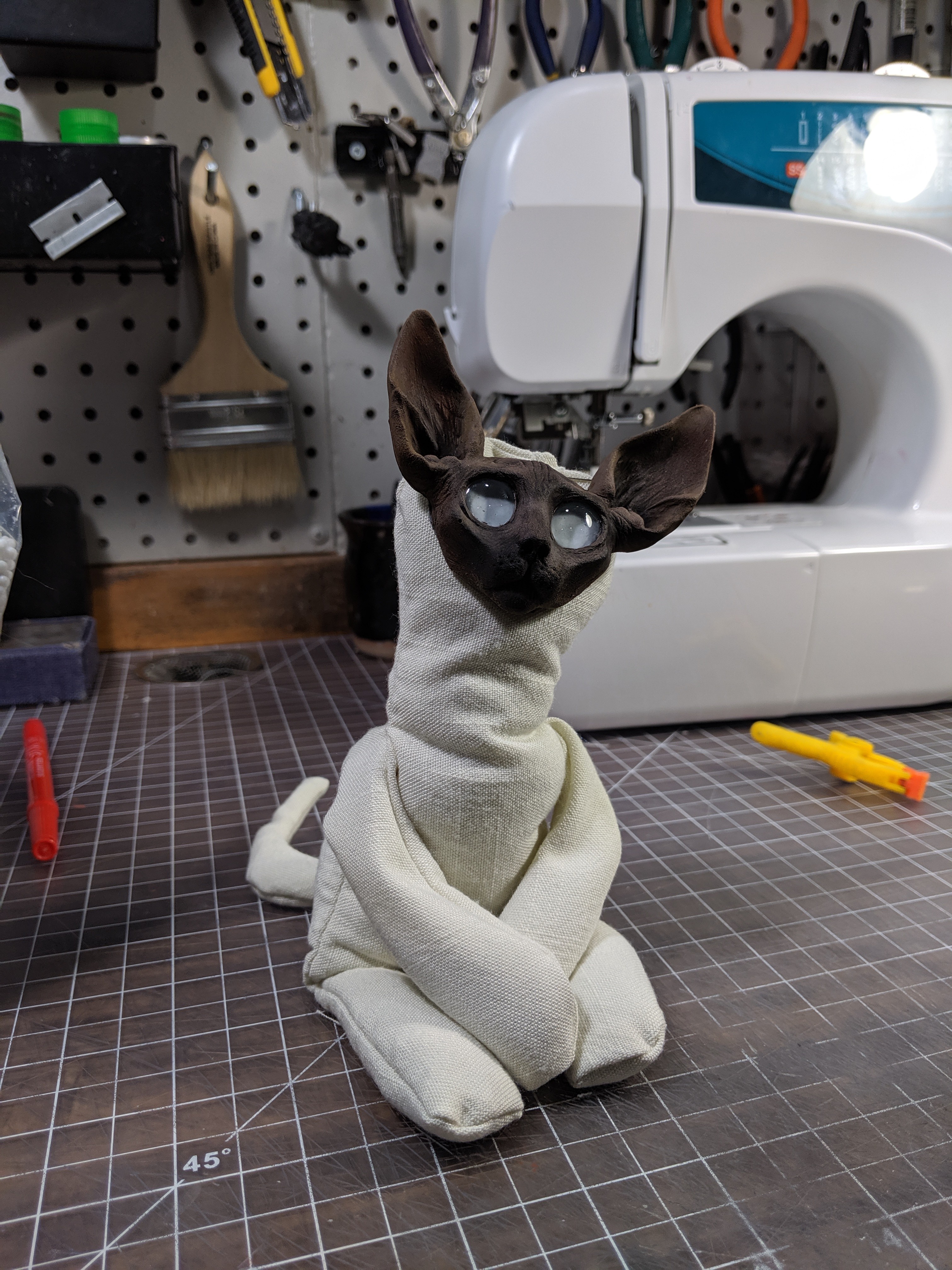 Next was casting the heads. I dusted the mold with black, rust, and sand colored pigments prior to sticking the eyes to the mold and pouring in brown tinted resin. The results are fantastic, look like actual Egyptian mummies, and there's little worry about paint scratches! I painted the back of the cabochon glass eyes prior to placing them into the molds. No pupils for this design which also made lining them up sooo much easier! The eyes have a VERY pale blue-grey pearlescent look which shifts depending on the viewing angle and light. It's a cool, creepy effect!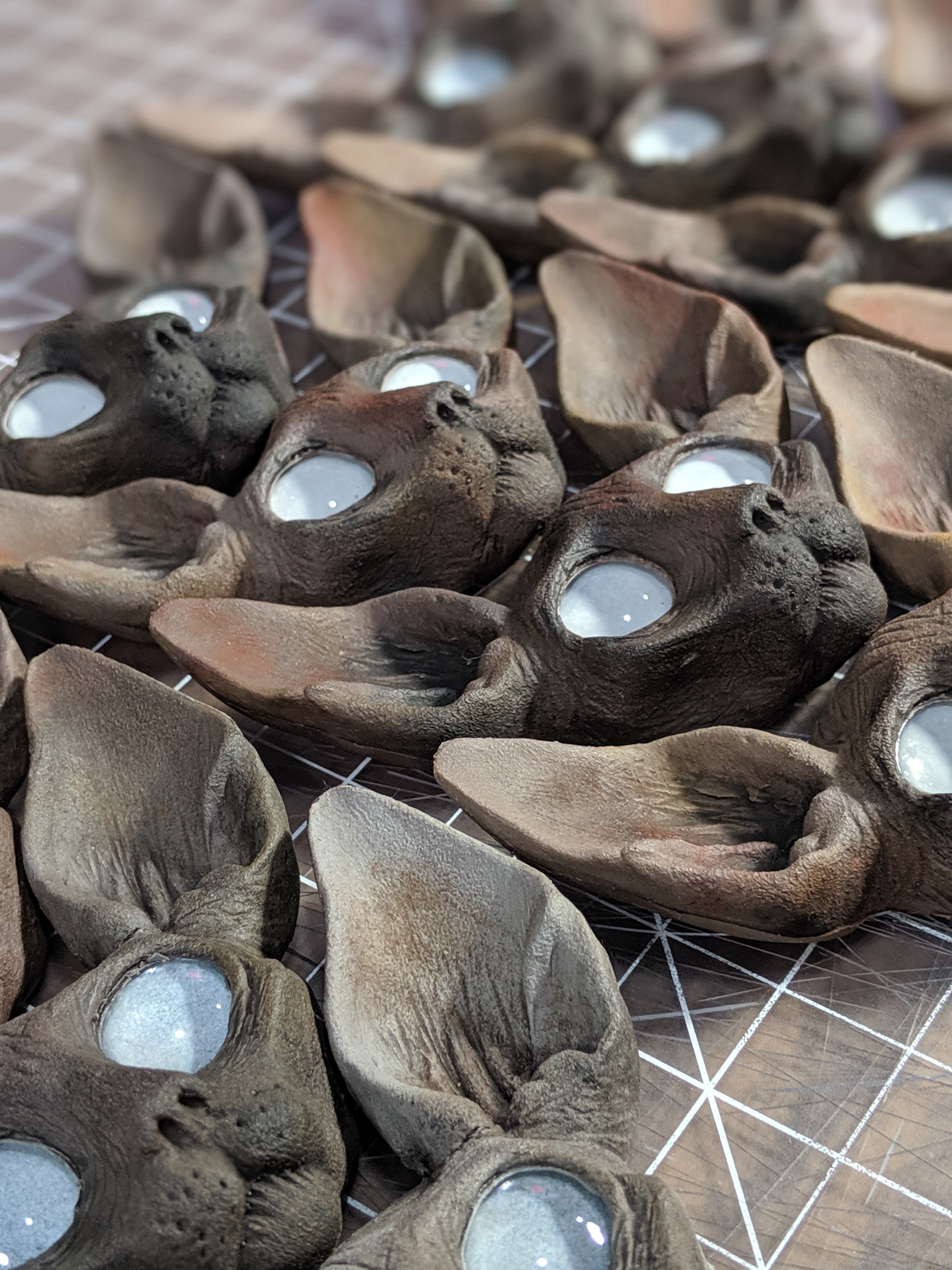 The fabric for the doll is all linen. White linen for the doll bodies, and linen printed with my own custom art/designs for the bandages and death-shrouds. Being able to design my own fabric is a game changer! It's akin to when I figured out I could design my own water-slide decals. haha! I designed the colors of the fabric designs to be dull, but also keeping in mind I would be dying them sand/camel colored and then weathering over it. Always got to keep in mind the look of the final piece.
Once the custom fabric was here, I was able to dye it the same camel/sand color, cut the bandage strips, and apply them to the bodies. Then I weathered them with washes of water and craft acrylics. They look dirty and aged, but it's all paint. A side benefit to the weathering is that it stiffened the fabric and sealed the edges of the bandages to help avoid fraying. Bonus!
Lastly I placed on the necklaces which I had made using seed beads, gold wire, and resin winged scarabs I sculpted and cast. Each one has a different design and the colors are based on actual artifacts. In all I made 12 cats and 12 kittens.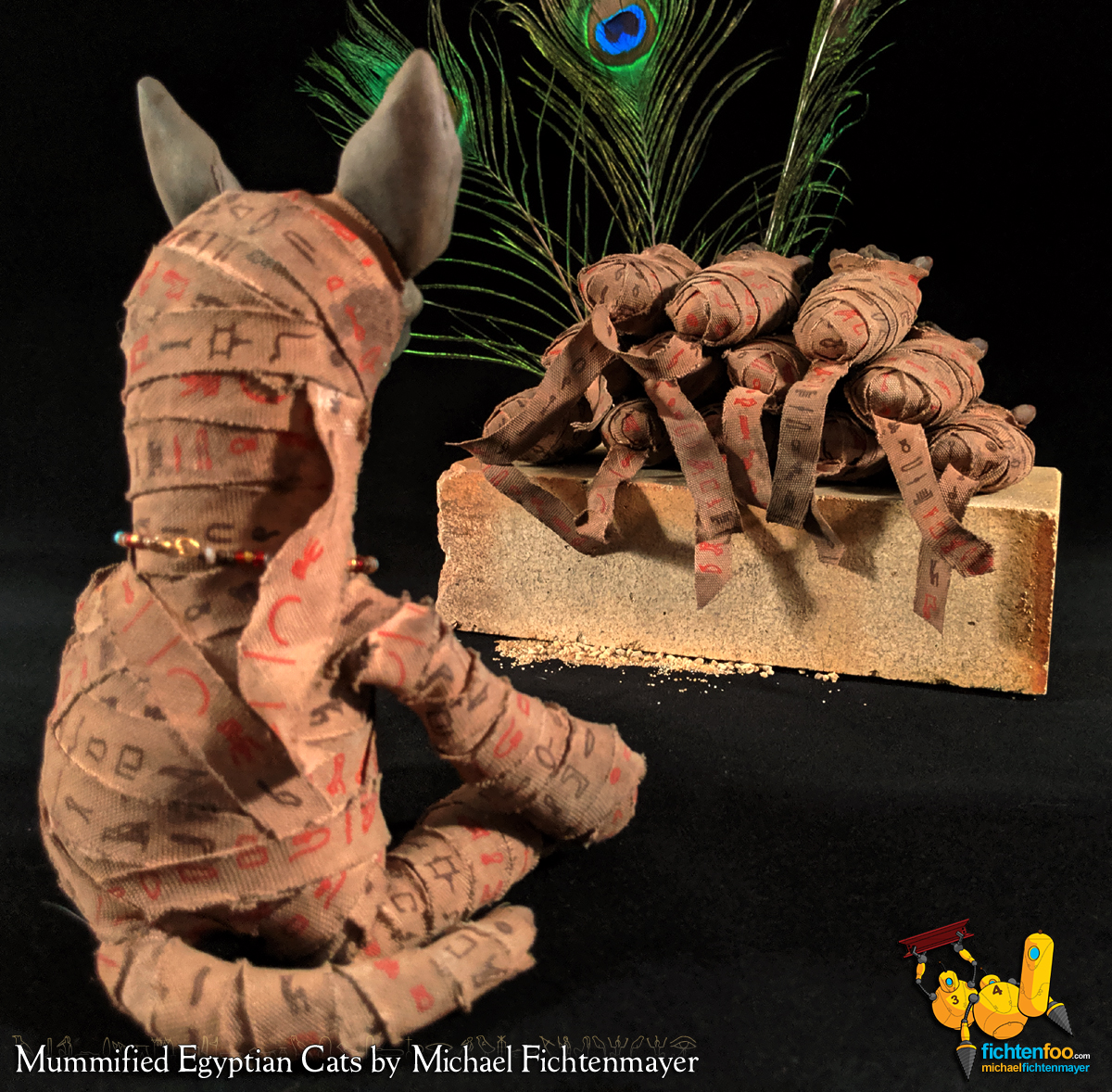 The cats will be wrapped in their death shrouds before selling them on Etsy. The customer can then unwrap the doll from the shroud and use the extra bandages and shroud as part of a display. For my photos, I purchased a trio of peacock feathers (which the servants are depicted carrying on the death shroud) and used an odd sand-colored brick which I had in my garden after cleaning off the "green". I planned to get a sandstone brick at Home Depot, but the one next to the Michael's where I got the feathers didn't sell blocks! WTaF! At least I had one. Then I spilled a little sand and buff-tone railroad ballast for effect. There's all sorts of great things one could display alongside these creepy cat dolls though. Ankhs, small kitschy Egyptian souvenirs, Other creepy dolls…! I love shadowboxes and dioramas.
The Kittens were done the same way. I planned to make them into charms and such, but when I said "kitten-sized" in my progress post, it opened a floodgate and thus the little bundles of joy were born.
---
Final Images Gallery »
Progress Images Gallery »