Digital Kit Design » FichtenFoo's Incredulous Octopus-Shaped Submersible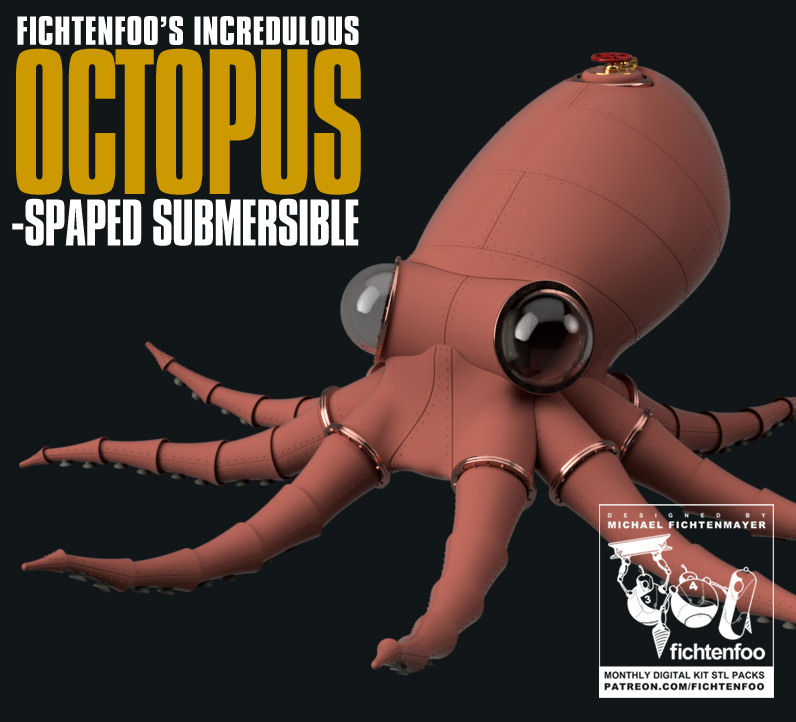 After two steampunk fish-shaped submersibles, a jelly-fish, and the squid-shaped submersible, I thought I might try my hand at finally creating an octopus-shaped submersible to go with them. My original plan from a decade ago involved turning the arms into long corkscrew propeller blades, however what looked fine in the original sketches from then and now, didn't translate well into 3D and as a printable kit.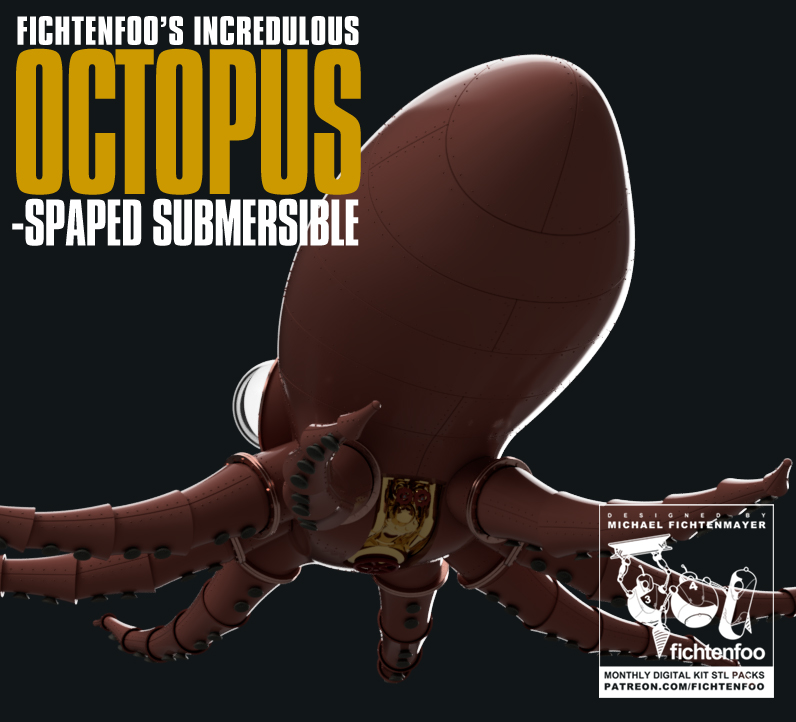 So I decided to forego any sort of propeller-based propulsion at all and let the tentacles do all the swimming instead. To allow the tentacles to be fully-articulated and bendy, I separated them into hollow segments with a sphere-shape on one side and a cut-sphere on the other to create ball-joints. By stringing elastic tightly through these segments terminating in the tip and main hull, each leg could be posed on its own. I may had gotten grief for the "stupid dolls" from some of my customers, but you don't learn new things and techniques by staying in your comfy little box. Learning about elastic tension from ball-jointed dolls has opened up a lot of articulation possibilities for mechanical resin kits instead of only organic, fleshy subjects.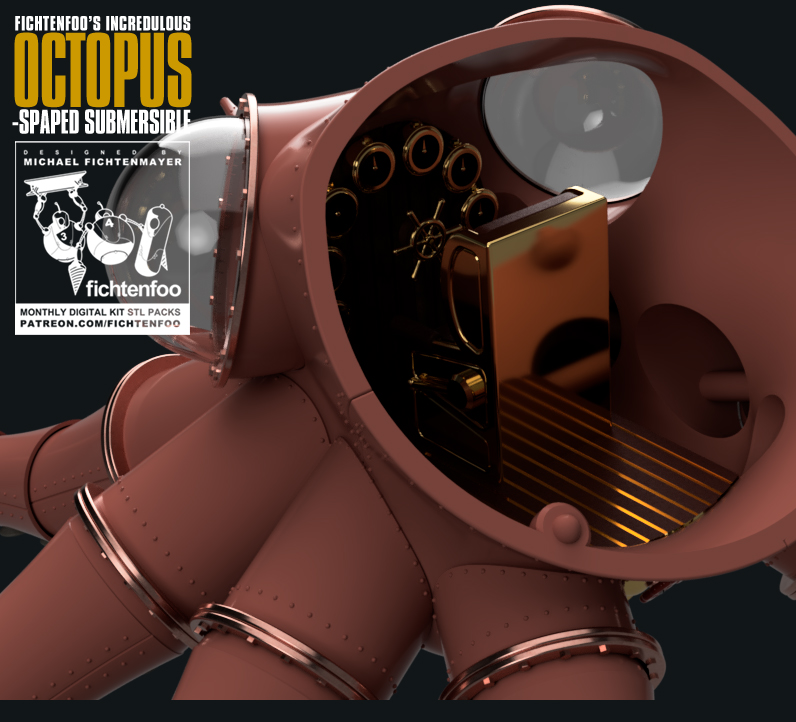 The main body of the octopus is hollow slices along natural panel-lines to allow the hull to fit into even a mini-resin printer. The front of the hull with the leg connections is a tight-fit in my Phrozen Sonic Min 4K printer, but it works! Several customers have successfully printed their own hulls.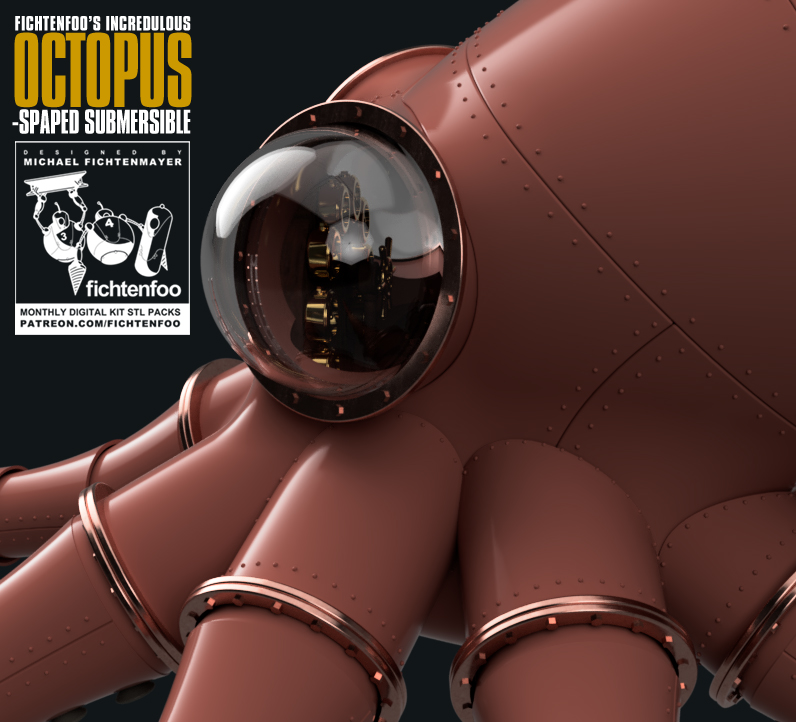 I detailed the interior with the same seat I designed for the Squid along with the same gauges. I didn't feel the need to design all new components for areas that would not be easy to see. In the rear of the hull I added a removable airlock which has a rotating tube with a door hole to seal it. I kept this part separate so that customers could utilize it in their own custom builds and dioramas.
The Octopus-Shaped Submersible was designed as a digital kit using Autodesk Fusion 360. Due to the rush of constantly designing new monthly content, I have not been able to assemble or clean the one print I've made of it, however more than a few customers have built and painted their own. I designed and optimized this kit to be resin-printed in 1/35 scale to match my other hand-sculpted Steampunk subs and ornithopters. I always consider the intended scale/print-size when designing to maximize what can be done to make sure all of the details are crisp and not too thin or thick visually.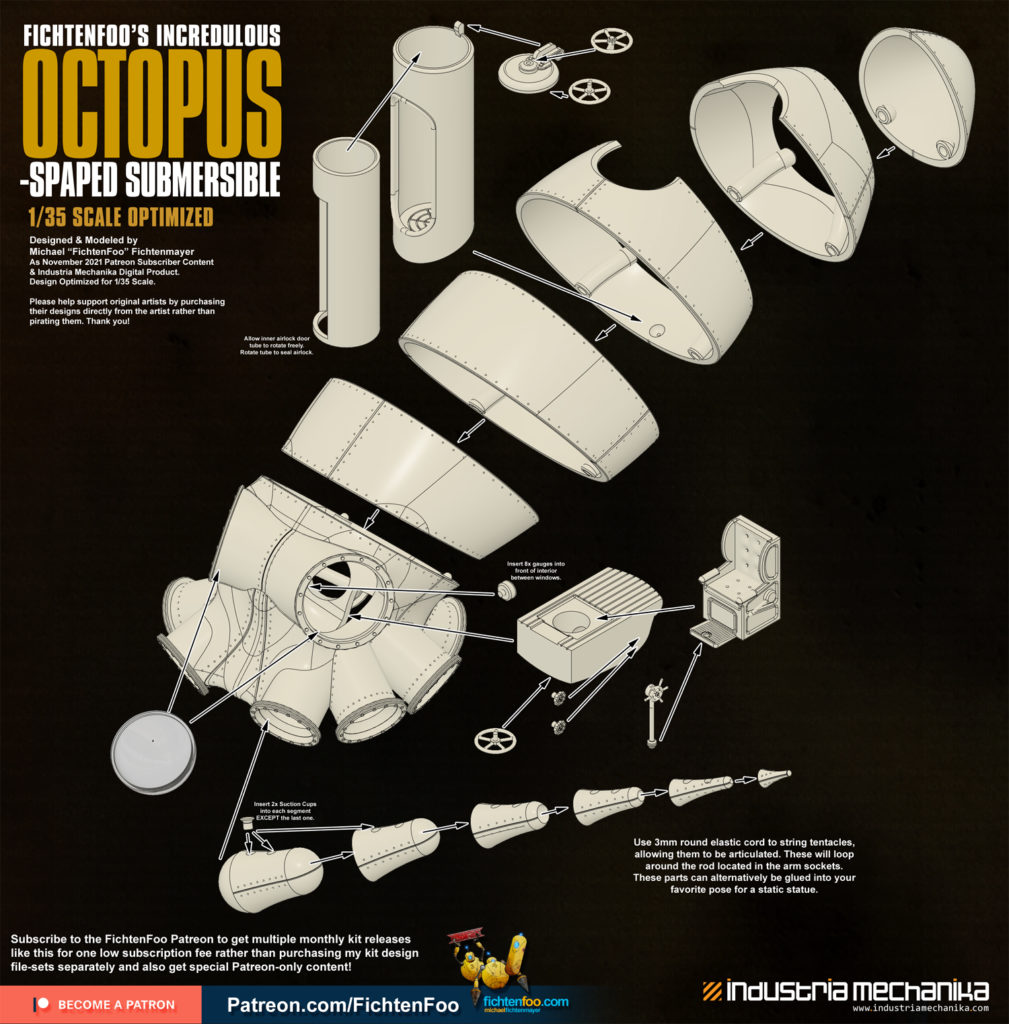 The Octopus-Shaped Submersible was available to my upper-tier FichtenFoo Patreon subscribers as part of my monthly digital-kit drops during November 2021. After that month, the files were added to the Industria Mechanika shop as a retail-priced digital kit product. You can purchase the digital-kit files complete with instructions and print your own Incredulous Octopus-Shaped Submersible here.