Completed » Scarif Patrol » 1/12 Stormtrooper Diorama
Kind of in a Star Wars kick at the moment thanks to Rogue One looking so promising. I rather liked a few stills I initially saw of a platoon of Stormtroopers wading through shallow tropical ocean water and thought "that'd be interesting to make". I already had a pair of Bandai 1/12 Stormtrooper model kits which I'd prepared for painting last year so decided to use them. Posing was done, then joints were fixed with super glue then puttied over for a more realistic look before painting.
Water was the trick and if you've been following my progress on Facebook or Instagram (but mostly Facebook) then you know all of the issues I had. I used EasyCast resin which is fantastic for small pours, but apparently for this larger pour it decided to kick in and heat up REALLY fast resulting in the feet seals breaking and bubbles being released and frozen in place. After my initial frustration and repairing of the surface which shrunk and pulled away from the edges of the acrylic photo frame I used as a container, I now think the bubbles look not too bad. It's as if the sloshing about is making their boots squish and bubble.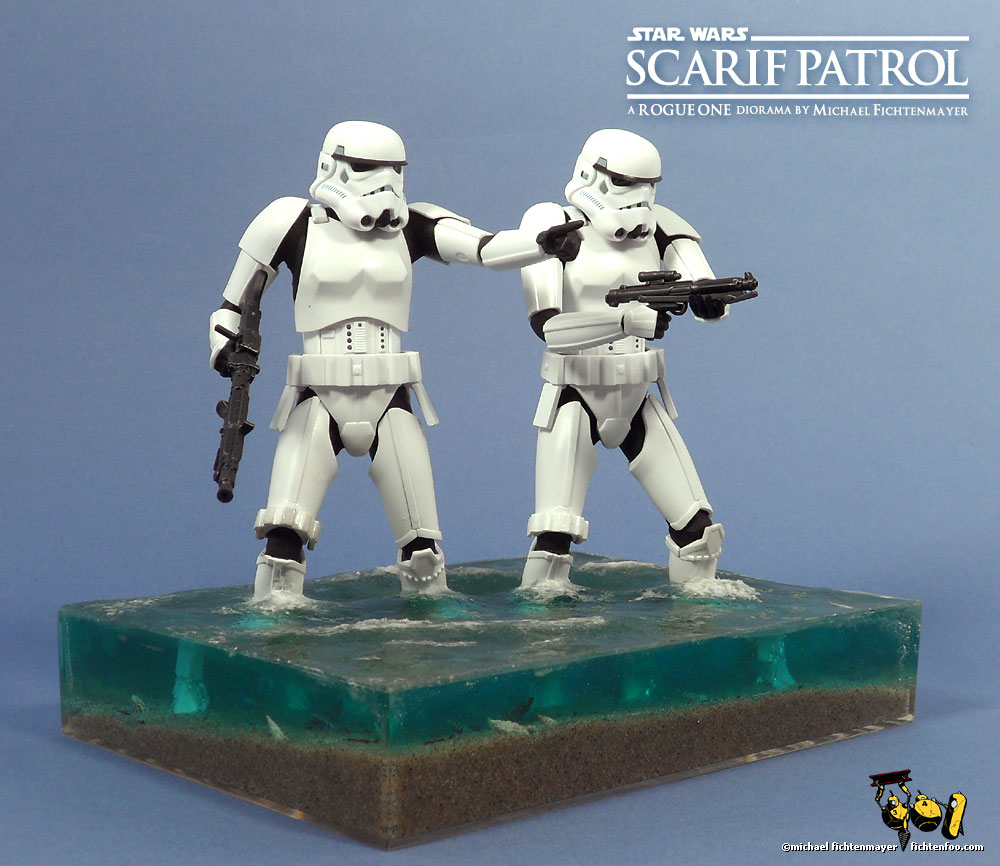 The surface is the part I'm most happy with. Two hours of pushing and stamping the slowly solidifying top layer of resin with wadded up plastic wrap as a texturing tool and Future Floor Acrylic as a sealant/lubricant worked out really well and resulted in layers of perfect fine and larger ocean ripples as well as a few smaller waves. After curing, froth and foam was applied using small bits of cotton ball mixed with microballoons and clear acrylic gloss craft paint.