Yes, yes… I'm all over the place. The Core Fighter is coming along, but I find myself going back and forth between projects more and more. (I'm also scratchbuilding a 1/20 scale diner with full interior, but see my facebook fan page for that info) The past few weeks I've been working on the 1/12 Chubu Mechatrobot. I wanted this thing as soon as I saw it, but it took me quite a while to locate a shop in Japan willing to sell one outside of Japan. Thanks to Walter for the tip! I am a sucker for good, realistic mecha designs from the 1950's.
I had sculpted a few mechanics for this piece as I'll be doing a garage/workshop diorama. Yeah, I know… workshop/hangars are a dime a dozen and about overdone, but it gives me an excuse to play with many aspects of modeling I enjoy such as lighting and scratchbuilding. And hopefully I'll do something inspiring and different from all the other garage dios out there. Hopefully!
The kit itself is very nicely done. Only a few issues such as placement of mold-lines, but overcome simply enough. The parts that gave me the most trouble were the white metal parts. Unfortunately they're not as clean as one would like. I polished them up to a beautiful chrome sheen, but they were too pitted to work. So I had to use some putty and filler primer then paint them. I also rebuilt my own control sticks, knobs and foot-rests. The sticks and foot-rests were made using MechaSkunk's brass knurled tube. Cool stuff really!
I went with a pale yellow to do something different from the blues and greens, but still have that old car paint look. I used the hairspray technique to do the paint chips on the yellow. The internals were painted with a Tamiya Dark gray, then sponged over with water-thinned sea gray. Then a few thick dark filters were applied to blend them in, followed by some discoloration and rubbed with powdered graphite for the metal sheen. The sponging gives it a nice worn metal look.
I had some photoetch made for the 1/12 scale tools I need, so I added a few Chubu emblems to the fret as well since the kit had no emblem decals. The red/chrome adds a nice pop as a "car" emblem should. I also made a photoetch "1958 MECHA PA" license plate to use. Looks great and adds something different from the resin/sticker Japanese plate the kit came with.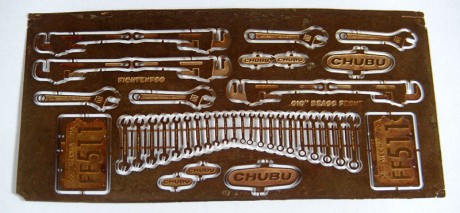 Anyway, I've a ways to go yet with more weathering, dusting and rusting to be done. I want it to have a used, somewhat worn look to it. More soon!
Oh, and for more on the Chubu, check out the creators blog here. MODERHYTHM