Posts Tagged 'Core Fighter' »
So far so good. Applied the decals that came with the kit for the G3 version, but made my scheme more of a Jolly Roger variant.  Then added a flat coat and did my typical spacecraft weathering. (See Millenium Falcon YouTube Vids)Metals done with Alclad II lacquers. Skull decals leftover from Macross Zero kits.
Just one image today… busy busy busy… and sunburned. Sick of yardwork and it's not even May.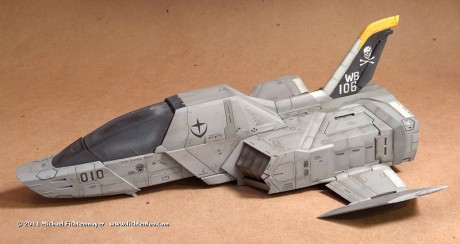 Okay, I couldn't resist. I got my UC Hardgraph Core Fighter kits (one for me and a future one for a client) and had to start one immediately while waiting for oil paint to dry. It's a great kit… lots of detail, nice-sized, potential. I decided to do a low-vis type scheme which evolved into a Jolly Rogers type since I have plenty of leftover Macross Skull decals.
First things first though was painting the cockpit so that I could close it up and paint the exterior. It went together very easily and the clear insert part for the gauges on the center instrument panel allows for lighting the display. This requires removing the inside of the housing part, but a Dremmel tool makes short work of that. I painted the inside of the housing with silver and inserted a 3mm white LED into the bottom of the part via a drilled hole. Clear tamiya colors on the back of the clear (smoke) part colors the gauges when back-lit. Otherwise a white reverse wash makes some nice lines appear on the gauges. I tried the included instrument panel decals, but did not like them. It just looks better with some hand-painting and matches my teal Hind copter interior scheme.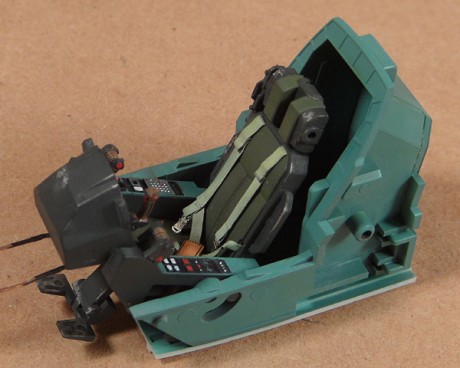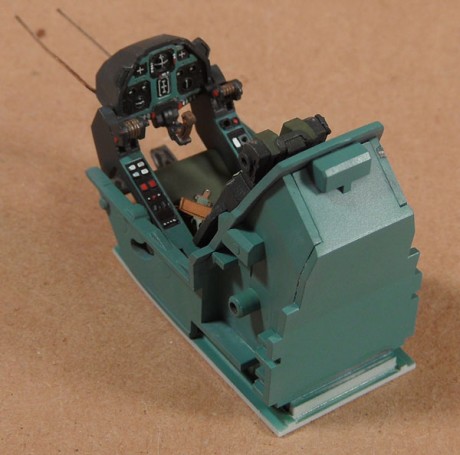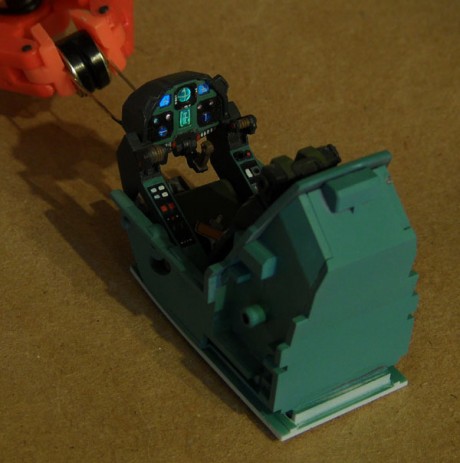 The exterior was painted primarily in Tamiya XF-19 Sky Grey. German Grey, "Falcon White" (leftover custom Tamiya mix for Star Wars kits), And a custom "gold and medium warm gray were also used. Alclad II Lacquers were used for the vents and jets.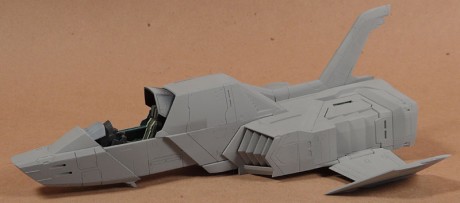 I'm still planning the display base/diorama, but I picked up a couple 1/32 scale (close enough to 1/35 really) aircraft equipment kits. One is a "Modern Navy Flight Deck Tow Tractor" from Special Ops Models (get it here) and the other is a 1950′s era Ground Power Unit from Squadron Products, also in 1/32.
Also could really use some more of the Flight Crew figure that came with the Core Fighter kit. If anyone doesn't mind parting with theirs, let me know!