In Progress » Adrian Smith's Frankenstein by Industria Mechanika » Sprue and Paper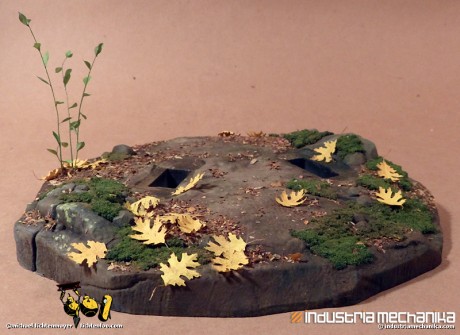 It's amazing what you can do with some old green sprue and paper scraps. I'm waiting on some laser-cut plants to finish this up, but meanwhile I've been making some saplings and such. For these I first stretches some green sprue over a flame, then used the portions near the ends with the thicker base. I crinkled the sprue a bit because nature abhors a straight line. I used leaves that I cut using wavy design scissors then sponge-painted with acrylics.
I painted the stems with a sponge using the same green as the leaves all over, then using brown near the bottom to simulate a woody stalk. I glued the leaves to the stalks with a mixture of white glue and the leaf-green paint. I also dabbed this on in spots to simulate buds.
Next up will be the laser-cut plants once they arrive.