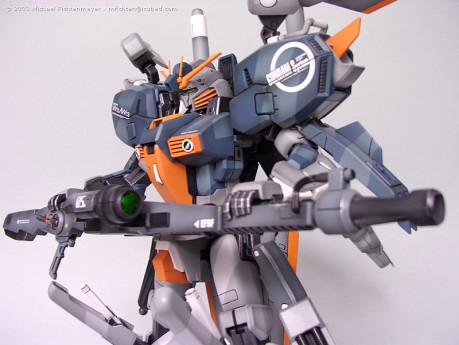 About the Build »
This was the second kit that I recieved for Christmas. Thanks Rachel! This kit took me almost a month to complete. I decided to stray from the "normal" color scheme for this kit. I'm glad that I did because I love the final results! Unfortunatly, this kit will never be transformed. Transforming it will scrape up my paint job and it's just not worth it.
For those of you out there who are considering this kit, I highly recommend it. It's a very challenging kit and has a ton of parts. The photos released by Bandai do not do this kit justice. They're taken at an odd perspective and make the kit look out of proportion. The head could be a bit smaller, but it really doesn't bother me.
Size wise, this kit is actually bigger than my MG FAZZ by about an inch.. It's heavy too! The extra core fighter system is cool too. The dry transfers had a clear backing to them to make the really small text transfer easier. No more missing letters!
I love the legs. I have it standing on my shelf for now until I build a stand, but lemme tell you, this kit stands VERY well. Bandai did something different with the legs on this kit. There are no ball joints. Right above the knees, the leg swivels left-right. The hip joints are solid. Overall, the new additions to the legs make this kit very sturdy and give it the ability to stand in a wide-leg stance.
Anyway, this is a great kit. Check out the images and see for yourself.