Posts Tagged 'Orb Ship' »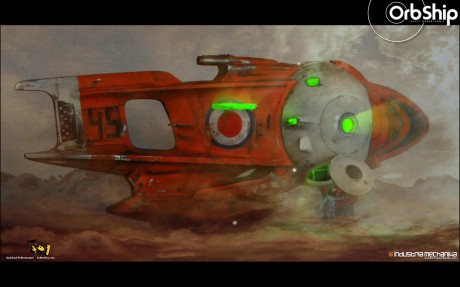 And she's done! I had a good time building this up, even though I had to put it on hold for months due to work commitments. The final photoshop wallpaper was especially fun. I used one of the dark photos to create it. The batteries are in and the lights are on in all of these images. I didn't want the windows to be overkill-glowing light spotlights, so I only used two bulbs inside of the ship (which is hollow by design!) and painted the insides with a reflective metal spraypaint.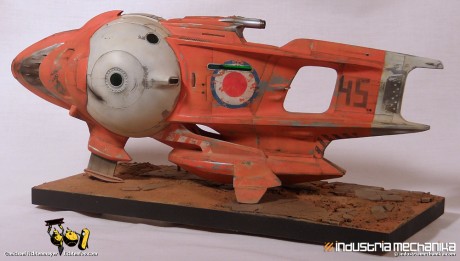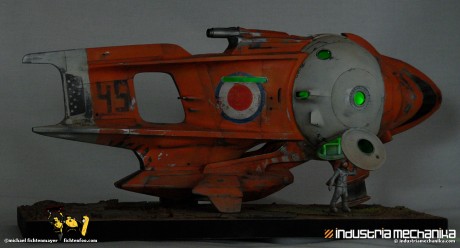 Nothing on the Orb Ship today since it's still drying. I want to make sure that the panel discoloration is completely cured before moving on to streaks. This gave me a good chance to start and finish the Martian base though. Lots of steps here I think so bear with me. Let's start at the beginning though and show the plaster/celluclay base I started with.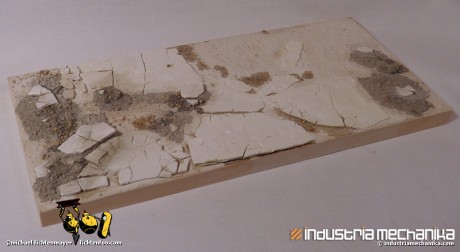 Next I sprayed the entire piece with flat black cheap-o spray paint. I noticed that parts where I used superglue (the darker spots on the above starter image) were remaining glossy while the "unsealed" plaster and celluclay was sucking up paint like a fiend, so I let it dry completely, masked the sidewalls with blue tape then brushed on a layer of Future Floor Acrylic to seal it.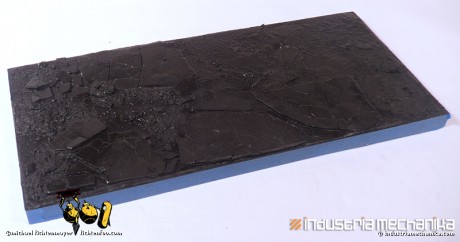 Next I drybrushed on some craft acrylics (Apple Barrel, Americana, etc…). I started with a warm dirt color as shown.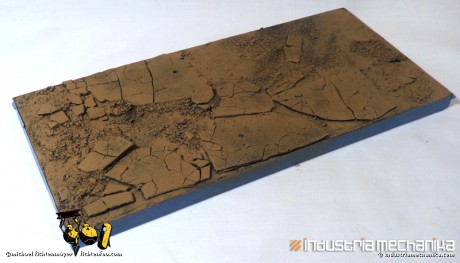 I did several more layers of drybrushing moving to a more yellow-orange dirt color. Then I made a wash of that color and applied it to the entire base, using a sponge to even out the brush-strokes. This got the sandy coloring into the crevases and mottled the paint so it wasn't so even. Then I used gray and black paint to pick out the slate and piles of rocks. When dry I did one more layer of the yellow-orange dirt color.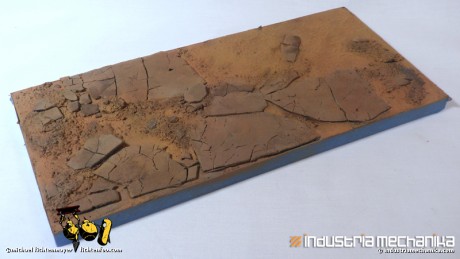 Next was meant to be the final step, but it didn't look right… I mixed some Martian colored pigments (Mostly MIG African Earth as their  "Martian Dust" pigment is too… red) with alcohol and put the mixture in my sonic cleaner to thoroughly mix it and keep it from settling while I airbrushed small amounts of it over the surface. The end result obscured the rocks too much I think and was too orange as compared to the reference.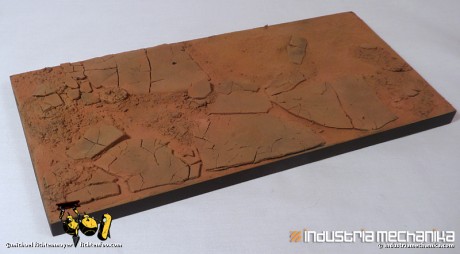 I went back and picked out the rocks more, mixed some European Dust and Beach Sand pigments into the mix and resprayed again, this time not as heavily. The result was much better, but the rocks looked too uniform still.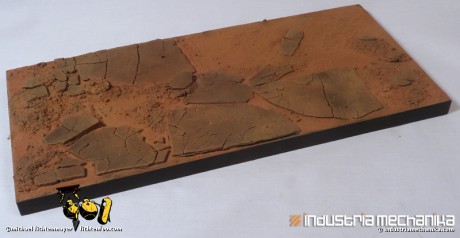 Lastly I went back and applied some light washes to some of the rocks to highlight them. I then sponged over them with some of the pigment wash thinned further with water. The end result is more like what I wanted… got a nice rich red-brown base with lots of variations in the tones so it's not all one color and bland.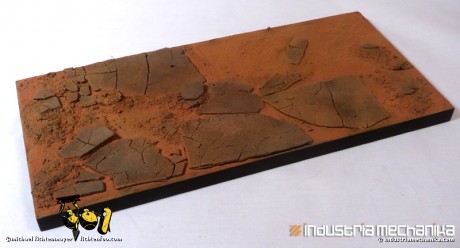 The photos are making it look more orange than it really is, but I'm happy with the result.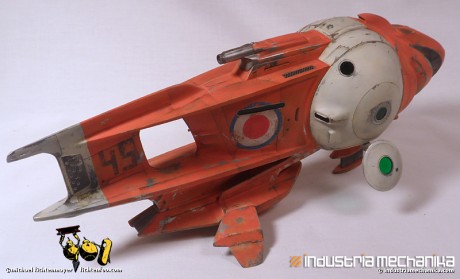 Moving right along… next up was filters, discoloration, and then panel shading. I went over all of these techniques in my Millennium Falcon youtube videos, so no point in re-describing it when you can check them out.

Here's the results: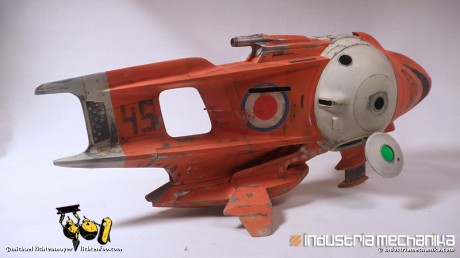 I also started work on the base. Tom Grossman of Tag Team Hobbies (one of my Industria Mechanika dealers) shared this cool image of the Mars Rover on Mars and since I'm a sucker for most things Martian in nature, I saved the image and decided to use it as reference for this base.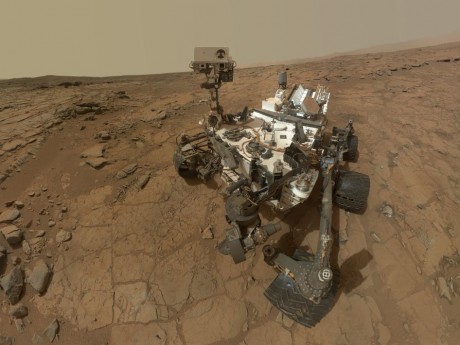 I started off with a 12 inch by 5 inch piece of MDF, then added thin basswood around the edge to make it look nicer. On the top I poured plaster and smoothed it over the surface. While wet I put thin sheets of plaster I had saved in my "terrain bin" onto it and sprinkled railroad talus. onto the surface for the loose rock.
When the base plaster layer was starting to set-up I shattered the plaster sheets with the back of a screwdriver handle and wet-sponged the smooth portions to give it some texture. When cured I took a stiff toothbrush and "eroded" the plaster sheets. Finally, I applied some Celluclay mixed with more talus and plaster sheet to the base for some higher terrain portions. Next for the base is primer.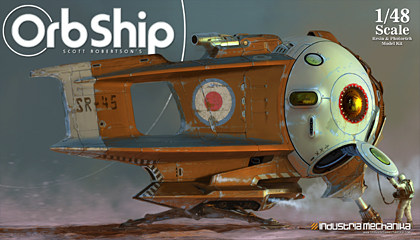 Almost 4 months later, but I'm back on this! In case you don't recall, this is the Industria Mechanika release of Scott Robertson's Orb Ship. The kit's 2nd edition is coming up so click here to get on the notification list.
After the bare metal base coat which was covered in a layer of gloss Future Floor Acrylic, I sprayed the entire kit with hairspray. When the hairspray dried I painted the entire kit white, let it dry a few minutes, then masked off what I wanted to keep white. What was left I sprayed orange, then removed the masking.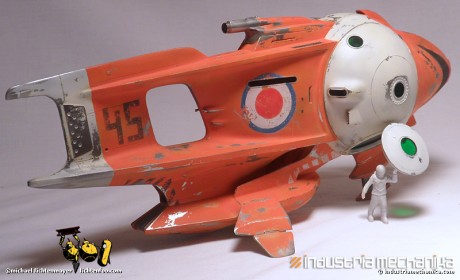 Next I used a wet brush and plastic/wood tools to chip away at the orange and white paint revealing the natural metal underneath. Then done I did more masking for the caution stripes, numbers, and the symbol on the side of the ship. Before painting however, I applies a little liquid mask with a sponge. That way I could easily rub away the mask making the new marking chipped with the base orange color showing through.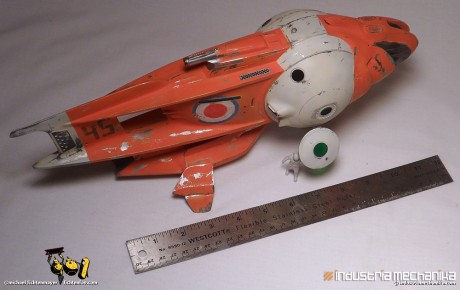 That's it for this update. Next I'll start applying filters and other discoloration steps. I took this last image with a 12 inch/30cm ruler to again give you an idea of the size of this ship. HUGE!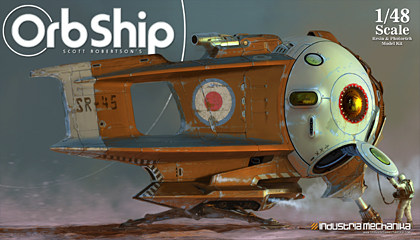 Hi all! I'm back again with another of my Industria Mechanika releases. For this project we teamed up with the famous Scott Robertson to create a model kit of his "Orb Ship" from the sci-fi art book BLAST. Let me start off by saying, that this kit is HUGE! It's about 4.5″ wide x 14″ long. There is 4 large resin parts with a bunch of smaller parts, photoetch, and laser-cut windows to complete the kit.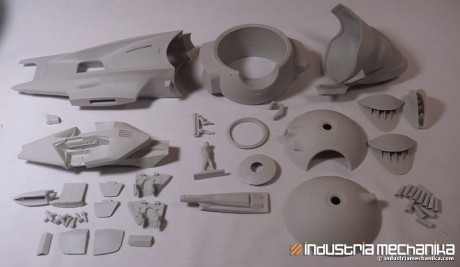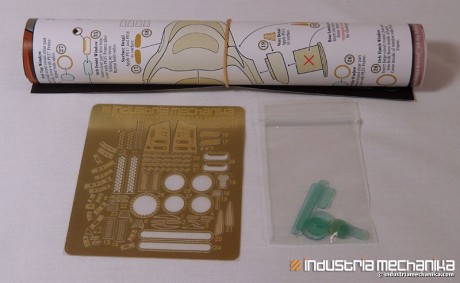 For this build I'm painting the kit like the box art for promotional purposes. So Orange, White and metallic chipping. To start off I constructed the kit and masked the windows with liquid mask. The kit goes together quite nicely and the laser-cut windows with photoetch frames are awesome and make those slight gaps which would otherwise be between the "glass" and resin disappear. (not that there's a gap with the accurate laser-cutting, but it still looks much better!) I also lit the interior which has a LOT of space for wiring/batteries.
When ready I primed it with dark gray Duplicolor primer.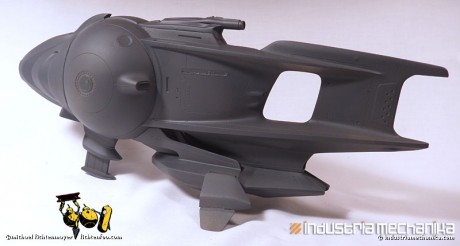 Afterwards I did my base chipping color. Normally I'd use a rust/gray tone for this, but since it's a space ship I'm making the chips be more metallic aluminum. For this I used Alclad II Aluminum and Jet Exhaust.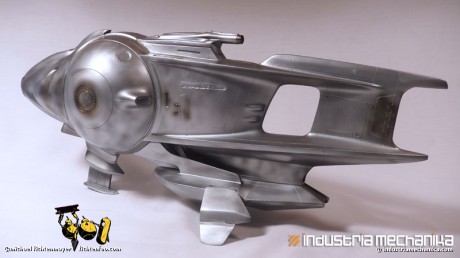 Next up, hairspray chipping!