Posts Tagged 'Dustbuster' »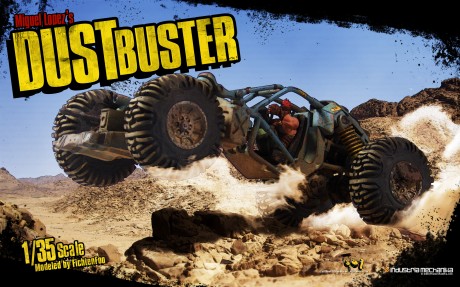 And another one done! This time it's the Dustbuster, conceptualized by Miguel Lopez, 3D modeled by Nate Clowar and produced by Industria Mechanika. This kit is beautifully, near flawlessly in fact, cast with 60+ parts, Driver, and photoetch!
*Discounted price until 3.18.2013 while supplies last!
Been working on this off and on the past week… mostly off though. Luckily though, the techniques I use for the dusting, mud and weathering are fairly simple. I started off with a filter then some discoloration with oils. (see my Millenium Falcon video tutorials for details)  That gives the paint a nice aged look.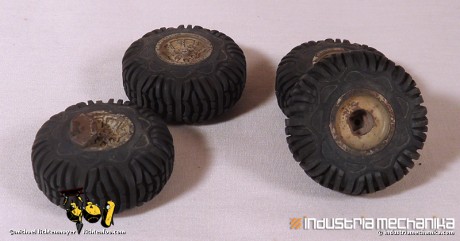 Next I sprayed a thin mist of AK-Interactive's "Earth Effects" over all of the parts, focusing on where dust and dirt would accumulate. Over this I sprayed the "Africa Dust Effects" which is a lighter dustier tone. I then used a odorless turpenoid dampened "deer-foot" shaped brush and stippled (dabbed repeatedly) the surface to mottle and blend the dust layers. I prefer this to using pigment powders to do the general dustings as you don't have to worry so much about fingerprints later.
Next I mixed up some pigments to match the groundwork with some plaster, Earth and Africa Dust Effects and a little of AK's Odorless Mineral Spirits with an old brush. I used air-only from my airbrush to spatter this thin muddy mixture onto the underside and sides of the Dustbuster chassis.
Finally over the weathering I rubbed some "Steel" pigments (powdered graphite/pencil "lead")  on my fingers and onto some of the worn raised edges.
The last thing I need to do with the tires is brush on some thinned pigments onto the tread-edges that would contact the ground. Fairly quick and simple step.
Just for reference, here's a 1/35 scale figure, a real 1/35 trumpeter AFV wheel, a 1/35 German wheel, and the massive Dustbuster wheel which is also 1/35 scale.
Also worked on the base. I filled the box with dense pink insulation foam, then layered on a mix of plaster and railroad grits. I waited for it to start setting up and started sponging it for added texture. The large rocks are plaster from some WS rock molds I have. I don't have a pic, but over this I painted it a base sandy-dirt color, then using the same mud/pigment mixture as above for the spattering, I applied it with a stiff brush. The wires are to make the Dustbuster attach to the base on only it's two rear tires to give the impression that it's jumping.
Next up on my ever expanding paint-queue is the 1/35 scale Miguel Lopez/Nate Clowar Dustbuster produced by my kit production company: Industria Mechanika. I'll start this off with a video showing off the casting and my sample build-up with I've started painting last night.
Since I had to glue many of the parts together for the video, I thought I'd made painting more difficult for myself, but the reality was better than expected and it went very smoothly. In fact I've done everything you see below in a 24 hour period.
I started off by priming the parts (except the figure) in Dark Gray Duplicolor primer. I then sprayed them with Dark gray Tamiya Acrylic then mottled over that a custom rust-colored mix of Tamiya. Over that I sprayed a flat coat of Future and let that cure.
I let that cure overnight and then sprayed the parts with Hairspray, sprinkled with salt, and then airbrushed on the blue custom Tamiya mix (or white for the tires) top-coat. After 10 minutes or so I began to chip away the blue paint with a brush and water. Below are the results.
Also I get the impression that those of you who don't have the kit think it might be tiny. I think it's pretty nice-sized really. Larger than a CD.
After chipping away the top-coat, I went back and hand-painted the engine (under the blue roll-cage frame) and other details. This was the part I thought would be difficult, but it went quite smoothly. I just used thin paint and a long thin brush. I masked the hub-caps with Parafilm M and sprayed the tires black. I still need to properly attach the photoetch mesh "windshield".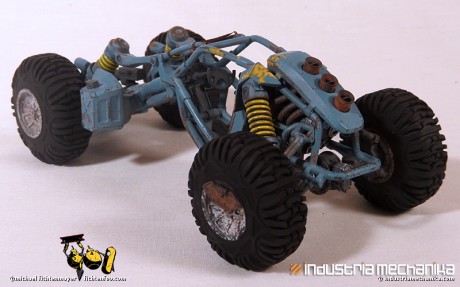 Next up I will do some filters and discoloration. I'm really looking forward to adding the mud and dust!
I'm also painting the figure. I started off with spraying a thin dark-tanned flesh mix over a white base-coat.
Over that I brushed a lighter flesh tone of oils over the raised spots of flesh and blended them into the base coat. Added a little bit of wash to the edges/recesses and some red to the lips, cheeks and ears. I'll do this one more time when this coat is dry to further highlighting. He's got a lot of details so I'll have a lot to paint. Also VERY TINY!!!!!
And lastly, I started work on the base. This is a simple cheap wooden jewelery box I picked up at Michael's Crafts. I use these a lot and they come in different sizes. I carved this one with a utility knife and will fill the inside with foam before a layer of plaster and celluclay. The Dustbuster will be on two-wheels only on the base so that it appears to be jumping over the hill.