In Progress » Remora Pair » Remora Paint-ups » Part 3
First up: You can preorder the 2nd Edition of this Remora kit now at Industria Mechanika!
Finally I have a chance to continue with the progress posts. First up was the rusty streaks. For these I used the AK-Interactive rust streaks, light rust and their white spirits. I also used a small flat brush and my airbrush. I misted on a VERY light coat of the Rust Streaks, then Light Rust Wash onto the hull sides and let dry a few minutes. Then I took a brush dampened with thinner and streaked the enamel product um and down creating the rust streaks. This stuff works great! Below is a few examples and a before/after.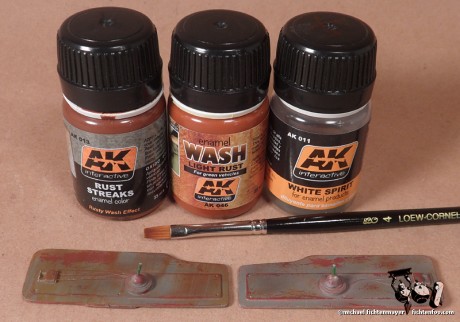 You can simply paint streaks on with a thin brush, then blend them in with the thinner and flat brush, but the airbrush method gives you a heavier effect.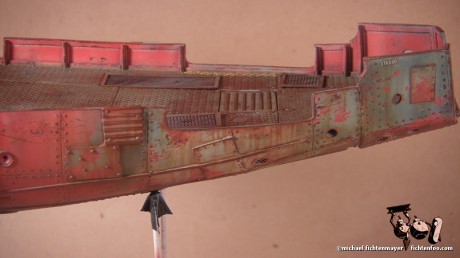 For the engines… What I did was paint them in dark gray, then hairspray, then a lighter gray-khaki color. Then I chipped the hell out of it with a toothbrush and water revealing the dark gray. Then I rubbed it with my finger in some of the AK-Interactive steel powder (graphite will work too). Then I did something similar to the discoloration technique, but with thicker globs of black and blue and worked that in. It removes and spreads around some of the steel powder giving it all a nice faint metal look. Then I drybrushed some gold, metallic blue, then metallic purple around the nose cones.
I used some of the optional dot-plate from the PE fret to make a rounded engine cover. I also used some of the leftover wire on the engines to greeblie it up.
Lastly for this update, here's a few shots of the Red Remora with some cargo and the rigging of the crane done. Currently I'm in the process of adding bird poop and other rigging and will show those off with the final images.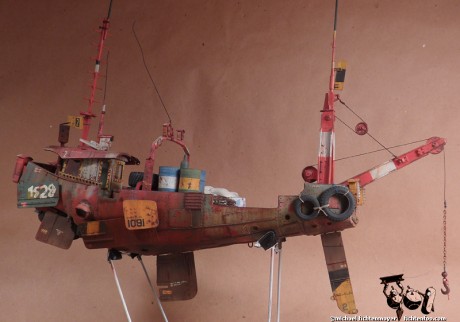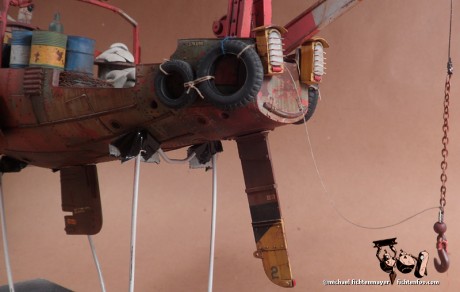 Adding some chain and a bead to the end of the crane/hook helps weigh down the cable, keeping it straight.