In Progress » Hoth Diorama » Tauntaun Running
So I'm near the final stages of the Snowspeeder painting and am waiting for oils to cure before my final flat coat and pigment applications. This is the perfect time to bust out the sculpey and start on some more Hoth diorama figures.  Next up is a 1/48 scale Tauntaun. I downloaded a bunch of reference pics and using the riders as a size reference figured out how big it'd be in 1/48 scale.  I was shocked to find out it would be smaller than I thought it'd be. That makes it a little more difficult to sculpt in details, but no matter… it needs done!
All of the pics show these guys with their tails on the ground when moving. That seems odd to me given what's known about dinosaur movement these days. (probably a necessary evil on the part of the model makers to get it to move neatly) Since they have the same basic shape I decided I would modify the pose a bit to show it running a little harder than seen before in the film with the tail in the air.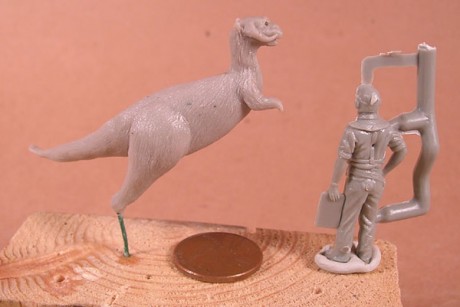 I started out with a wire armature and bulked the chest area up with a small ball of foil and then covered that in some wire mesh. Over that I started applying sculpey to get the basic shape down. I started by sculpting and detailing the head since that would be the hardest part. I figured I could hold the body if necessary for extra support while sculpting. Glad I did! After that I started applying the rest of the shape and arms.
I think this is as far as I can go for now before I need to bake it to add more details and the other leg. The leg will need to be removable for casting. I'll also sculpt the saddle and straps then. After another bake I'll do the rider and it'll be ready to go!
EDIT: Couldn't resist so I added the saddle. You can also see the start of the left leg and where it will be cut off.