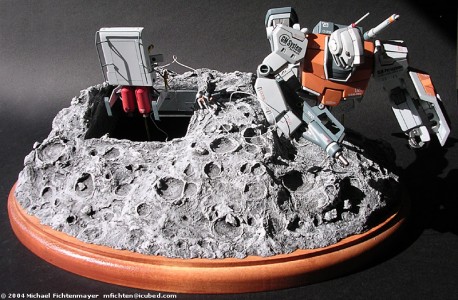 Story »
The battle was fierce, but in the
end, retreat was the only option. A quartet of
GMs from the Persephone, a Salamis Class Medium
Cruiser, was dispatched to the asteroid base to
assist the escaping personnel, but they too became
victims of the Zeon's relentless assault.
The pilot of unit 02 barely managed
to survive the large caliber fire sustained by
his mobile suit. The damage was enough to disable
the GM, but thankfully not enough to cause an
explosion. Having popped his hatch, he made way
to a nearby shuttle escaping from the base.
About the Diorama »
This was the first diorama that
I've ever completed. Yay for me! I have several
still waiting for me to get back to them. As I
do with every kit, I tried some new techniques
and learned a thing or two while refining skills
that I've learned from previous kits. A few of
the new techniques for me on this kit are using
and controlling celluclay for the asteroid and
wiring LEDs using a 4060 CMOS chip to control
the blinking rate. The wiring I learned from an
article
at the Starship
Modeler website.
I also learned to mix enough "hardener"
into my 5 minute epoxy. Originally the GM was
to float upon 1 brass tube. However, either due
to the epoxy not having enough "hardener"
or the weight of the kit, the bond didn't hold
and the GM rolled to the side. Another small brass
rod was added to stabilize the GM.
The only kit used in this diorama
was the Master Grade GM Type C. It's the same
kit that I used for the Cloud 09. I damaged the
shield and rear torso and made the left leg appear
to be blown off. Inside these damaged areas I
added flashing yellow LEDs to simulate sparks
from the damage. The head sparks the same way
but with 3 green LEDs. I also modified the shape
of the foot to a more "ka-like" look
since the original foot shape was a little on
the stubby side.
The escaping shuttle was scratch
built using styrene and various option parts.
It was my first fully scratchbuild piece and could
easilly stand as it's own piece outside the diorama.
The little figures in space suits
(a.k.a. normal suits) were from several Master
Grade kits. Every one comes with a figure however
not all are in space suits.
The color schemes and decals were
custom designed by me.