Completed » X-Wing and Y-Wing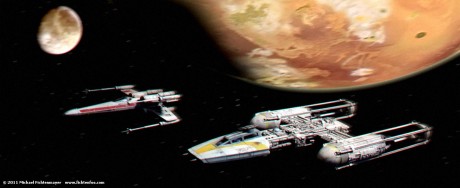 Here's a duo of 1/72 Fine Molds starfighters for the upcoming Death Star 2 diorama. Wedge's Red 2 X-Wing and Gray Leader's Y-Wing. These were painted just like the Millennium Falcon whichg is why there's no how-to's or in-progs. The markings were all painted on. The only decals I used were for the R2 units. These were lit with white 5mm LEDs dipped in Red for the X-Wing (which has a pinkish hue) and Red-Orange for the Y-Wing. The wires will be hidden in tubing when applied to the final diorama.
EDIT: Forgot the yellow on the X-Wing thanks to Fine Molds incorrect instructions. Added it with yellow oils. Added a new image below and the rest to the gallery. Here's the updated pic + one with all 4 Rebel ships.