Completed » Type 100 Afterburner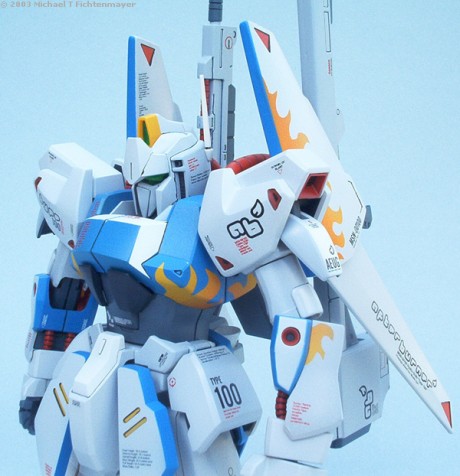 About the Build »
The Afterburner is complete. I decided to do something
very different with my Master Grade Hyakushiki. Instead of doing
a "war machine" I decided to turn this kit into a pimpin
"street machine". The premise being that collectors of
Mobile Suits give them custom paint schemes to show them off at
"Air Shows" of sorts.
This particular scheme required a ton of masking.
It also has a total of 11 colors. Yellow, Red, Orange, Blue, Dark
Grey, Medium Grey, Light Gray 1, Light Gray 2, Green, Black, and
White. Phew!
No modifications were done to this kit. I just puttied
and sanded the seams and started painting.
The decals were designed by me for this kit. They
were printed by Peter Savin at Models4You. He did a fantastic job
and you can see amazing little details in the text.
Check out the custom paint scheme image on the progress
page to see how close I got it. The only real difference is
that I painted both slots on the front skirts yellow, instead of
one blue and one yellow.