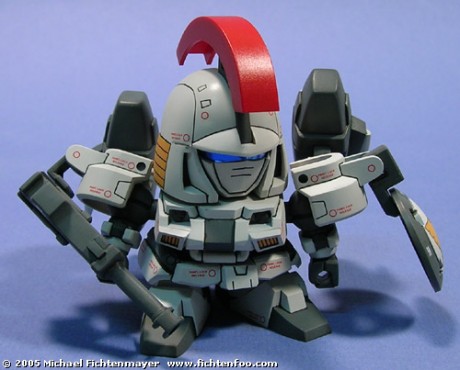 About the Build »
This is the Super Deformed Tallgeese, one of many really really cheap SDs I got on sale at Big Lots. These are small easy little kits with just a few parts. Unfortunately that also equates to lots of gaps and holes to fill.
On this particular kit the holes were on the backs of the arms and under the feet. I filled the arm holes with Magic Sculpt and skipped
the foot ones as I'll never display it upside down.
This kit only took an hour or 2 to cut, sand, fill, and ready for paint. Painting took less time and decaling a little more than the paint. I like how the large warnings look on the little SD. It gives it some easily applied and needed detail.
The shield did not have the eagle scribed onto it like I'd hoped and the sticker was a silver circle with the eagle in the middle. I cut the silver away from the eagle and applied the sticker onto the shield. It's raised on the edges as stickers are, but gives it an  embossed look and isn't the most horrid looking thing in the world.