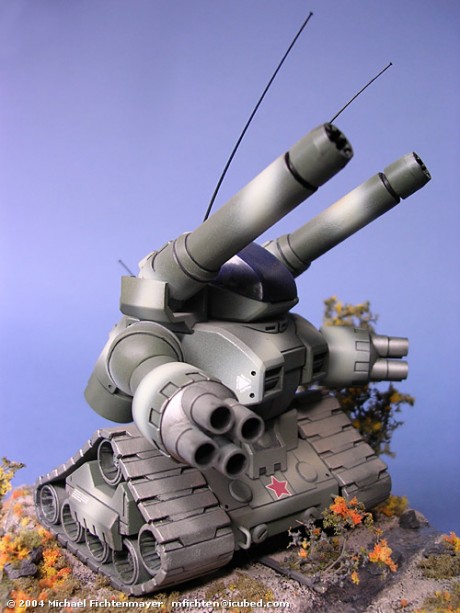 About the Kit »
This is the Super Deformed Gun Tank by Bandai. I needed a short break from my EX-S MG so I pulled this off the shelf. I started it Saturday night and finished it Wednesday night (including the base). Not bad for 4 days of work!
Being an SD kit, it needed a little work in the detail department. I made new antennas so replace the rocket-ship styled ones it came with and an extra one for the back. They were made from melted and stretched spues from this kit. I cut grooves into the sides of the treads to make it look like seperate treads. They were flat and solid before. I replaced the d-rings with bent wire so that they mooked nicer. I added a few rivet holes with my pin-vice here and there.
Paint-wise, I freehand airbrushed the camo pattern based on a tank image I saw online. The treads were painted with Tamiya Metallic Gray. For the dusty weathering, I mixed a tan Tamiya acrylic with future and dusted randomly. For the mud and grime, I used the same ground paint I used on the base so that I could get a similar and realistic regional mud color.
About the Base »
The base is a left-over 4 inch square that I finished. The ground is celluclay mixed with sand. The rocks are broken bits of petrified wood. The trees and shrubbery are from woodland scenics. I mad eit look fall by using the olive colored trees, brushing them with white glue and rolling them in the fall folliage. The water is aquarium sealant. LOL! It's just a thin strip that I ran over my pre-made stream groove.