Completed » SAFS Mk.III Raptor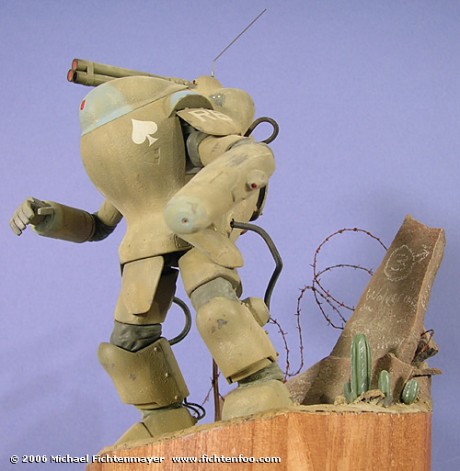 About the Build »
It's been a while since I've done a MaK piece so I decided to work on my Raptor while waiting on decals for another kit. The Raptor
was a fairly easy build and is a nice looking machine when completed.
I replaced the original joints with new ones sculpted with Magic Sculpt to make a more dynamic pose. The rocket launcer was made
from aluminum tubing, styrene, and lead foil for the straps.
The Raptor was base painted with Tamiya acrylics. A mixture of kakhi, white, desert sand and buff was used. Oils were used for weathering streaking and the wash. Then as a final step Gulf War Sand and Beach Sand Mig Pigments were applied. These pull the pigments used on the base together.
I wanted to put it into a rocky/desert setting so I started with a round wooden box I got a Michaels. I stained and finished it and
then used small saws to cut it at a ragged angle to make sloped terrain. I then filled the box with junk filler and covered the top with celluclay and various rocks. When dry it was primed and painted, then dusted with Mig pigment powders. The barbed wire I made from thin jewelery wire obtained at Michaels based on a tutorial at ArmoramaA.