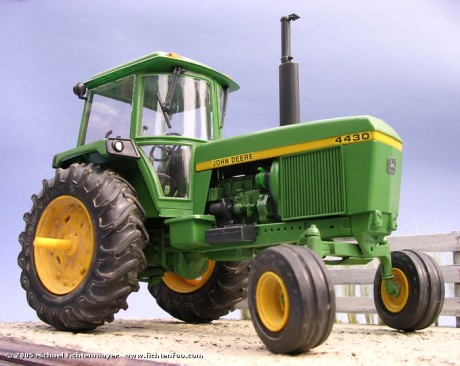 About The Build »
Here's a "gift project" I did. I found a John Deere 4430 tractor for a family member who collects JD stuff. It's 1/25 scale and from AMT/Ertl. Doing something like this makes you appriciate Bandai plastic. This was flash-tastic and most parts did not fit correctly. I cleaned up the flash and fixed a couple of the bigger problem areas with some putty.
Painting was easy since it's just green, yellow, really dark gray, and silver/clear colors. I did a chalk wash to add a bit of weathering and then drybrushed on some silver. I really wanted to dirty this thing up, but the recipient wouldn't like that as much as I would.
I did do a dirt chalk-wash on the tires though as they were really in need of it. The tires are rubber and have a big seam/flash running down the center. I sanded the parts of the tires that would hit the road, but the insides were left as is.
I hated the windows on this kit. They didn't fit very well, plus, with this being my first "auto" model I wasn't sure of exactly how to do them. I should have popped them back out and added black around the edges to make it look like "sealant".
You may notice some dust on the kit. I opened up a pack of celluclay earlier and the dust cloud went everywhere!
About the Base »
The base is a wood plague from Michaels that I stained/finished. The ground is liquitex "modeling paste". Once it set up a bit, I ran the wheels through it to make the tracks. The fence is sliced-up popcicle sticks and dowel rod which I first washed with a dark gray, then semi-dry-brushed white acryllic over to give it a worn weathered look. The grass is the same stuff I used for my Griffon base.