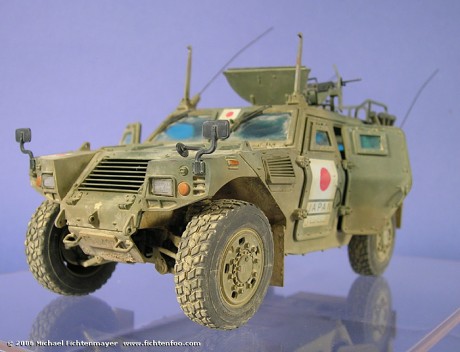 About The Kit »
A change from my usual Gundam model kits… I bought this Tamiya 1/35 Japanese Ground Self Defense Force (JGSDF) Light Armored Vehicle (LAV) a while back with plans of using it in a diorama with some Gasaraki Tactical Armor Raidens. That diorama plan is still in motion, but I decided to prevent burnout that I'd do one portion of the diorama at a time. First was this LAV since I've been wanting to build it for a VERY long time.
It's a very nicely molded kit compared to some other AFV's I have or have worked on. New mold technologies are fantastic. It suffers from some injector pin marks in many places, but overall they're not a huge hassle to deal with. The pre-primed metal chassis and rubber wheels were a nice touch.
I went with a standard JGSDF paint scheme for this model kit, but not one that was used in their Iraqi Humanitarian Assistance mission. I went with their Khaki/Green camo instead since it had more visual appeal IMO. Since my diorama takes place in the desert, obviously I needed to weather it as such. This was a great opportunity to try out some of the techniques in my new Mig
Jiminez FAQ book on weathering/painting AFVs. There were so many steps to the weathering process, but the end result is very much worth it.