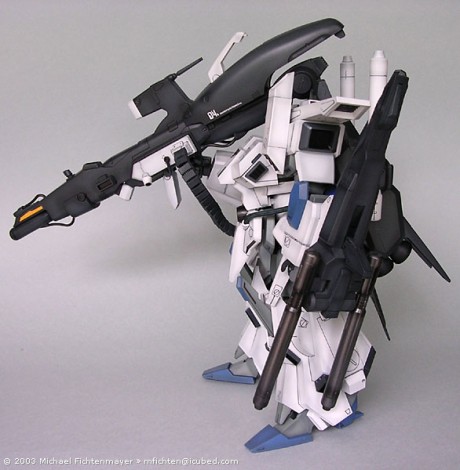 About the Build »
I ordered this kit in August, but couldn't build it until November because we moved. I can't complain though because I've got a lot more room to work on kits now.
Anyway, this was the first kit that I tried to shade with an airbrush. I'd have to say that I did pretty well. I've since shaded two more kits that way and can't see going back to pastels.
This is a HUGE kit and dwarfs most of my other MG's. You're basically building a Grey ZZ gundam (minus a few parts) and then placing the white armor over it. I placed a few extra labels on it, but otherwise it's the standard color scheme.
The biggest challenge with this kit is that while it mostly comes molded in the correct colors, there are many pieces that needed to be painted other colors in order to look correct. You'll need to pre-build this kit to figure out what gets painted what colors.