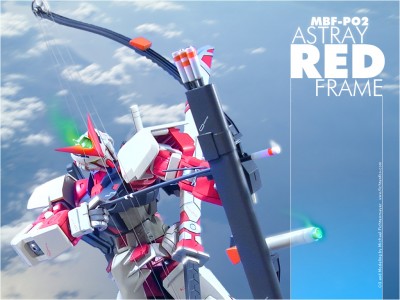 About The Kit »
This is the Bandai 1/100 MBF-P02 Gundam Astray Red Frame. I made slight modifications to the arms and legs for detail-up and to avoid seams after painting.
The bow was made from random leftover parts, styrene, and watch parts. The "string" is stretched sprue, the cams are watch parts.
I'm not sure of the need or practicality of a huge bow, but it looks cool so who cares.
The metal paint is Alclad 2 Aluminum with a light and random coat of Pale Burnt Metal. Over that I applied a clear blue green mix of
Tamiya Acrylic to give it a tarnished metal look. I modified the gun to look cooler with some styrene and option parts. Modded the
colors to be a buff and red-orange. I also used the new teeny Ako bells on the backpack. They fit perfectly there with some magnet rings and small steel bearings to hold them on. The bells were painted with a mixture of clear red and orange on the center parts.