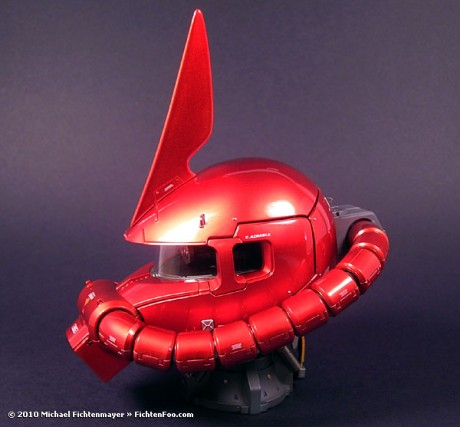 While in the midst of the MGX4 challenge I also worked on this little gem. Since doing my first UCHG 1/35 Zaku head for my Gone Fishing diorama, I've been itching to try another. This time I went for a very clean Char Aznable version.  The red candy coat is Tamiya Clear Red over a base coat of Mr. Super Metallics 'Fine Silver'. The purple candy coat on the internals is a mix of Higgins Purple ink and Future Floor Acrylic sprayed over the same Fine Silver base. Decals are from the Bandai Zeon and Char MGs waterslides sets.
This Piece is For Sale!
If you are interested in owning this piece, please drop me a line. $220 shipped or best offer.