Posts Tagged 'Vincent' »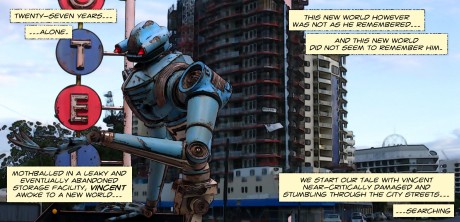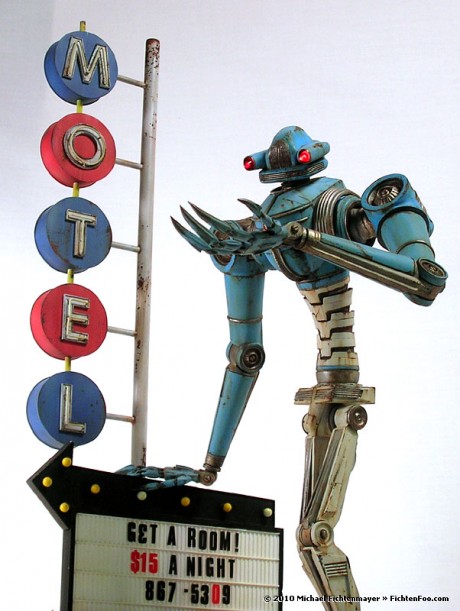 Here's the final images of Vincent. I'd like to thank Walter Pezzali for this wonderful model and design. It's really a fun kit with a lot of possibilities and I hope to see more builds of him by some of you soon. (Walter would like that too!)
I shot a short video hoping to show the flickering of the eyes from the LED tea-light candle I modified to light the eyes, but the video is crap. I'll post it anyway, but it's hard to tell bad video from the flickering. Meh. I'll search for some tips and try again soon.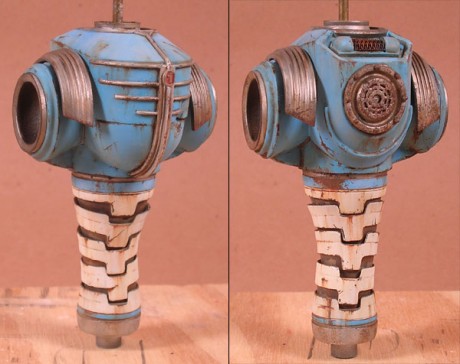 Since the last update I've been applying the various fading, discoloration and rust techniques using oil paints as well as chipping up and aging the chrome finish. First a flat coat of Future Floor Acrylic was applied over all the parts including the chrome. This seals all the prior layers and significantly dulled the chrome. A fine sponge was used along with Vallejo dark rust, red leather, and dark gray to apply the small speckled chips to the chrome. Once that was dry I applied filters (tan) and then oil paint discoloration using white, rust, dirt, and blue oil paints.
Once these had a few days to dry I sprayed on another flat coat and began applying the rust streaks with 502 oils Light and Dark Rust and Shadow Brown. A little ochre was added in some of the larger rust areas for more variety to the tones.
The next day (today) I put a cotton swab in my dremmel, and on the lowest speed buffed the chrome pieces lightly to get some of the shine back. This worked really well as long as you keep moving and keep the spin as slow as possible as to not eat through the paint layers. Occasionally I applied some SnJ aluminum powder to the swab for some extra shine.
Next up pigment effects, but the paints need till Monday at least to dry. Wahhh! Here's before the rust/polish.
I masked and sprayed more chrome onto the blue parts today and finished the shoulders and "hips". The "1″ emblem was painted over with red oil paint then wiped away to show the raised chrome parts. I painted rust-colored Vallejo paints onto the inner-torso parts then masked with liquid mask and applied more gloss black and chrome. It turned out so nice and flaky around the edges that I wish I had done that to all the chrome parts from the start. Live and learn and I have more techniques up my sleeves to age the chrome.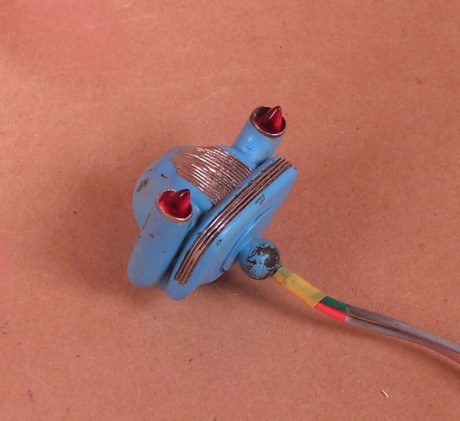 The eyes for Vinnie's head were painted in Tamiya Clear Red then polished with the fine polishing compound. The eyes are just sitting there for now and I'll attach and align them properly after the weathering.
The added half-round for chrome trim around the arms turned out nice and hides some hard to reach seam lines.
I've been working on painting up Vincent the past few days inbetween getting things ready for my youngest daughters 4th birthday party tomorrow. (check out the cake I made her today!) I started Vinnie the same way as the signs with a base-coat of Color Place flat black and rust, hairspray, then paint.
To keep with the decayed, retro  50′s look, I painted Vincent turquoise and white with chrome trim. So far I've only painted the chrome on the white and solid chrome parts, but tomorrow night I hope to mask and paint the chrome for the blue.

The chrome is Alclad II chrome over a Mr. Color gloss black base. Later I'll chip and rust-speckle the chrome and make it look just plain awful. I just hope I didn't start with too shiny a chrome. I might have been better starting with an aluminum metal or Mr. Color Super Silver, but we'll see.  Experimentation is half the fun!
The chrome isn't the most polished smooth chrome I could do, but I figured with the amount of damage I plan to do it it, it won't matter in the end. Originally I had the torso tubes all white with the chrome trim, but it didn't look right. Adding the two blue rings (top and bottom) really ties the blue-top, white-bottom scheme together. Vincents huge shoulders will be nasty chrome as well… eventually.
At this point I'm about 95% done with the base. All I have left to do is to put a nice wooden edge around the plywood base and add some "to be determined" effects from Vincent when he's done. He'll also need some holes drilled to pin him to the base.
I decided to fill in a small block of space with a steel parking barrier filled with concrete. It was a brass tube which after painting/weathering was filled with a little bit of my plaster/grit mix. The reflector was made from a slice of clear sprue which I grooved the back of and painted to get the diamond texture reflectors have. Weeds were added to the retaining block box. The bottles were made from clear stretched sprue and acrylic, then painted/decaled.
Toilet tissue was used for the wads of paper and the red cloth. Paper cups were printed out and glued together. The stray and cigatete butts were made from 1/2 round and rod styrene. plastic sheet trash was plastic wrap sprayed with a mixture of flat FFA plus Tamiya Earth. Lightbulbs are BB shot painted and dusted. And lastly, bird poop is acrylic paint. Lots of pics:
Continuing on with the sign and weathering, I applied some oil paint discoloration to the sign. Blues, rusts and light dirt colors were applied to the blue circles while reds, pinks, light dirt and rust were applied to the red circles. These dabs of oil paint were then blended in with a brush wet with odorless Turpenoid. I started to apply some Mig Filters to the pole, but quickly discovered that the thinner in the filters attacks the spray paint primer underneath viciously. The Turpenoid is fine however. The letters were attached and neon glass tubes were made from bent steel wire, painted with a gloss white spraypaint then yellowed with Tamiya Clears.
I applied some mold/mildew stains to the base of the white painted block retaining wall with oil paint. The small electrical outlet was made from styrene shapes, rods, and strips. I added the marquee sign plug to the outlet already, but have not attached the wire yet. I did however make a chain and padlock that will wrap around the maquee sign leg and motel sign to keep it from being stolen. Weeds will be added in and around the wall and in the pavement cracks soon. The little loose rocks are talus and ballast.
The marquee sign is almost done. All I have left to do is attach the electrical wire from the outlet to the underside of the sign and dist it up a little more. Oh… I forgot that I need to get some small bearings and paint them up for lightbulbs as well. For the sign letters, I laid out a sheet of letters and took them to FedEX Office to be printed on transparency film. I hit the letters with my soda blaster (air eraser) to dull the gloss and weather them a bit, then cut them out and fit them in the grooves. I decided to make it more fun and real by mismatching letters. I've only one side of the sign filled in so far.
More to come…
I've been progressing with the scenery while waiting for some LEDs to arrive for Vincents head. First up is the portable marquis sign. After completing the scratch-building process I primed the sign in Mr. Color Base White.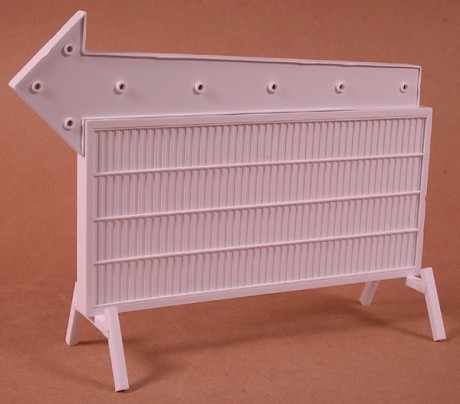 Then when dry I masked off the white portion and sprayed the whole sign in uber-cheap "Color Place" flat black spraypaint from Walmart. It's under a dollar a can and actually sprays beautifully. Over that I sprayed a thin random coat of rust-tone-mixed Tamiya Acrylic, a thin coat of FFA, and after that cured a generous coating of hairspray with a dash of salt.
As soon as the hairspray dried I sprayed the whole sign in XF-18 semi-gloss black. After a couple minutes I rubbed off the salt and started the chipping away of the black coat with water and various brushes and toothpicks.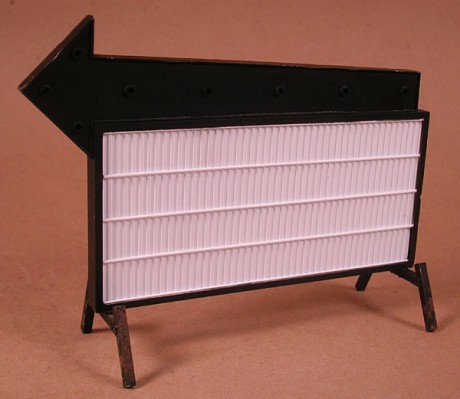 After the marquis sign was done I went to work on the Motel sign. I used the same techniques described above, but with different top-coat colors. For the blue, red, and yellow I sprayed a coat of white down first over the hairspray so that they would come out brighter. This had an added benefit of multi-toned chip-edges. These will all be faded and weathered more in later progress reports. More pics below in the gallery.
I also worked on the base. The asphalt is plaster of paris mixed with brown ballast and beach sand. This makes for a nice textured surface once you give it a rough sanding. Cracks were made with razor blades while the plaster was semi-wet. For the color I applied very thin washes of dark brown-gray acrylic. WHat worked out really well is that the acrylic did not want to stick to the sand particles resulting in a very worn looking surface with just the right about of sparkle. Seriously looks just like my street which is great. Stains, dirt, tar, weeds, etc will be added later. I'll probably add a pin wash to the cracks too to make them pop a little more. The retaining wall box around the sign was also made from this same plaster mix in a temporary wooden form and carved/chipped when cured.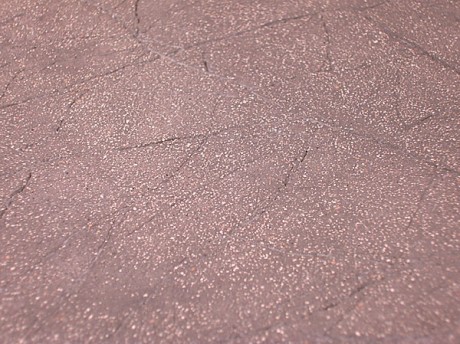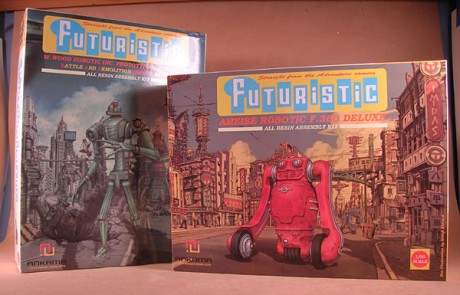 Years ago a fellow modeler friend of mine, Walter Pezzali, created a fantastic 1950′s looking robot kit master. (Vincent) I purchased one of the first and probably only casts of the time and while the design was great, the self-casting job was not. We decided to exchange it and try again later when he found a good caster.  Now years later Walter is residing in Japan, has an updated master, another robot design (with more on the way), and a phenomenal casting company producing it making for a really nicely done and fun kit to build.His design has even been animated which is so cool!
I received both of Walters' 'Futuristic' kits a few weeks ago and immediately put Vincent into the resin cleaner to start on him. He's nicely cast by Ankama in a dark gray resin and comes in a box with what may be my favorite model kit box-art ever. I think this stuff is frame-able. There's also decals and photoetch. I didn't find any problems (bubbles, misalignment) in the parts and they cleaned up quite nicely.
To keep with the cool retro 1950′s look I decided to make a neon motel sign such as one would find on the famous Route-66 back in the day. I did a lot of searching and downloaded a lot of reference, but as usual shelf-space won out over size and I decided to go with the smaller, simpler motel sign as seen in the photo.
The sign was easy enough to make and will be an interesting and different set-piece when done. I started by printing out letter outlines on normal paper. These were cut out and taped over .040″ styrene sheet. I cut through the paper onto the styrene using a ruler and the printout as a guide. Once the paper was removed I could finish cutting based on the score lines in the plastic. Once the letters were cut-out I glued styrene strip around the outside edge to give them a nice lip. The main part of the sign was made using thin sliced of 1.5″ styrene tube with slightly larger styrene discs glued to the faces. More styrene rod and tube was used to create the post.
Vincent will be painted in a two-tone classic car combo of white and baby blue. He's been around for a while at this point, perhaps just awakening from under a pile of scrap and is in pretty bad shape. A recent fight has left him with large gaping chest wound. To create that I thinned the inside walls of his chest parts, dipped them into boiling water and used various tools to "dent" him. Other dents were made using a dremmel and sandpaper.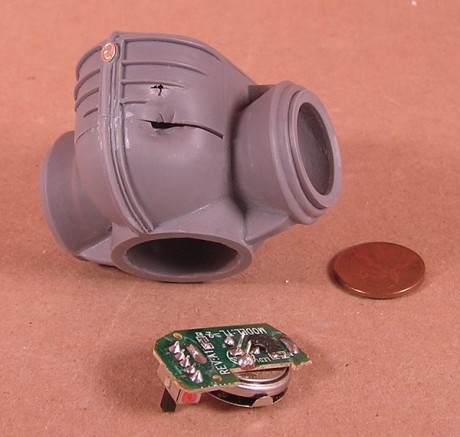 I made some replacement eyes for the two Futuristic "Vincent" heads. The originals were shaped like this but molded in the head with gray resin. These were made by spinning clear acrylic rod in my drill, shaped with a file and wet 400 grit sanding sticks, then smoothed with 400 and with 1200 grit wet sand paper and fin…ally polished up to a perfect shine with Tamiya Fine and Finish polishing compound on an old scrap of t-shirt. All while spinning the drill.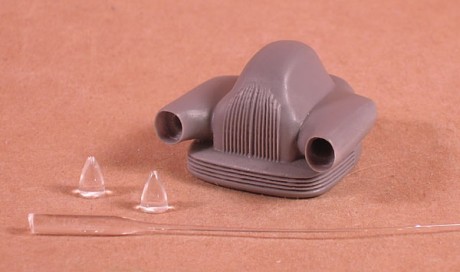 Lighting Vincent the way I want will not be as difficult as I assumed. I already hollowed out the 2-eye head and will put two 3mm red LEDs into it when they arrive. They'll sit behind the "cone" eyes which will be painted in clear red. Wires will run through the neck into the dremmeled out chest cavity where a flickering LED tealight's circuit-board/switch/battery will fit and connect to the head LEDs. The random flickering red eyes will add to the old/damaged look I'm going for.
The only modifications I've made so far aside from drilling out to replace the joint-pins with styrene tube/eye-glass screws were to add some half-round strip on the rear of the calves and around the upper arms. These will be chrome.