Posts Tagged 'Sentinel' »
About The Look »
Originally, I was going to do this kit in red instead of the blue-violet, but after playing around with my color scheme, the blue-violet just seemed to fit this kit very well. Plus I'd seen it done in red a few times and while it was nice, it was too "bright" for a kit of this size. I used these particular colors as well to give it a prototype/elite feeling.
I also took some influence from an EX-S I saw in a hobby magazine a while back. Those influences can be seen in the whites on the shoulders and the rings around the guns.
The various whites and grays are meant to give the piece more depth and visual interest than you'd get by painting it all one gray or all white.
I designed the decals in Flash and Illustrator. I sketched the "Miss Iota" decal first then scanned her in and traced/redrew her in Flash to make her nice and clean. You can see on a close-up of the decal in the gallery how the Alps printer did the purple. On that close-up it looks weird, but at a normal viewing distance (without the EXTREME CLOSEUP!) it looks great. Thanks to Peter at Models4You for the great print job.
About The Kit »
Okay… this is a HUGE kit. When I showed my wife the finished piece, I actually got a "holy crap" out of her as opposed to the usual "that's nice". LOL!
However with "huge" comes lots of sanding. I hate sanding. Honestly, I worked on this kit for 2 months and 6 weeks of that was cutting and sanding. Really! Granted that was maybe 1/2 hour a night on most nights, but you get the drift.
While doing this kit, I took a break to work on the SD GunTank just because I was getting burned out. At several points I had thought about giving up on it and putting it aside, but stuck with it. And After I got the whole thing together, I'm glad that I did. Now, all that time and energy feels worth it.
The EX-S comes in a PG sized box with hundreds of parts. Many of them are tiny to accommodate the transformation process. I will
not be transforming this kit as I fear scratching my paint and decals up.
The kit is nice though as far as seams. There's only a hand full in the usual spots. Head, weapons, backpack, fuel tanks, wing binders, and the base.
Would I recommend this kit? While I was working on it I would have said "NO!" but now that it's done and sitting on my shelf, I'll have to say maybe. If you're willing to put in the time, and I mean a lot of time, on this kit, then it'll be worth it in the end.
05.10.04 » Concept
Work
For
my next project, I'll be tackling the Master Grade EX-S Gundam.
It's a rather large and "partsy" kit. I don't think I'll
be doing anything modification-wise to this piece. I may add some
LEDs, but other than that, it'll be OOB. (out of box) Best case,
I light up every "green" spot on the kit. Worst case,
I do the head and booster lights. I counted 27 green parts which
would need lit if I went the "best case" route. Plus the
4 boosters. If I go that route I may look into skipping a battery
and going with an AC adapter. LOL!
Color placement-wise, I got inspiration for the white
on the shoulders and stripes on the booster pack guns from an EX-S
I saw in Model Graphics a while back. The rest of the color choices
are because I think they look cool. The color that I don't feel
is coming off very well over the web is the blue/purple color. I'll
be mixing that to be a very pale blue-violet with airbrush fades
of a lighter version of the same color. Kind of like I did for my
ReGZ. The reason for the blue-violet is to compliment the orange
and yellow accents on the rest of the kit.
Decal-wise, I was looking through a book on WW2 nose
art that a co-worker of mine had and decided to base my "Miss
Iota" decal idea off of some that I'd seen. It's amazing the
varying quality of the nose arts. Some were crap while others were
simply amazing. The rest of the decalse are various text markings
and such. I drew my girl "simple" due to the limitations
of the ALPs printer. There is a screening to the purple and orange,
but it's slight thanks to Peter and Models4U! Thanks man!
There's no made-up back-story for this kit. I'm basically
doing it because this is the way I want it done.
06.23.04 » Painting… FINALLY!
I finally finished sanding and got to painting this
thing. It has so many parts that it took me longer than usual to
get started. Plus I took a week off to do the GunTank. Anyway, I
have 3 colors sprayed so far. Here's some pics:
07.03.04 » Ink
The painting is almost done. All I have left is to
paint the lenses and that won't be until I'm done with the decals.
That's because I don't want a flat coat of future over my lenses.
Currently, I'm inking all the parts. It's taking forever,
just like EVERYTHING with this kit. I have decided that to save
time, I'm going to build what I can as I ink before decaling. The
reason for this departure from my norm is that it took 3 1.5 hour
airbrushing sessions to apply 1 coat of future to all the parts.
By building sub-assemblies, I'll have less skewers to paint later.
Here's some pics.
07.04.04 » Ink is complete!
I'm done with the inking. Next I'll give the inked
parts another coat of Future to seal the ink from the waterslide
decals and also to give more gloss for applying the decals. Here's
a few more pics:
07.06.04 » Decals
I started adding the decals today. Here's a pic of
some of my progress. The other sides of the pods and shoulders are
decaled as well as other misc. parts.
Story »
"…The Men of Earth came to Mars.
They came because they were afraid or unafraid, because they were happy or unhappy, because they felt like Pilgrims or did not feel like Pilgrims. There was a reason for each man. They were leaving bad wives or bad towns; they were coming to find something or leave something or get something, to dig up something or bury something or leave something alone. They were coming with small dreams or large dreams or none at all…. it was not unusual that the first men were few. The numbers grew steadily in proportion to the census of Earth Men already on Mars. There was comfort in numbers. But the first Lonely Ones had to stand by themselves…"

–Ray Bradbury: The Martian Chronicles
ter·ra·form tr.v. ter·ra·formed, ter·ra·form·ing, ter·ra·forms

To transform (a landscape) on another planet into one having the characteristics of landscapes on Earth.
During the Sentinel Era of the Universal Century, let's say 0086 or something (Whatever, I'm not that big of a fan boy.) Aneheim Electronics Advanced Research and Projects Group (AEARPG) led an independent study on the feasibility of placing a permanent colony on the martian surface. This colony would be the launching point for a terraformation project. To make Mars into another Earth could solve the problem of overpopulated space colonies in the Earth Sphere.
A special task force dubbed the Fourth Planet Terraformation Initiative was created to oversee the project. Phase one of the Independent Permanent Mars Colony and Terraformation Study (IPMCTS) would be to seal off large portions of the Valles Marineris Canyon system making the Canyon itself into a colony.
Having no support from the Earth Federation, AEARPG took it's own security measures in the form of three mobile suit squadrons amid fears of terrorism from Zeon remnants and other military capable groups. These MS squadrons would patrol and scout the martian landscape and defend the project if necessary.
For the first year of the project, all was quiet. Work proceeded on schedule and the 29th Zeta Plus MS Squadron spent most of their time mapping the landscape and escorting shuttle and transport craft.
About the Kit »
This is the Master Grade Zeta Plus A1 Type. I gave it a custom color scheme designed as Martian camoflauge. I designed the decals in Adobe Illustrator and had them printed by "Scale Models 4U". Since this mecha would be oporating on Mars, I gave it a dusty post shade to simulate Martian dust.
Overall, I really like the MG Zeta Plus kits. There are some issues that arrise when in Wave Rider mode, such as the back armor not meeting up with the chest armor, but other than that, it's a great kit. It has several locking mechanisms which keep it from being floppy and they actually work pretty well. Well, as long as you don't treat it like
a toy that is.
About the Build »
The GreenPlate Special is complete. This has to be my most bold, creative and best piece to date. It's currently my favorite. At least until the next kit. Ha!
The 'GPS' is a basic build with seams sanded and puttied. Originally I had painted it in "stock" colors, but felt it could had looked better. I used three different greens on different panels and raised areas to give it more eye-appeal. White was used as a highlight color and yellow-orange was used for the lenses and insides of verniers.
The decals were custom designed by myself. I had been wanting to use a particular font for a while now (font diner sparkly) but hadn't had a good enough reason/project to use it on. When I decided to go for a retro 50′s look on the decals, that font screamed out to me.
For an added effect, all of the decals were done in white. This makes them stand out against the darker greens.
I added little weird touches to the decals. Check out the "Tasty" decal on the ass-plate armor. The fuel tanks also have various  sayings on them. I have a weird sense of humor.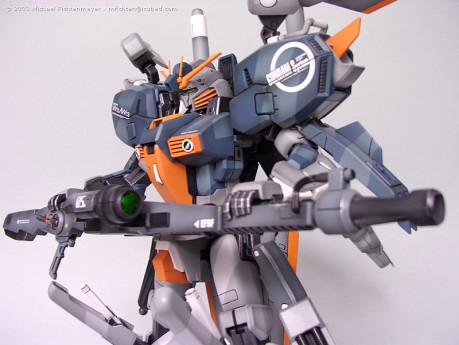 About the Build »
This was the second kit that I recieved for Christmas. Thanks Rachel! This kit took me almost a month to complete. I decided to stray from the "normal" color scheme for this kit. I'm glad that I did because I love the final results! Unfortunatly, this kit will never be transformed. Transforming it will scrape up my paint job and it's just not worth it.
For those of you out there who are considering this kit, I highly recommend it. It's a very challenging kit and has a ton of parts. The photos released by Bandai do not do this kit justice. They're taken at an odd perspective and make the kit look out of proportion. The head could be a bit smaller, but it really doesn't bother me.
Size wise, this kit is actually bigger than my MG FAZZ by about an inch.. It's heavy too! The extra core fighter system is cool too. The dry transfers had a clear backing to them to make the really small text transfer easier. No more missing letters!
I love the legs. I have it standing on my shelf for now until I build a stand, but lemme tell you, this kit stands VERY well. Bandai did something different with the legs on this kit. There are no ball joints. Right above the knees, the leg swivels left-right. The hip joints are solid. Overall, the new additions to the legs make this kit very sturdy and give it the ability to stand in a wide-leg stance.
Anyway, this is a great kit. Check out the images and see for yourself.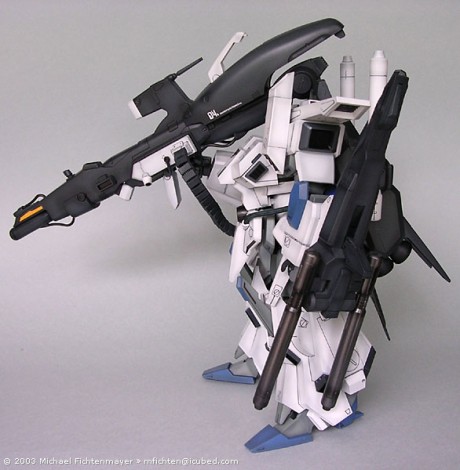 About the Build »
I ordered this kit in August, but couldn't build it until November because we moved. I can't complain though because I've got a lot more room to work on kits now.
Anyway, this was the first kit that I tried to shade with an airbrush. I'd have to say that I did pretty well. I've since shaded two more kits that way and can't see going back to pastels.
This is a HUGE kit and dwarfs most of my other MG's. You're basically building a Grey ZZ gundam (minus a few parts) and then placing the white armor over it. I placed a few extra labels on it, but otherwise it's the standard color scheme.
The biggest challenge with this kit is that while it mostly comes molded in the correct colors, there are many pieces that needed to be painted other colors in order to look correct. You'll need to pre-build this kit to figure out what gets painted what colors.