Posts Tagged 'Sculpey III' »
I already had the Sculpey out to make some 1/35 scale figs for another unposted project so I started these guys as well. I need some mechanics for a 1/12 scale robot kit called a Chubu Mechatrobot. It has a 1950′s look to it and is a cool design so it needs some good figs to go with it. A year or two ago I had planned to do these same three mechanics in 1/20 scale and even made the armatures for them, but never got around to it then got out of MaK so there was no need. I wanted three different and odd looking guys. One huge, one skinny & goofy, and an angry dwarf.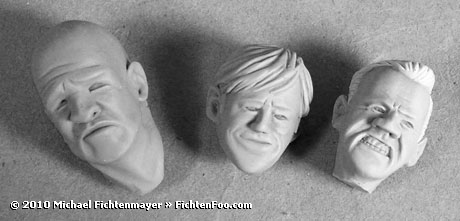 I started out by making the heads. Originally I screwed up and thought the kit was 1/18 scale so I made a completed angry dwarf head in that scale. I'll save it for another project. Making heads at this scale is so much easier than my recent 1/35 attempts.
After the heads were made and lightly baked, I started on the huge African-American guy's body. I wanted him to look like a slightly out of shape linebacker. He's about 6.75″ tall which at 1/12 scale (1 inch = 1 foot) he's close to 7 feet tall. Perfect! I chose bib overalls as they'd likely be more comfy on a guy that size than the coveralls the other two will be wearing. Plus it's an excuse to show off the arms and do some strap detail. As you can see, he's coming along. I need to fix the front pocket, add the metal details for the buckles and such and finish the legs and feet. as well as add other details and refinements. He'll be slinging a very large wrench over his shoulder.
I haven't started the bodies of the other two yet. The skinny guy will be bend over looking at something on the robot that he just "fixed". The dwarf (who owns the shop) will be shaking his fists in the air and will likely have a large oil stain splattered down the front of his clothes thanks to the skinny guy. The big guy will be looking at the screw-up as if waiting for the skinny guy to get fired.

I've probably mentioned this before, but if I could only read one series of books then it would be Frank Herbert's Dune series. I've read all 6 of his releases 3 times in the past 15 years or so since I discovered them. (only one of his sons more recent ones so far, House Atreides, but I plan to read them sooner or later) I decided to look around to see if any decent Dune Models existed, but aside from a cool Sandworm and some old 80′s plastic kits from the awful 1980′s movie rendition of Dune, the pickings were slim to none. I've always found Leto II transformation/symbiosis with the sand trout to become a Sandworm fascinating so I decided to fill that gap in my collection by sculpting one of my own. This is by no means "canon" as a: it's a BOOK (imaginations people!) and b: I've taken at least one design liberty to be sure, but I think the essence of Leto II's multi-millennia-old form is there. It's been a few years since I last read the books so everything here is from memory and random art found on the interwebs.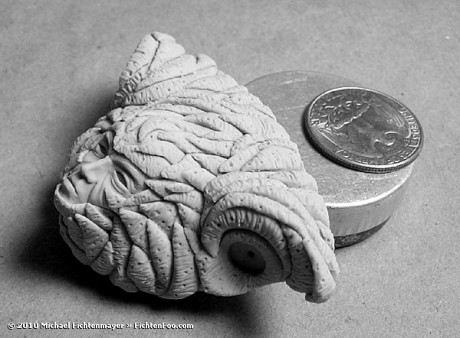 I can't recall if he still had his legs in the book, but I recall something about one being lost and them being an encumbrance anyway so I decided to leave them off. Some of the art I found had them, others did not. I also decided to have his arms inside of the "cowling" with his head as opposed to being part of the worms exterior. Again, I can't recall where they actually were.   I figured if he's turning into a worm (and mostly there already) and enjoys his time in the desert sands, that the ability to have his arms tucked inside of the cowl would be a bonus for burrowing about. I also recall Siona sleeping inside of his cowl in the desert under his tucked-in head so I want there to be some sort of space there as well as a visual mechanism for adjusting the head position. For that I am using something that looks what's left of his "sandtrout" skin as the skin-folds and musculature. (spoiler: Sandtrout are tiny slug/worm like creatures that encapsulate the planets water to protect the worms from it)
The rear worm parts of the body I decided to leave somewhat plain and segmented. The only detailing being some muscle-like detail between the outward bent segments, a rough weathered stone-like texture with small scours from eons of sand, and some breathing-holes along the exterior in three lines. This lack of horns, ribs, etc is to allow thew worm to travel beneath the sands in a more streamlined fashion. Real worms and mother nature always have the best solutions, if not a little plain. Around the mouth/cowl though I plan to jazz it up a bit.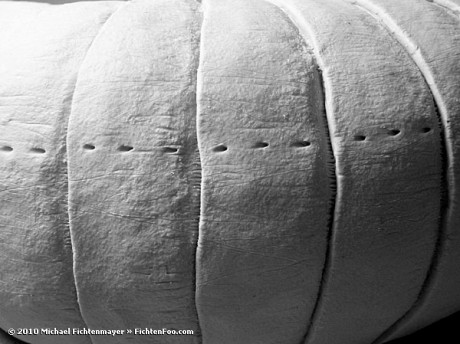 As usual I don't have anything decent in sketches to show and am doing this mostly from my own head. What I have sketched is so rough that it's not worth showing. Just arm placements, to-scale roughs for sizing the arms, etc… This is turning out to be a fairly big piece though and would be bigger if I didn't have him in a somewhat coiled pose. Stretched out he'd be about 20-22″ long. He's sculpted in Super Sculpey mixed with Sculpey III. The armature was coiled wire, like a spring in order to maintain the worm-shape.
I'm constructing this with possible casting in mind as it's always a possibility and making it in sections helps. I'll probably bake the tail section tomorrow after cleaning up under the segment edges a bit, then start on the front segment. The head is baked and the arms are roughed up. Just waiting till the front segment is ready to add/detail those. Here's all the pics:
So I'm near the final stages of the Snowspeeder painting and am waiting for oils to cure before my final flat coat and pigment applications. This is the perfect time to bust out the sculpey and start on some more Hoth diorama figures.  Next up is a 1/48 scale Tauntaun. I downloaded a bunch of reference pics and using the riders as a size reference figured out how big it'd be in 1/48 scale.  I was shocked to find out it would be smaller than I thought it'd be. That makes it a little more difficult to sculpt in details, but no matter… it needs done!
All of the pics show these guys with their tails on the ground when moving. That seems odd to me given what's known about dinosaur movement these days. (probably a necessary evil on the part of the model makers to get it to move neatly) Since they have the same basic shape I decided I would modify the pose a bit to show it running a little harder than seen before in the film with the tail in the air.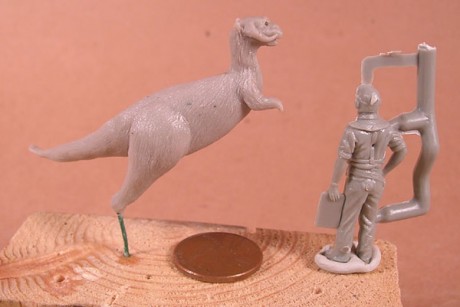 I started out with a wire armature and bulked the chest area up with a small ball of foil and then covered that in some wire mesh. Over that I started applying sculpey to get the basic shape down. I started by sculpting and detailing the head since that would be the hardest part. I figured I could hold the body if necessary for extra support while sculpting. Glad I did! After that I started applying the rest of the shape and arms.
I think this is as far as I can go for now before I need to bake it to add more details and the other leg. The leg will need to be removable for casting. I'll also sculpt the saddle and straps then. After another bake I'll do the rider and it'll be ready to go!
EDIT: Couldn't resist so I added the saddle. You can also see the start of the left leg and where it will be cut off.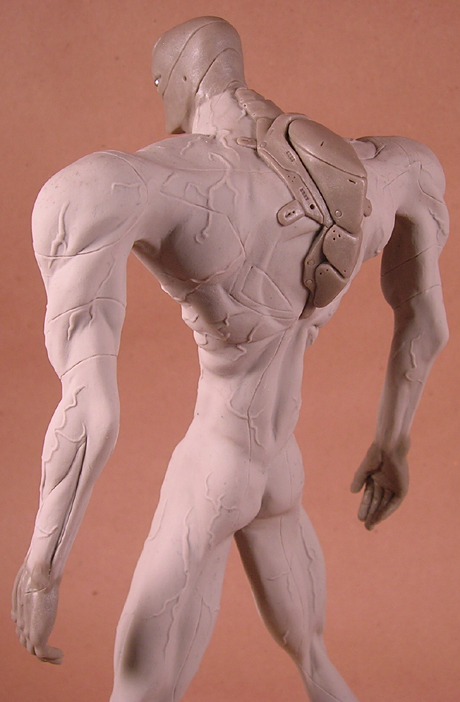 Spent the last few days working on the hands, head and implant back thingy. At this point I just have a few little things to clean up on the new additions then it's off to another session in the oven. Once that's done I'll make the two pistons for the back, cut off the hands and head for the casting, and prime, buff, prime some more.
It's baked! There's been a lot of work since the last update. Mostly spent cleaning up the muscle tone. Once that was done I decided to make the naked Eva a little more "ripped" and added some raided veins and arteries. This adds a nice additional layer of detail and keeps it from being too flat. Once the vessels were applied I scribed and blended in the lines marking the Eva's color pattern and threw it in the oven. Thankfully using the tips in the Smellybug tutorial baking went uneventfully and no cracks appeared. Now I need to make the hands, several heads, and the back implant pilot tube thingy.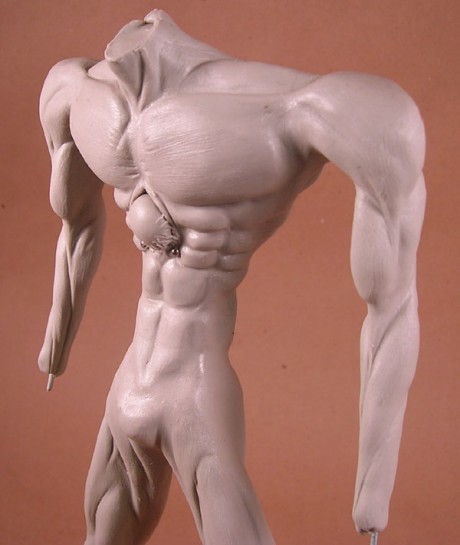 Since the last update I've refined a lot of the muscles and redid the lower legs… twice. (don't be afraid to start over!) I think they're finally where I want them, but the upper legs need a little bulk for the "saddlebags" aka outsides of the upper legs. The faint lines you see are from a paintbrush loaded with odorless turpenoid which is used to smooth and blend the Sculpey. Without that stuff it wouldn't be nearly as nice as it's turning out to be. Later I'll smooth out those lines with more turpenoid and add the scribed lines marking color changes on the body as seen in the previous post's illustration. I also need to clean up some muscle recesses as they haven't blended right and finish detailing the feet.
I still haven't started the heads or hands. Yes I said heads… plural. I think I'm going to make the standard naked head twice. One normal and one showing teeth. I may also make Unit 2′s naked head but need to find better reference. I only have a screen shot of it after being ripped to shreds by the mass-produced Evas. I'll also need to start sculpting the mechanical portion of the upper spine.
Anyway, here's the rest of the pics:
Here's yesterdays progress. Smoothed out the wrinkly skin with a soft brush loaded with Turpenoid then added crosshatched skin texture. It's faint so doesn't show up in these images due to the shine left behind by the turp. Looks great in person though. Capilaries and veiny detail was made by rolling out VERY thin snakes of Sculpey. Next is some leather clothing details.
The other day I got an interesting proposition from a woman who I have been waiting to buy a purebred Siamese kitten from. She's apparently into Gothic,Giger, and alien/mutated-human-styled artwork and whatnot and asked if I would consider creating an original small sculpture for her in exchange for a pair of kittens. Of course I said yes and for the past three days I've been working on a nice-sized bust.
She sent me a link to an artist's website called "BROM" and wanted something along those lines. http://www.bromart.com/ I decided to take some queues from several illustrations, add some Giger influence, and throw in some of my own ideas. It's been an evolving piece and has taken on a life of its own I feel. I started with a skull and then added bulk to it to build-up the flesh and bone. Below are a series of images I've taked throughout the process. I'd say she's about half-way sculpted at this point with much more to do.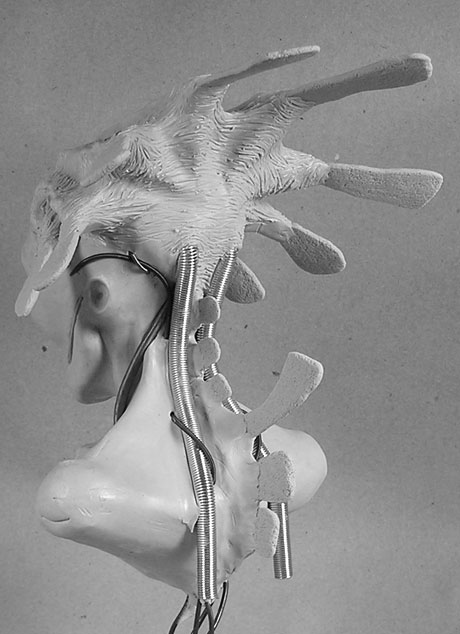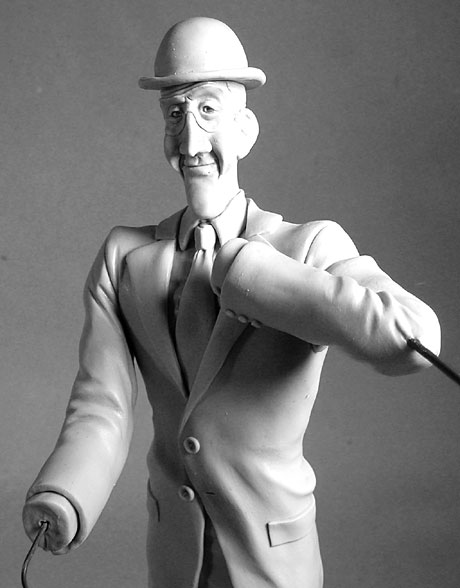 I think I might be hooked on this Sculpey stuff. I love it… I can work as fast or as slow as I want and don't have to wait for things to dry or cure. Just keep working it until satisfied… very fun and suits my short attention span for sure!
My next Sculpture project is another of Bat-Man's nemesis's (nemesi?), The Riddler. I've always liked this baddie. Maybe it's the green and purple suit, the excessive use of question marks, or perhaps the Derby hat. Whatever it is, I've always found his look to be kinda cool. I also figured he'd be another good practice piece as my last two sculpts were misproportioned monsters. A clean and slightly more realistic figure would be quite the departure.
I had a picture in my head of him standing and contemplating his next move or devious scheme. One hand would be on his question mark cane, while the other holding his chin and in deep thought. So I made a quick sketch and armature and went to work. I also wanted him to be somewhat thinly proportioned. Long face and skinny body. Almost cartoonish.
I started out by sculpting the head seperately. At first I made it without the hat and with a normal hairline as I wanted to wait till later to make the hat, but have something proportioned correctly to work with. A half head would had threw me off there! Once mostly satisfied I mounted the head to the armature and becan sculpting a naked body just to get the proportions right. After that I started bulking it out with clothing.  Here he is so far. Next is some clean-up and smoothing and after that I'll start the hands. I think I might bake it first before making the hands just so that I can work with them easier in place without messing everything else up.
Today I tweaked a few last areas and being satisfied I baked him. The baking went well… 200 Degrees F. for one hour. No saging, and only 3 small cracks to fix. A few people ased about possibly casting this. I'm thinking about it and will let you guys know. For now though, he's done till I either cast him or just paint him up.
I had a little fun with one of the final images and colorized/"comic'd" it in photoshop. Even made it look "halftoned" as if it was scanned in from an actual printed page. 'shopping model images is always fun!
And here's the final sculpt shots and immediately below is the image I Photoshopped.