Posts Tagged 'Roots' »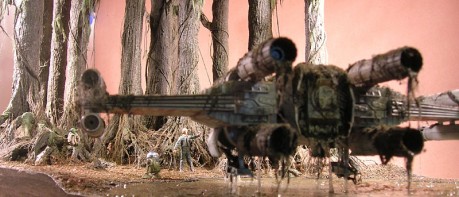 The diorama is in it's final stages and almost complete. All I have left to do is to make some little crates like the ones Luke was floating around with the force right before he threw a hissy regarding the X-Wing being too heavy. Once the figures were completed I moved onto the seaweed for the X-Wing. The seaweed was made using stretched cotton ball pieces just like my "spanish moss" recipe. The difference was that I used a darker green-black and mixed more dark soil fine turf into the mix. This was strethed out and set into place with a soft brush loaded with Future.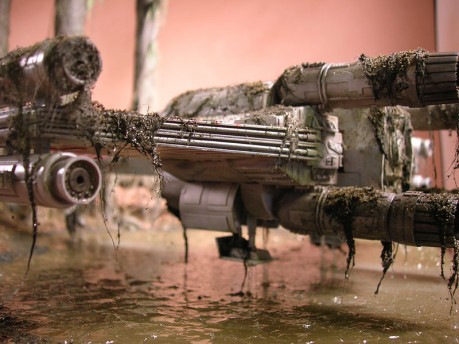 Once the weeds were done I used 5-minute epoxy to mount the X-Wing onto the clear drip-supports and added the final drips using stretched clear sprue and clear acrylic gel medium.
I also finished the lighting using a flickering LED tealight candle that I converted to use wall-power instead of a battery.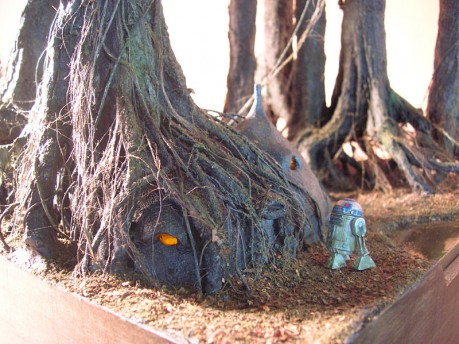 Here's the pics:
This week I've been working on the ground litter and finishing up the base water. The ripples on the large body of water are made by applying Liquitex Acrylic Gloss Gel Medium with my fingers to create the peaks and ripples. Finer ripples under the X-Wing were made with a piece of coarse car-sponge. The smaller pools need cleaned up a bit as they've got ground litter sprinkled on them I can't clean that though till it dries.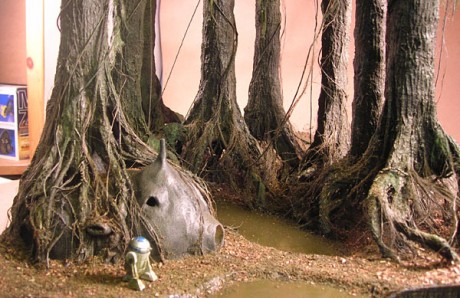 The ground leaf litter is a combination of Woodland Scenics fine "soil" and "earth" tone turf and crusted basel and autumn oak leaves. I never thought I'd be able to use that WS turf stuff for anything as with most application I've seen it looks like bad railroad scenery. However I think I've got it looking pretty good thanks to some great builds at the MIG forums.
To apply the litter I first soaked the area with "wet water" which is just tap water with a few drops of dish soap. This lets the later glue app flow nicely. I first sprinkled the surface with the dark green soil tone followed up by the dead-leaf earth tone. Then over that I sprinkled a fine layer of the crushed leaves. Then I used an eye dropper to soak the area with a mixture of Future Floor acrylic, water and Prepared Matte Medium. A ratio of 1/3 of each liquid is fine. Once this dries the area still looks wet, but is set pretty solid.
Once I'm done with the ground clutter I'll blow off the excess, clean off the water pools, then coat the water with a few more layers of Future to really gloss them up and seal them.
Just wanted to post up a few images of the progress so far. I've finished the muck-moss and have been pouring water the past few days. The resin water stinks BAD so it's bee slow going since I can't be in my workshop much with the chemical stench and loud vents on.  With my final pour I had some bubble issues. So pissed, but I'm fixing them and should be able to salvage it and make a silk purse from this sows ear. I have quite a few solutions in mind, but so far, many layers of FFA are doing the trick. After some airbrushed much and ripples it should be perfect.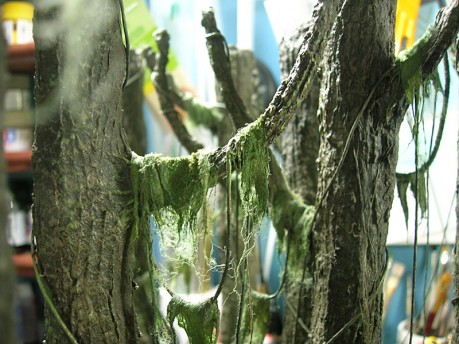 Screeshot from the DVD. The ripples should hide all!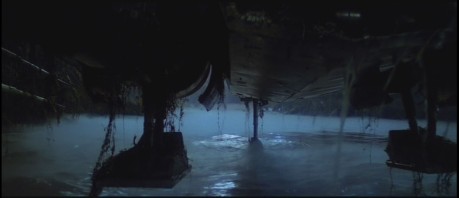 Progress has been slow, but that's probably because I've been putting a few steps off until I figured them out.  Now that I have it's time to move forward to start finishing this up. First I gave the trees an additional spraying of very thin olive green then some clear gloss future to make it all look moist.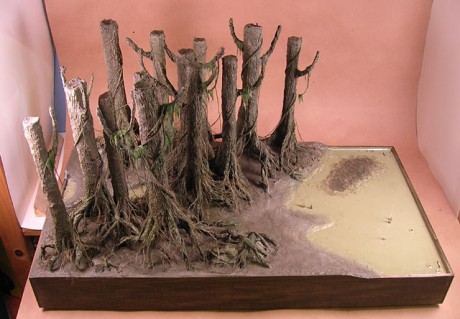 The first part I had issues with was creating a type of "Spanish Moss" growth from the trees and vines to really give it that swamp look. Also I figured that whatever I used for the spanish moss could also be used for the "seaweed" on the X-Wing. I got a lot of suggestions from forum members at Mig anf FFF and based on those I decided on the following solution using cotton balls and fine turf.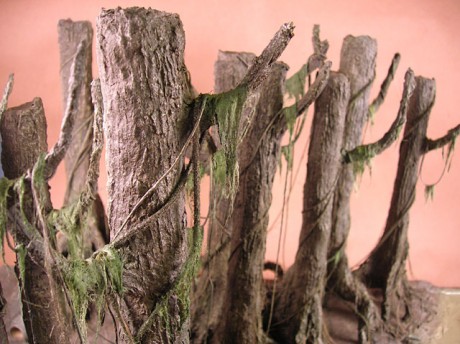 Basically pull some cotton from the ball and stretch/pull it into a long flat piece. Then add a few drops of whatever color cheap-acrylic paint. In this case I mixed up a pale green. Then using your finger, roll and dab the paint evenly over the cotton. A few drops will do. You want the cotton colored, but not soaked. In fact the dryer the better it'll hold its stringy shape. Next take a few colors of fine turf from Woodland Scenics and sprinkle over it. Work in with your finger. Now just drape and shape over the branches. Secure with a drop or 2 of prepared matte medium then if that washes out some paint add a few more paint drops. Let dry and it's done. You can pull and shape more when dry. I may still do that but overall I like the look. The spanish moss can also be applied on the roots and rocks for added "slime". Also, here's the completed R2-D2.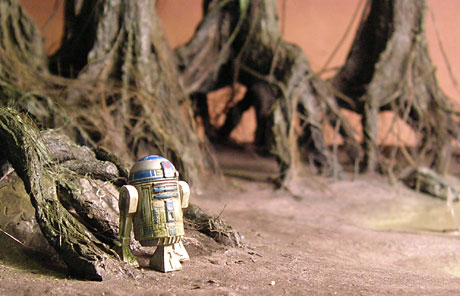 I also started prepping for the water pour. First I airbrushed the water pools with a brown-green swampy muck color. This will be the base and given enough muck in the water may or may not show through. Better safe than sorry though. My water pours will be thin and have varying degrees of paint mixed in to color the water. The final water won't be this green I think. I also coated the paint and anywhere I plan to pour water with a coat of Future in order to seal the paint in and protect it from the water pour leaking out.
Once cured I added the heat-stretched acrylic rod pieces that will serve to suspend the X-Wing in the air. There are 5 main support pieces, but there will be many thin drip streams in the end so the X-Wing will appear to float with water dripping from it. Once all the water is poured then a layer of leaf litter will be applied to the bare ground.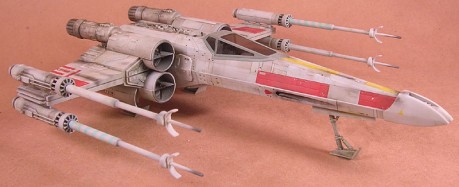 Why semi-final? Well, because if it was just an X-Wing model without being submergeged in swamp-water and muck then I'd be able to call it done. I still need to add the "seaweed" and such to the surface and will probably add some greenish muck-colored streaks using the  502 Abteilung oil paints.
Between this and the last update I applied the discoloration with 502 Abteilung oil paints and turpenoid. I used blue, rust, brown, and several shades of muck-green. Once cured completely I applied scorck and soot marks using "Rocket Exhaust" pigment from the Mig Productions Fantasy Pigments line. Then a final thin flat coat of FFA was applied to seal that in before later applying the wet effects.
Here's some pics. Click on them for larger views.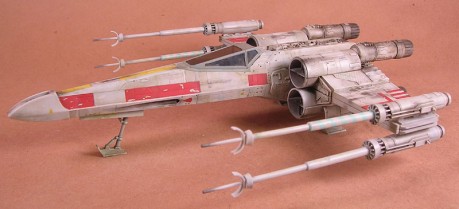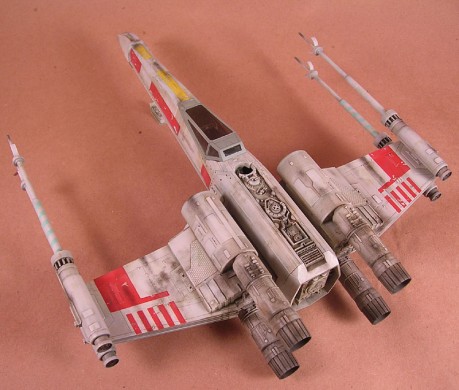 I've been working on painting the X-Wing for a few weeks now while working on other projects, but decided to save up images to make a decent-lengthed post about it. First I primed the X-Wing with Duplicolor Sandable Primer and then smoothed it out with some steel wool. This takes care of any scratches or primer texture. Then I applied dark gray along the panel lines as a pre-shade and followed up with a coat of VERY light gray.
Next I applied a gloss coat of Future Floor Acrylic and after letting that cure a few days I started applying the decals. The first decal I applied too much decal solvent too making it crinkle more than it should have. This eventually flattened back out but had a few "micro-crinkles". I've since lightly sanded these flat and when I do the red discoloration/modulation will repair this error.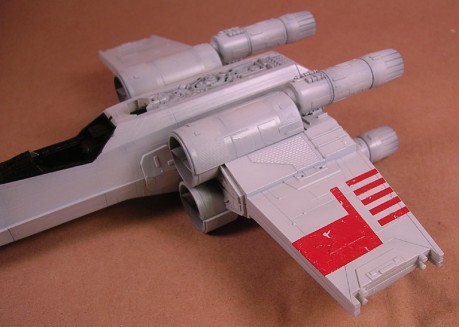 The rest of the decals went on without a hitch. Notmally I wouldn't consider using decals instead of masking and painting for the red and yellow markings, but I didn't think I could get as precise as these were. Besides at the point I'm at now they don't look like decals anymore and when I'm done they should look painted on. After the decals I masked and painted the canopy with Tamiya XF Light Blue with a hint of German Gray. I have a little clean-up to do on the masking, but again, that'll be fixed during the modulation/discoloration process.  The interior of the canopy I airbrushed Tamiya Smoke into to tint it darker. This helps with the weathered window look I'll need.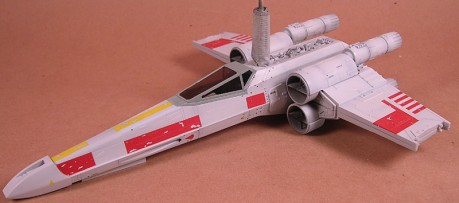 After the canopy was painted I airbrushed on a satin coat for Future Floor Acrylic and applied a few coats of Sin Industries filters to dirty-up the tones.
Once the filters dried it was time for the fun stuff which is the weathering and modulation. Modulation is the process of shading and highlighting for light effects as well as bringing out panel details. In this first image you can see the difference between the unweathered and weathered sides of the wings. To do this I applied slightly thinned  502 Abteilung oil paints around panels and inside of crevases. These were blended into the surface then buffed away with paper towel. This leaves the raised surfaces highlighted and dirties up the recesses. I think this is working far better than any wash I could had done. I used Dark Mud, Industrial Earth, Faded Gray, Shadow Brown and Black. I also added a little Dark Rust and Faded Navy Blue here and there on the thrusters.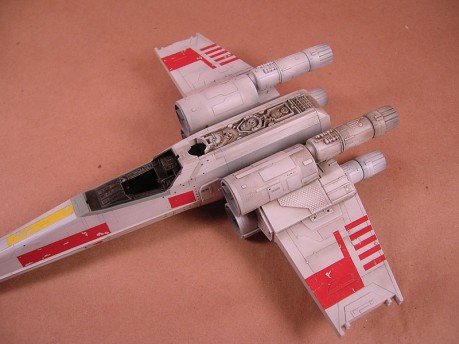 After that I applied more dark or white oils on various panels to differentiate them from their neighbors. This adds more visual interest to the flat wings. After the earthy tones dry I'll apply the modulation to the red and yellow parts. I don't want to do these first and risk blending the red into the white parts and having a pink X-wing. I'll also be applying more weathering later with discoloration, pigments and more. Here's what it looks like right now. I still need to do the laser barrels and the rest of the X-wing from the cockpit forward. I want to let the rear dry first so that I can hold it without rubbing the oils away.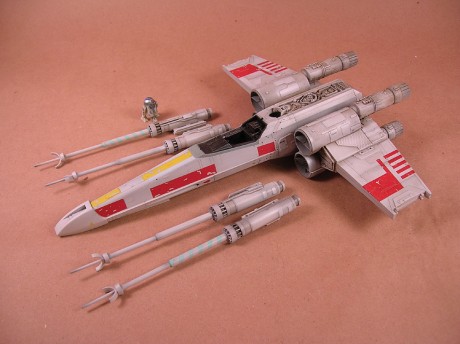 Also my client was concerned about the amount of space on the base for the X-Wing. I took these quick shots to show him. The figure is a random maintence guy from a 1/48 aircraft kit just as a stand-in for Luke.
Hooray! It's working as I hoped it would! What is working you may or may not ask? The jute twine I used for the smallest dangling roots is what. In all of the images I have seen, the larger roots are covered in a lot of small vine-type roots and whatnot which really adds to the distinctiveness of Dagobah's scenery. I wasn't sure if the Jute Twine would work or not however and I really didn't want to use natural materials that could rot/break in time. I use Jute for grass from time to time and am used to coloring and working with it… my concern was if I could get it to pull apart in long enough strands and blend into the trees convincingly. After taking my photos and checking them against the referenes (with the help of a little photoshop coloring) you can see I'm pretty close. Whew!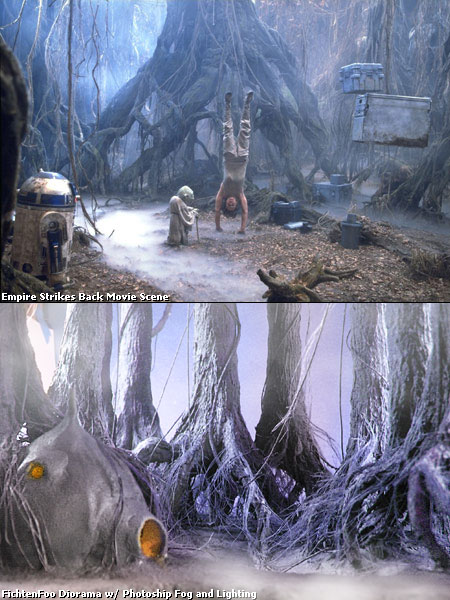 You can find a tutorial on using Jute Twine for making grass here on my blog. For the roots I colored the Jute with a very dark black-brown mixture then a slightly lighter version of that for some variety. I also didn't need to brush it. Just twisting and teasing it out worked great.
After I finish adding the jute roots and cleaning up some cracks on the groundwork I filled with modeling paste I'll put down a fine mix of crushed up leaves over the ground then maybe pour some muddy resin water.
Here's the Dagobah progress to this point which might not look like much from last time. At this point the basswood sides have been cut and applied to the base with 5-minute epoxy. They were then stained with Minwax Ebony wood stain. Very nice stuff. It's a black stain, but lets the wood still show through. I think I'll be using it more in the future as I like the color. It's very good I think at not contrasting with what's above it. After the stain fully dried (24 hours) I applied 4 coats of Minwax Satin Polycrylic, sanding inbetween coats to make a very smooth, but not glossy surface to the wood.
Then today I used DAP white silicone sealant so seal around the edges of the exposed wood where the celluclay will touch later. This will keep out the moisture of the celluclay as it dries and hopefully keep the wood sidewalls from warping. A piece of clear plastic was added by Yoda's hut to seal off the small pool of water when it's poured but still keep the side of the water seen and interesting. Yoda's hut is somewhat painted but still needs further working to get the color and look correct. Here's pics:
The project is progressing nicely and at a halfway decent pace to boot despite the celluclay mistakes. I fixed all of the trees by making them thicker and that did the trick. They're all now dry and painted-up. All that's left is to mount them and add the finer vines and roots. I also made the wooded base riser today so that I can attach the basswood exterior. I screwed some 2×3′s under the MDF base then screwed a thinner sheet of MDF to the bottom to make a solid base. A hole was cut to add the LED tealight later for Yoda's hut.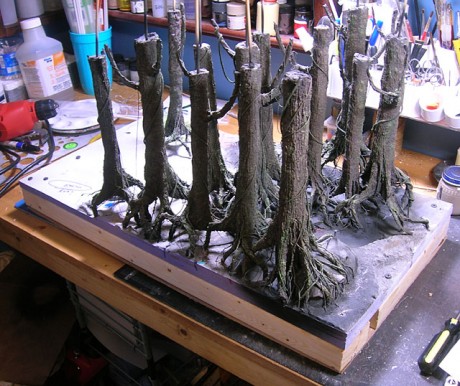 The basswood is now attached to the exterior via 5-minute epoxy and careful cutting/shaping. Later I plan to stain the wood with an "Ebony" (black) stain for wood. Since the client's display case is black and to not contrast the diorama too much I think this is a good choice for the color. Waiting on the go-ahead for that though… once stained, it's stained. I also purchased a 6-pack of LED tea-lights today which are very nice as they have a realistic flicker to them. I might "hack" one to run from an outlet to make it easier for the client. Here's a video of the tealight in action.