Posts Tagged 'Panzerkampfwandern 38(x)' »
You can now order my latest walking tank design from Mig Productions. It comes in two flavors as usual… a flame thrower turret or the standard cannon turret. The price is 58,00EUR and you can convert that here.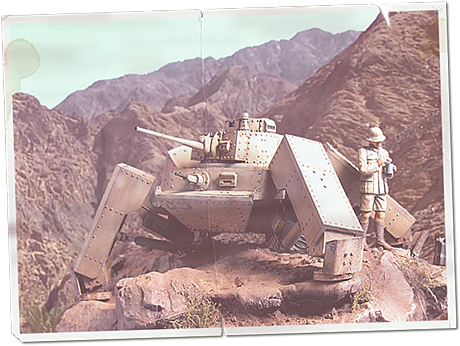 I applied the pigments the other day and made a new base so this build is done! The other base was not wide enough so a new one was required… the 38t(x) has a leg-span of about 6″ and the old base was done on a 4″ box. Doh! The figure is from the Dragon DAK set and is nicely molded. I painted it with oils.
Like I said earlier this latest of my walking tanks was painted up for the box-art and should be available some time this month from Mig Productions. Tow flavors will be available…. one with a turret and one without in case you want to use a different one. The casting was amazing and not much clean-up was needed at all. Not sure of the final price yet, but probably comparable to my KV-2X and Hovertank designs.
Enough yakking… pics!
I skipped over a few steps with the photography, but I can describe them here. When I left off it was time for additional modulation, but this time with oils. Using 502 Abteilung oil paint I highlighted and darkened areas to give them more depth. The colors I used for this were Buff, Light Mud, Dark Mud and Starship Filth. I basically just hand-painted and blended the colors into the surface to lighten and darken it. I added some very faint rust-colored areas in a discoloration technique as well then set it in a hotbox for a few days to dry.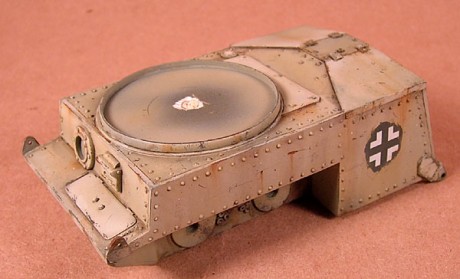 The "hotbox" is just an old paint of speaker-boxes made from wood with one side open enough to put a lightbulb in and raise the temp to speed up oil paint's dry time. I have a 1/35 DAK fig in it now drying to go with this vignette.
After the modulation/discoloration had dried I wen back and added darker and more defined rust areas with the 502 oil's Dark Rust and Shadow Brown colors. Then I used thinned Shadow Brown to do light pin washes on the rivets and panel lines. Then once more into the hotbox for some drying. After that it was all hit with a flat coat of FFA. Next up is pre-dusting with the airbrush and then pigment dusting.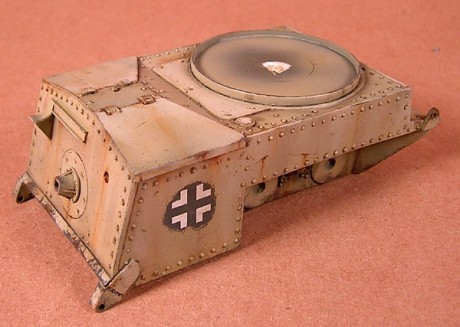 I also started on a small display base for this build just for my own uses as I doubt it'll make it to the box art. I started with a leftover wood box lid from a jewelery box who's "box" had been used elsewhere for another dio… maybe the "Taco". Anyway, I then built up some 3/16″ basswood walls and stained it. After the stain dried I sawed off some edges to create a few levels then filled the box with green floral foam for bulk. Plaster rocks were added then it was all filled in with a gravel, ballast, tallus, sand, white glue, and Celluclay mixture. This was worked in with a wet stiff brush and then more tallus/ballast was added to simulate rockfall fixed with white glue.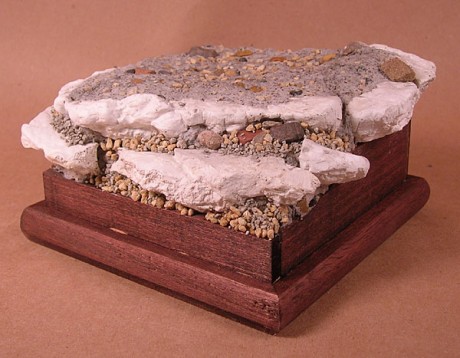 I wanted to simulate a Moroccan desert scene so with the help of some reference started choosing colors to paint the groundwork. After the Celluclay dried, I hand-brushed on several coats of cheap tan/chocolate mixed acrylics with a very slight hint of red based on my refs. I added several coats until all the rocks and groundwork was a uniform color. Next I darkened the base color with a darker tan/chocolate/red mix. Once that dried I applied a wash of Mig Productions "Dark Wash and let it dry as well. When dry I drybrushed the whole base with light tan to make the rocks pop more. Once done the whole thing was dusted with African Earth, Gulf War Sand, and Dry Mud pigments and doused with Pigment Fixer.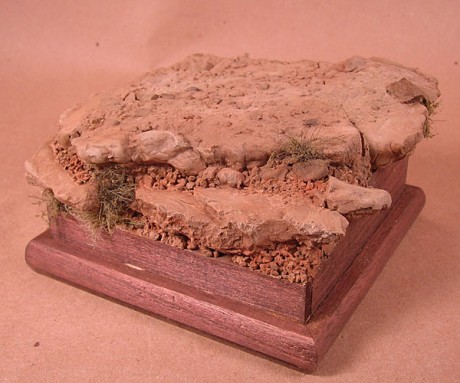 Plants are bundles of dark shaded jute fiber, drybrushed with white glue and dipped in earth colored fine turf.
Continuing with where I left off, I applied some liquid mask over the decals then I applied a coat of hairspray to all of the gray parts and let that dry. Over that I sprayed Tamiya Buff, then used a lightened Buff to do some light modulation/gradation.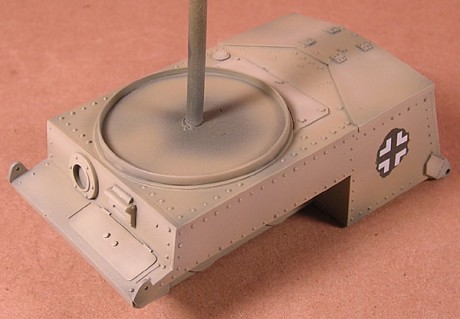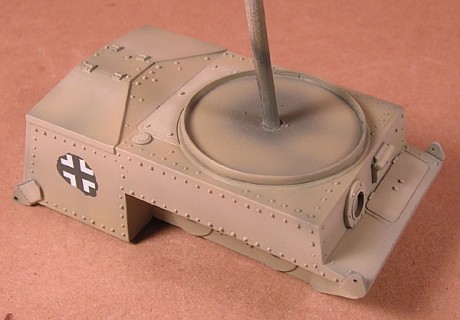 After a few hours I started to wet the parts and using some plastic sheet scrap scraped the edges and added scratches in the buff-coat showing the more durable gray paint beneath. An odd thing happened though which actually saved me a later step. Certain areas where I scraped and paint did not come up dried lighter showing lighter colored scratches and panel areas. I planned to hand paint and sponge these, but now I don't have to.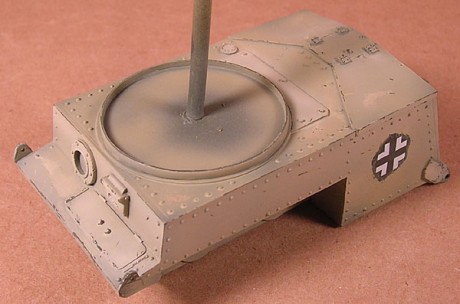 After the parts dried again I took some fine synthetic sponged and added finer paint chips. First I used Deck Tan, then on top of those I used Vallejo Dark Gray, Dark Rust then Red Leather for rust. The rusty areas were applied very sparingly and only where the heaviest scraping would occur. D-Rings, and lower legs. I used all the colors below to sponge rust onto the exhaust, but didn't photograph that yet.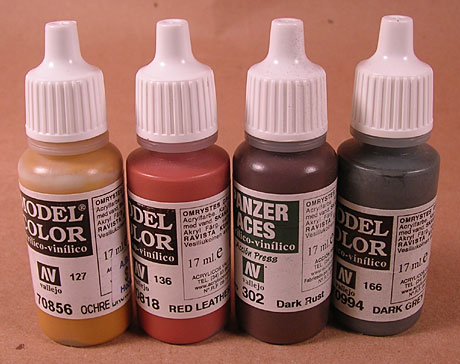 Next up is filters and discoloration.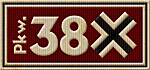 "Not back on it, still on it."  I got my first sample of the 38t(x) from Mig Productions a few days ago to work up for the box art. It's been a while since I've thought about this project so seeing it in this state was pretty exciting. The casting turned out really nice! (Just as nice as that of the Hovertank.) The clean-up only took a day or so to complete which is in part because of the great casting job. The rivets turned out really nice, especially when paired with the Mig Prod. aftermarket turret. Like the KV-2X, this kit will have a turreted and non-turreted release to let you guys let your imaginations fly.
See the gallery below for some parts images before I did the clean-up. The parts laid out on the towel were after I did the degreaser bath and scrub in order to make sure I had everything and for a pic of all the parts.
After the clean-up I primed everything with the green Duplicolor Self-Etching Primer.
Once cured I applied a coat of a dark blue-gray to all of the parts.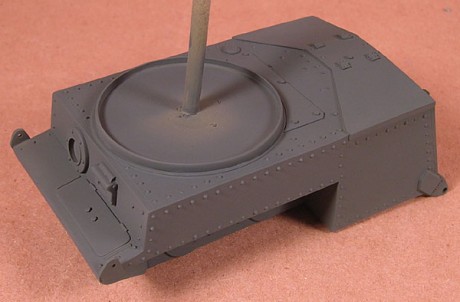 Then lastly for this update I clear-coated it all in Future Floor Acrylic and applied German insignia decals from my Dragon 38(t) kit.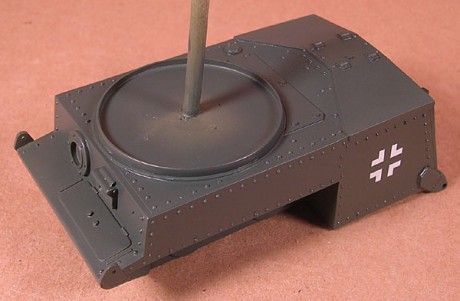 Tomorrow I'll hairspray the parts and apply the buff desert coat which will be chipped lightly to show the base-color beneath.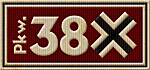 Been plugging along with this project slowly but surely. Hundreds of rivets take time afterall! It's about done though and ready for the caster.For this design I only have two workable pistons (two more are hidden in the leg armor) which lead to an interesting cris-cross design where the upper piston travels through the mid leg support. The foot is on a ball-joint and has detachable ankle armor. This time I made a wider foot for more traction. Not that the KV didn't have that, in fact I liked it's variable foot, but this is more specialized and probably prone to less breakdowns. Anyway, here's the pics. Enjoy!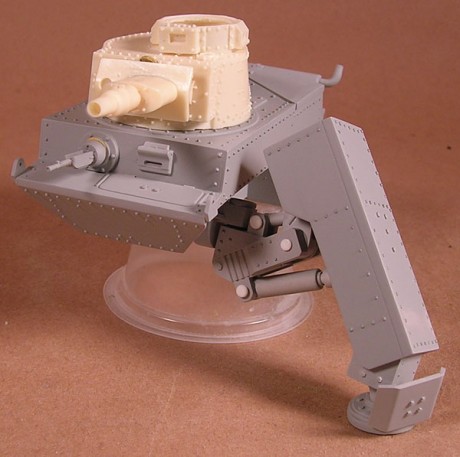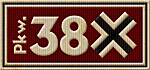 Now that the KV-2X is available I figured it was time to start my next  X-Series walking tank. ('X' for the shape the 4 legs makes from above) This time it's a German model based on the German Panzer Kpfw.38(t) Ausf. G. This will be somewhat smaller than the KV-2X, but be full of detail. I decided to do the 38 because of the many riveted details on the surface. I thought that would make for an interesting piece. Plus it's small size is fun as well. I can imagine a swarm of these things overunning the countryside.
Here's the initial in-progs. I'm trying to improve upon the KV legs by adding a vertical swivel where it connects to the chassis to give it one more angle of articulation. I'm also using one less set of workable pistons per leg, although there remains additional piston detail under the main leg armor segments. I'm also trying to make this look more German-styled as opposed to the very general look of the KV. So far it's just the main shapes, but soon I'll be adding detail to the surfaces.