Posts Tagged 'Paint' »

So I sent my turret off to a caster a few weeks ago. He decided to purchase the master and to produce it which is great because I got a bunch of copies for my use plus some trades which is nice.
I got my copies on Saturday morning and that night threw one into some 'Purple Power' to clean the mold release. They look great and with three parts, paint-up should be easy so I decided to see how quick I could paint one up. Here's the process:
Saturday 9-27-2009:
Received the kits and threw them onto a bath of Purple Power. You can get it at Walmart. It's an engine cleaner/degreaser and great for removing the mold release agent from resin parts.
Sunday 9-28-2009:
I removed the parts from the cleaner and scrubbed them down with an old toothbrush. I then did the minimal clean-up needed. A few small mold lines on the turret/gun and on the base of the base was all there was. Gave the turret two coats of primer. First was green Duplicolor Self-Etching then a coat of light gray Duplicolor filler primer. After that dried I buffed them with very fine steel wool to smooth out the filler primer.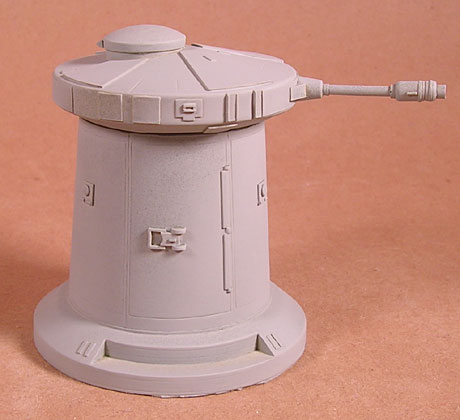 After that I started on the base coat. This will be a multi-stage, multi-layered process so bear with me. I first sprayed it with Tamiya Light Sea Gray then I mottled some Deck Tan over that. Finally I did a post-shade of panel lines and shadow areas/damage with Tamiya Dark Gray. This was all later sealed with Future Floor Acrylic. It looks like an odd jungle camo, but this base coat will be mostly hidden by the next steps and serve to give a layered and used look.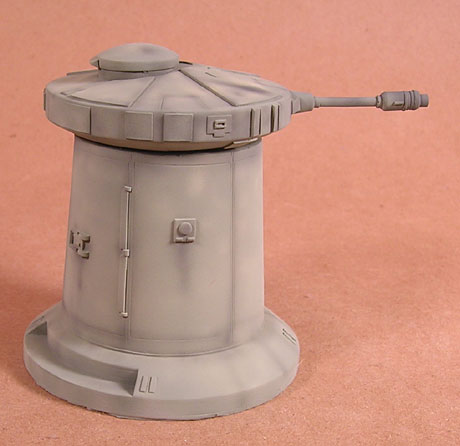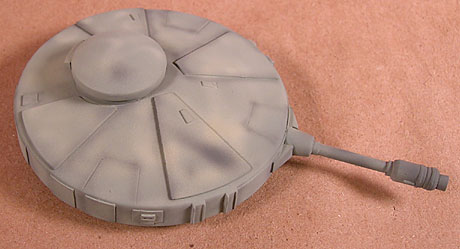 Once the Future cured I gave the parts a few coats of hairspray and a sprinkling of crushed kosher salt over the still-wet hairspray. This will make for some interesting chipping effects through the whitewash when wet-down and chipped with small soft brushes and toothpicks.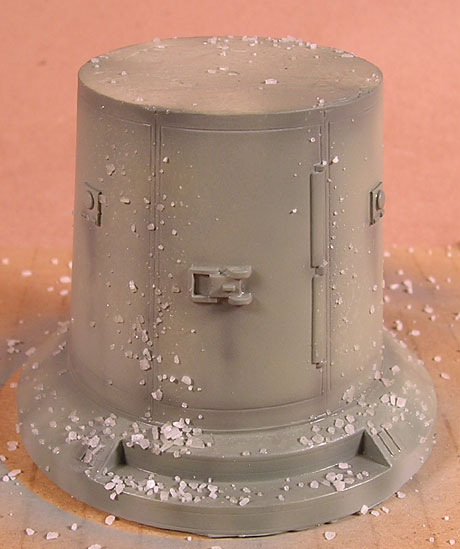 Over the dried hairspray and salt I sprayed on thin coats of Tamiya Flat White. Allow some of the base-coat to show through. Make the top of the turret and other parts lighter to get a sunlight highlighted effect. Spray under the turret thinner to make false shadows.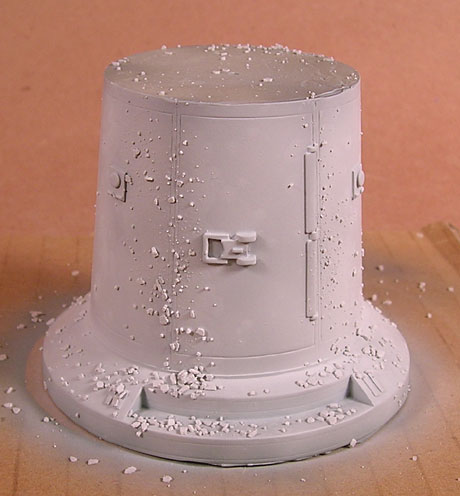 Once the paint cures a bit… (I only waited about 20 minutes) take and dunk it in some water and use various brushes and such to remove the salt and to add more chipped paint. The hairspray loosens the top layer of paint with water allowing fo easy and realistic chips ranging from small faint scratches to huge blasted away areas.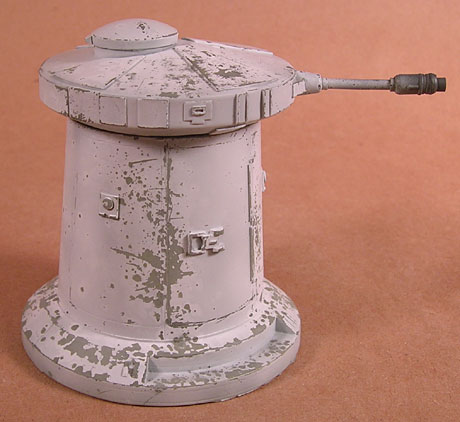 At this point the contrast between the white and the base coat is pretty stark. I expected this and this allows for yet another layer to be added. All of these layers make for random variations leading to a more realistic end result. Over this spray another layer of white to blend in the chips until you're satisfied with the look. Vary your obacity as usual to get a mottled realistic look.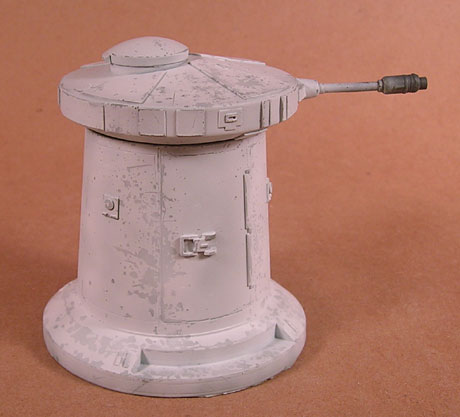 At this point we're ready for the actual weathering. While some might call this done, a few extra steps will really bring out the look and make something that's plain white to be something that's far more visually interesting. First I applied a Sin Industries filter (gray for white) then after a few hours of that drying I added some discoloration with oil paint. I used white, blue, dark rust and dark mud colors. After that I added more white oils over that to bring back the lightness that the discoloration and wash took away. Finally I added some rust streaks with oil paint. Here it is all done.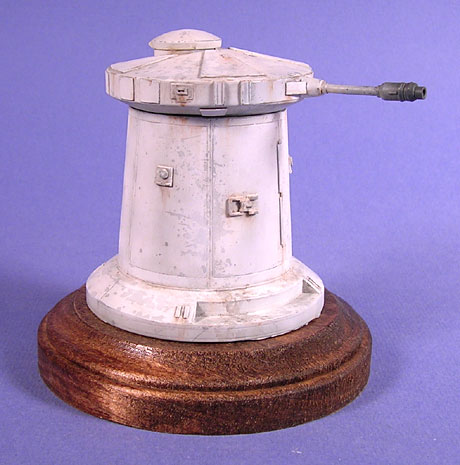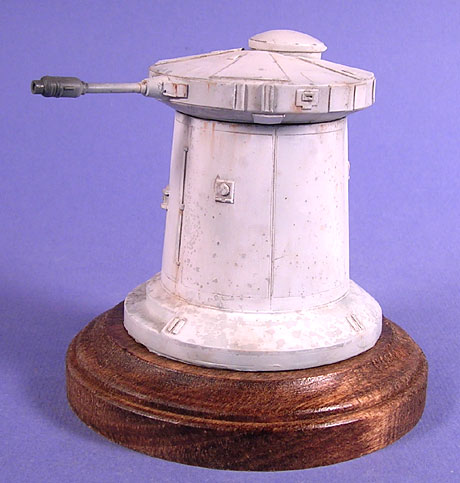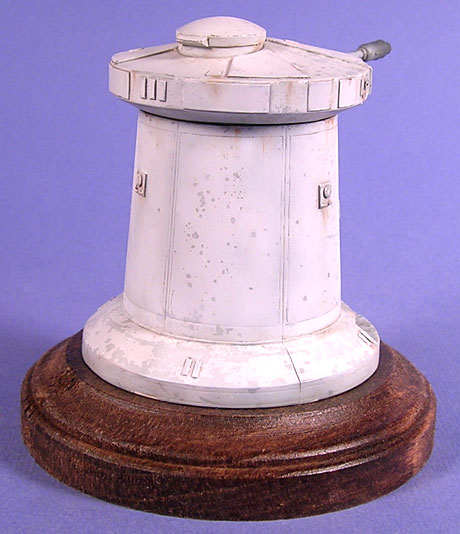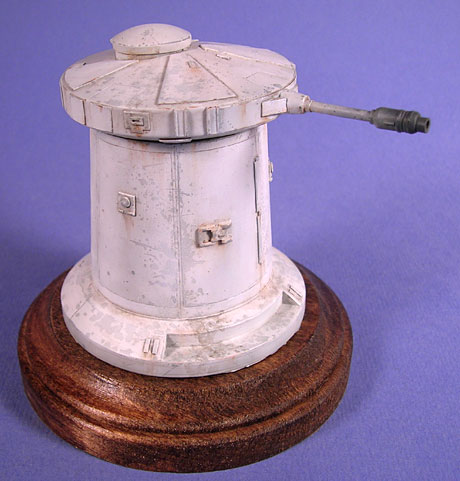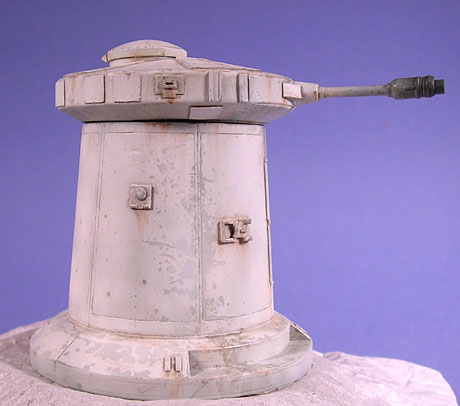 The 1/20 Scale Falke from Hasegawa is completed. Overall a very fun build without any major problems. Parts fit was great and painting/weathering went smoothly. The base was fun as well. So nice to work with Celluclay at this scale rather than the large base for Dagobah. I used plaster rock molds from Woodland Scenics, gravel, dirt, and celluclay. I filled the bottom of the base with rocks and plaster for weight, but it wasn't needed as the Falke is very light. To make the Falke look like it was flying very close to the ground on a 'nap of the earth' flight I made a tree trunk from wire and celluclay. Two wires stick up from the trunk to hold the Falke up. Then rotts were added to simulate the tree being broken by the Falke as it flies over it. This gives the illusion of flight. Jute was used for the grass.
Just a quick update on the Falke progress. Yesterday I applied the paint chips then the discoloration using the 502 Abteilung oils. I did it one panel at a time and varied the amount of each color so that the result was different discoloration for each panel. I used Faded Navy Blue, German Ochre, Snow White, and Light Rust. The effect is just so cool every time I use it. Really gives a lot of depth to the color and makes the paint look old and worn. Chips were done with a thin brush and sponge using Tamiya Dark Gray thinned with water.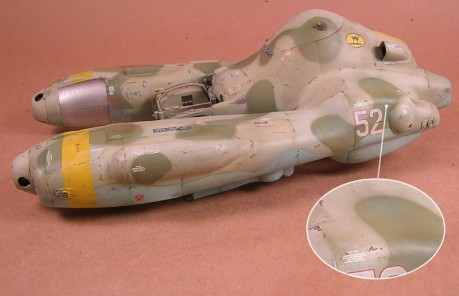 Next up I highlighted and shaded the panels on the Falke to distinguish them from the adjoining panels. This makes it look more worn and makes the individual panels stand out more. This was also done to the underside. Various mixes of Mip Productions' 502 Abteilung oil paint were very lightly glazed and worked into the surface to keep the undercolor, but lighten or darked the paint underneath. I also used more of the "Primer Red" color to add more primer spots near the primer sprayed panel. Here's the pics.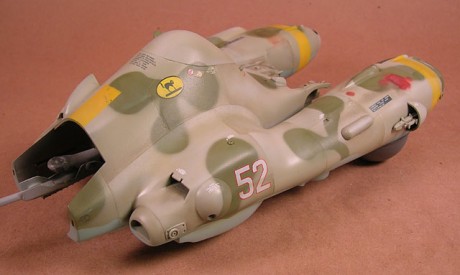 Next up will be some oil discoloration.
The Falke progress continues with decals and heat tarnished metal effects. First I applied Mig Productions filters to the unsealed hull right on top of mjy Tamiya paint coat. Best way to apply them! Then after a gloss clearcoat of Future I applied the decals. I used those that came with the kit as well as some from a Soviet plane for the numbers and a few additional markings by the cat decal.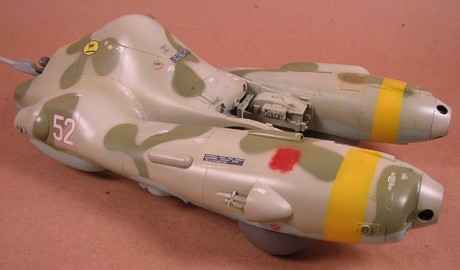 I also started the weathering and tarnish effects for the engine and metal parts. After my initial Alclad II coats I applied a satin coat of Future to seal it. Then I used Silver and Gold Rub 'N Buff as well as blue and violet oil paints. These were applied straight and blended randomly and applied to the surface. Then they were smoothed in. The results are great and gives that color-shifting look. Later I'll ass some greasy grime and washes. I also added more red wires to clutter the look more after noticing that the Hind engines had a lot of these (and yellow) cable lines. The small red-coated handles were made from brass strip and striaght pins. The tip of the handle was dipped in cheap red acrylics to give it the rubber-coated look.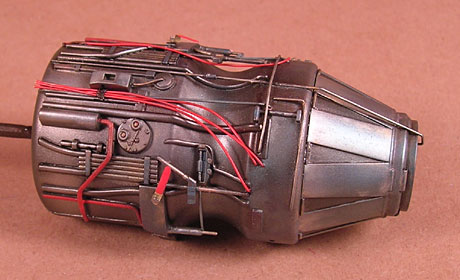 Looks like this will be another speed build for me. A few weeks ago I recieved my new 1/20 plastic Falke kit from Hasegawa's entry into the Ma.K universe. Thanks to Lin.K for hooking me up with this and his wife for the deliscious snacks that came with it! It's been sitting on my shelf on top of my 1/35 Hind helo box staring at me, begging to be built. Then it hit me that this would look great in a Hind camo scheme. Construction and clean-up only took about 4 hours not including drying time for putty. The seams were very easy to deal with and part fit is wonderful and unusual for a MaK kit! I decided that since my plan is for an in-flight falke that I'd skip all the parts for the figures and save them for another MaK build.
I was only going to build it OOB, but decided that the engine could use a little more pipe-detail to make it more interesting. So I added some brass and floral wire as well as a socket pin inside of the thruster. I replaced the gun barrels with aluminum rod since I hate the flash on OOB tubes and guns. Hard to sand it smooth and perfectly round again. I also added a few panels on the top-front with brass sheet where the craft was damaged and repaired. The only other mod was some detail on the side-seams that made clean-up annoying. I just replaced that with thin styrene.
Like I already mentioned, I'm giving this craft a Soviet Hind helicopter scheme. I have a few reference books on the Hind so getting a good pattern, colors as well as paint/detail pics of engines was easy. I went with the tan/green clover camo and the minty bottom. Always liked that scheme. I used some paper masks and highlighted some panels as well as making some panels completely different. One is bare metal, one coated in red primer, and one that looks like it was repainted in a slightly off color. This is to give the craft a used, repaired, used some more look. Even with that I want the chipping to be minimal. It is an aircraft and not a ground-pounder afterall.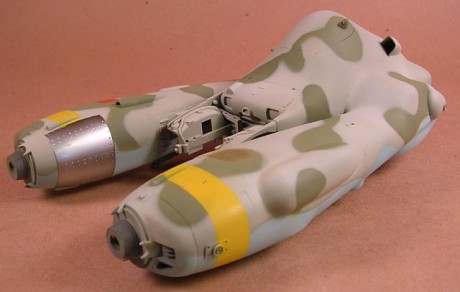 The engine was painted in many colors of Alclad II metalic lacquers. Jet Exhaust, Steel, Stainless Steel, and Pale Burnt Metal. Then some Tamiya clear blue was added. Later more metal variation will be applied with rub-n-buff. As of now the main paint is done and I can start on the filters/chipping/weathering.
One of the questions I get in my inbox at least once a month (including today)Â  is regarding airbrushes. Specifically questions like:
"I read your tutorial and want to improve my painting by getting an airbrush and compressor. I want/need something cheap though to start with."
Well, here's the solution to this common new-modeler problem. The Central Pneumatic 1/5 HP, 100 PSI Compressor and Air Brush Kit available at Harbor Frieght stores and online. At $84.99 (under $100!!!), this is a fantastic set-up for the money. This is the compressor that I am currently using and I really like it so far. The airbrush is a close knock-off of the Badger 155 and great for a beginner. I use a Badger 150 and a 175 with great results. Some folks will recommend something like an Iwata, but seriously, if you're new to the hobby that large chunk of change can be intimidating.  (or if you're a cheap-ass like me who believes it's more the skill of the modeler than the tools he uses/can afford)
 This is a great investment for the newbie and his wallet. It's cheap enough that you won't have to worry too much about screwing thing up during the learning process, and with the money you'll save you can buy a few more practice kits!
Every once in a while I decide to take a lot of step-by-step photos and make a tutorial out of them. I figured that this small jeep kit from the Gundam UC Hard Graph line would be a great piece to test out some techniques and write about the armor painting techniques I've picked up. So let's get started!
1: First up of course is the pre-building of the kit. In the stage you cut, sand, and figure out how everything fits together, what will need masked, and what can be glued to start. Once done, parts can be attached to skewers and whatnot to hold them during the painting processes.

2: Primed jeep via airbrush with Mr Surfacer 1000 thinned with lacquer thinner and a few drops of Mr. Retarder Mild.
3: Sprayed jeep with gray then random swaths of Nato brown and a rust mixture. All Tamiya Acrylics. Later this will show through as random rust and primer coats under paint chips.
4: Clear-coated and sealed jeep with Future Floor Acrylic (FFA) thinned 50% with Tamiya Thinner.
5: 24 hours later 3 thin coats of hairspray (hair lacquer) were applied.
6: Jeep was sprayed with Olive green then parts were highlighted with JGSDF Olive Green which is a little lighter.

7: A few hours later, using clean water, various brushes were used to wet the model and loosen the water-soluable hairspray undercoat. This makes the topcoat of greens unstable temporarily so that they can realistically be chipped away with the wet brushes. Other implements (toothpicks, styrene card shards) can be used on the unstable surfaces to create line-scratches. Larger areas of paint can be removed as well as I did on the fenders. Remove as littler or as much as you want.
8: Now that the chipping is done, it's time for decals. Normally I would coat the whole kit in gloss Future Floor Acrylic. This time however I just brushed a few thin coats where the decals would end up. Note the gloss on the front fenders.
9: Decals were applied and tools, dashboard, seat cushions, and other hand-paint-necessary bits have been painted. Mirrors and lights were painted with silver. Later clear Tamiya was applied where necessary based on the light color.
10: Now a satin coat of FFA was applied. This seals the topcoat from firther chipping attempts, accidental or not and seals the surface for the solvent-based weathering apps.
11: Next up, three applications of filters have been applied to all the jeep parts. Filters are kind of like a wash, but not really… they're hard to explain, but add a lot to the depth of a model. For this filter I mixed up a pale blue-green oil-paint mix with some turpenoid. This alters the color slightly and blends colors together between the various colored parts. It also "seasons" or tooths the surface slightly for the next step, discoloration. Note also as I go, more and more of the jeep gets put together. This is based on what needed painted when and with minimal masking.
12: Once the filters have dried/cured for 24 hours, it's time for the discoloration. This technique involves applying small dabs of various oil colors then blending them in with a thinner dampened brush. This gives the surface more variation in color and a more realistic and deep appearance.
13: After the discoloration has dried, about 24 hours, a wash is applied. This wash is a mix of oil paint to a dirt-color then thinned with turpenoid. This thin wash is applied to the whole vehicle and all external parts such as wheels, seats, etc… While it's drying you might notice pools or water (thinner)-lines. These can be blended out with a stuff soft brush before the wash fully cures. Another 24 hours.
14: Next up is pre-dusting with the airbrush. For this I've mixed Tamiya Flat Earth with Flattened FFA to make a semi-transparent dirt-mix. This is sprayed in very light mistings where larger amounts of dust would collect. Side skirts, underside, and the rear pannel. More specific dusting effects will be added next with pgment powders.
15: The windshield was masked off where the window wipers would hit. Then the windshield was lightly sprayed with my Tamiya Flat Earth + Flat FFA mix.
16: The tires were painted in flat black then had a satin finish applied. Pigments were dusted onto the wheels and then rubbed off with rubber gloves. This removes all the pigment except for what's around raised edges and in the treads. A little bit of pigments were then brushed around the road-hitting edge of the tire since it's been running on a dirt road and would pick that dirt up.

17: The machine gun was painted in flat black and given a flattened FFA coat. Powdered graphite was rubbed over the weapon to give it its gunmetal sheen. After it was attached to the jeep it had just a little disty pigment applied since the weapon would generally be removed and kept very clean and maintained.
18: Pigment powders were applied dry with various brushes. Thinner was applied to these dry pigments to affix them to the surface better. The end result is still fragile and should not be handled much, especially not with bare hands as that could leave fingerprints in the finish. The underside and rear panel recieved a lot of pigment, while the rest just got dust added in specific places. A little powdered graphite was rubbed onto the floor grates and sides where the crews feet would rub/polish the surface.

19: And that's pretty much it. Different colors and conditions would call for different pigments but these techniques can work for just about any armor/robot subject. I hope they can help you and as for me, this tutorial will help me remember what I did for next time!
I've been wondering for quite some time as to how to make a decent custom clear color for candy coats. My goal was to replace my Tamiya Clear colors with something that goes on as nice as Future Floor Acrlyic.
I experimented with Future + Colored Higgins Inks, but they wouldn't blend and just made a mess.
I then tried a mixture of Future + Food Coloring, but the mixture was too thin and ran all over. Then I had a thought…
I used my previous mixture of about 1 teaspoon of Future + 5 drops of food coloring. To that mixture, I added approx 3 drops of Tamiya Clear for every drop of food coloring. The result was thicker than I had wanted, causing sputters from my airbrush (which needed cleaned as well) however, aside from what spattered from the tip of the needle, the coat went down very nice and smooth. I would probably try 1 or 2 drops of Tamiya clear per drop of food
coloring next time.
So to sum it up:
Non-Tamiya (sort of) Custom Clear Colors:
1 tablespoon of Future Floor Acrylic 5-6 drops of food coloring to get a deep color
1-2 drops or Tamiya Clear / 1 drop of Food Coloring to thicken mixture
I'll post an image when I use it on a non-scrap piece.
Here's another question I get asked a lot in e-mails. How do you flatten Future and what is it? Future Floor acrylic is basically just a clear acrylic that you mop onto your floor to protect it from scratches and scuffs. Somewhere along the line someone figured out you can use it as a clear coat for models.
What's great about Future Floor Acrylic (FFA) is how versatile it is in modeling. You can use it to protect your kit, make canopies and clear parts really shine, and by mixing it with Tamiya Flat Base (FB) you can make any sheen you want for a clear-coat. Tamiya Flat Base is not a paint or clear-coat on its own, but instead, it's an additive to make gloss paint flat or dull.
To make different clear coats, combine FFA and FB using the chart below:
After you mix your FFA and FB you can store it in an airtight jar for an extended period of time. To apply it to your model, airbrush it on your model (unthinned) in light coats. I spray a thin layer, dry it with my airbrush air-only real quick, the spray again. Check out my airbrush tutorial for more detailed info on the technique.
Do not mix more than 30% FB to FFA as you will end up with either a cloudy coat or white spots. I use an old infant medicine measuring syringe to measure out my ingredients. This is just how I do it. For more info on FFA, check out the Complete Future page by clicking here.