Posts Tagged 'Martian Light Hovertank' »
The 1/35 scale Martian Light Hovertank is all done and I finished it a day before deadline. Yay me! Anyway, enjoy the images and keep an eye out for this kit when it hits the Mig Productions website and hobby shops in December. If you get it and build one, please let me know and I'll post it up here. Onto the images: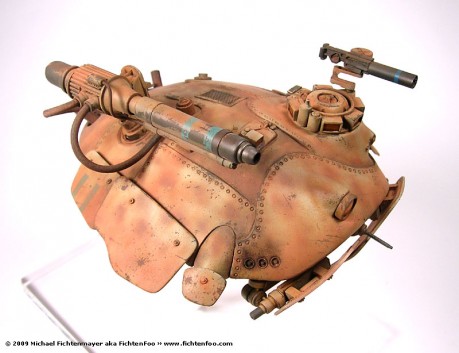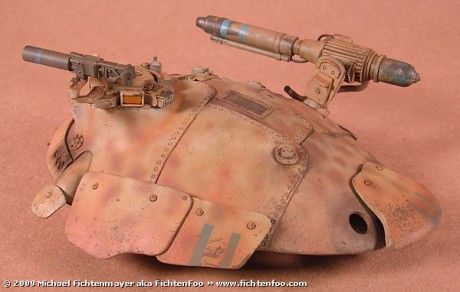 I received my first Hovertank kit to paint up for the box art, but not before finding out my deadline is the 20th. Yikes! Needless to say that it's been a busy weekend here in my workshop. (Thanks for understanding Rachel!!!) The Hovertank arrived on Thursday morning (12th) from Adam at Mig Productions and immediately found itself in a bath of Purple Power to soak off some of the mold release. Later that evening I scrubbed the parts with a toothbrush and  set them to dry overnight. At this point I didn't get much chance to look them over.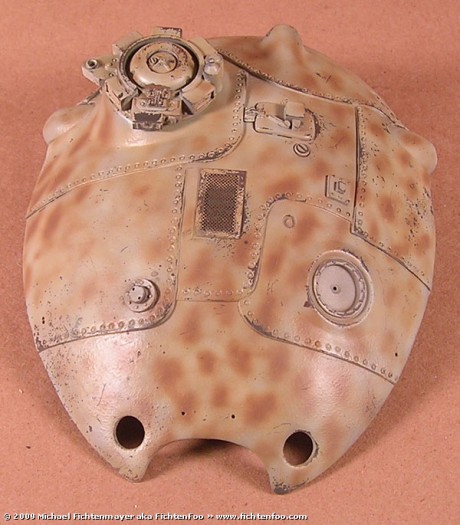 Friday I spent cleaning up the parts and I must say, all bias aside, this is a VERY well casted kit. I'd make it my second-best cast ever recieved, the first being Francesco's Hard Boiled AFS cast which was near perfection. My cast had no bubbles and everything looked just as it did when I sent it. The clean-up was a breeze! In fact it took maybe 3-4 hours total to clean-up and pin. The only problem I found was that I was missing two parts (front eye and gun-hose couplink) which are in the mail as I write this. Doh! The Photoetch parts are FANTASTIC! Sooo glad I decided to go that route when designing this.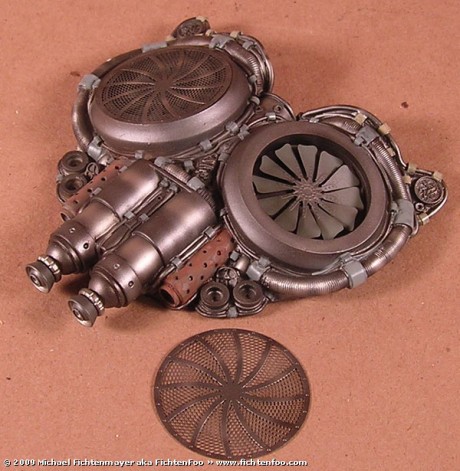 Friday afternoon/evening I managed to not only texture and prime the kit, but to put down a dark-rust base-coat as well since I planned on doing the hairspray/salt chipping technique.
Saturday I salted/hairsprayed everything and painted the camo, markings, and other misc parts. I wanted a Kondo/Kobayashi-like camo and I think it turned out better than I expected. I love my Iwata HP-BH airbrush! Thanks to Rick for teaching me the mottled AB techniques! Really helped here. I also painted the metal parts using Alclad 2 lacquers. Saturday afternoon/evening I was able to apply 2 filters then let it dry overnight.
Sunday was spent doing oil-paint discoloration and washes and working on detail-painting the engine.
And that leaves me at today, Monday, and 4 days until my deadline. At this point I've gotten my pre-dusting done using pigments and airbrushing a Martian dust color. At this point all I have meft to do is my general pigment dusting, finally using Mig Productions Martian Sand color. I'll be using African and Vietnam dirt to vary the tones and possibly some Gulf War sand mixed with Martian Sand as well for lighter dust tones. I don't want to apply those final pigments until the parts arrive. Hopefully I'll see them on my doorstep tomorrow or Wednesday. Either of those days gives me enough time to meet the deadline and take my pics.
So keep an eye out for this kit in your Local or Online hobby shops next month and show me your finished builds!
For a while now I've been mentioning that I had another secret project master sold to Mig Productions, but didn't have the go-ahead to post about it publicly until now since' it's in production.  I present to you, the Martian Light Hovertank!
When I made my last Martian Hovertank, Mig really liked it and mentioned he'd love to have one to paint-up. That got me thinking about doing another, but much smaller than the last one which is just plain huge. This time I decided to make a smaller light tank used for raiding and fast attack. I actually finished this over a year ago and sat on it for a bit while waiting to see how my KV-X2 worked out with my original bad caster. When Mig decided to take on the KV, he bought this master as well.
This just went into production and should be available sometime before December. I should be getting my first copy in a few weeks which I'll be painting up for the box art. Adam is very jealous as he also likes the design a lot.
To start this long overdue progress thread off however, I'll post up my progress images. This started out with a "bean" as we called them. They were part of a trade show booth from the first company I worked for. A few years ago, while visiting my old art director for some freelance she gave me one. It's been gathering dust, but with a slathering of Vaseline and some bondo, it made the perfect shell mold for this tank's base.
Over the bondo I added Aves Apoxie sculpy, armor kit bits and plenty of scratchbuilt details. I wanted it to have an insect or trilobite/crustation appearance and I think I got that. Looks like a cross between War of the Worlds tripods and modern armor to me. The front landing legs have large armor plates and look crab-like while the 4 rear legs fold up under the rear armor when the tank is on the move. I imagine the tank could also walk on these legs when necessary.
The engine/fan-ducts was inspired by my friend Luca Z's work on the Briegel internals. What's exciting for me is that that I was able to use photo-etch for the fans and covering grilles. There will also be tubing on the positron cannon which runs to the mount and the tank hull.
Anyway, here's pics of the tacked-up tank before I sent it off to Mig and of the progress.  I think it'll be a lot of fun to paint and hope you guys like it as well.