Posts Tagged 'Markov' »
It took a little longer than I had planned but I've finally took completed images of Alb-Lab's Markov Racer. As seen in the in-progress posts below, this particular racer was sponsored by this very website! Pretty swanky eh? You know you've made it when you can sponsor an anti-gravity racing event.
Once the final clear coats had cured and were wet-sanded with 6000 and 8000 grit micromesh, I polished the whole body with Tamiya Polishing Compound: Finish which gave it a fantastic mirror-like gloss. The only drawback of course is dust. Ugh… I dusted the model before pics and there's still dust in the pics. Oh well…
I added some damage to the left front intake as if it had hit another racer accidentally. Some metal, paint, and decal scraping can be seen and blue paint from the other racer stuck to this craft. Small clear blue and red lenses were added to the sides of the craft as lights. Here's the pics:
Been a few weeks since I touched this or updated, but I wanted to show the progress so far. Since the last update I first applied about 5 layers of Future then after a week of curing I used 6000, then 8000 grit micromesh to wet-sand it to a nice glossy polish. After the polishing of the clearcoat I applied the decals then another 5-6 airbrushed payers of Future. 2 weeks later (today in fact) and I repolished it with the 6000 and 8000 grit micromesh then polished it with Tamiya Finishing compound. The end result is almost glass-like, looks wet and impressive to me. I did accidentally go too deep with the sanding in a few spots, but it was on raised edges and I plan to ding and chip it during the slight weathering process. I want this Markov to look like it's in the middle of a very tough race.
Today I also masked the canopy with Parafilm "M", then spray painted it with cheap gloss black spray paint from Walmart. < $1 a can in fact, but nice stuff! 'Color Place' brand I think. Weeks ago I masked and sprayed the top three panels with clear blue as a sun tint.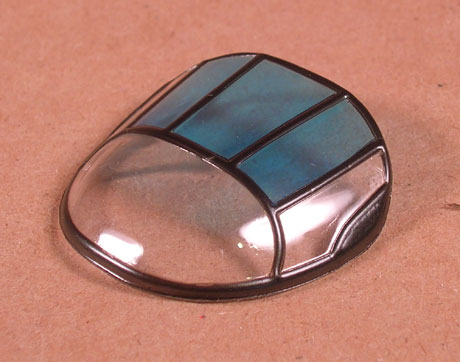 I also painted the thruster today using various Alclad II lacquers, oil paint, and Rub-n-buff.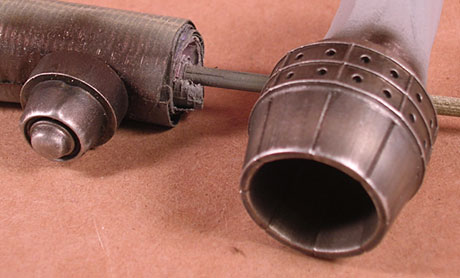 Markov progress continues with paint and primer. I initially primed all of the parts in Duplicolor Self-Etching primer in order to bite into the resin better than normal primer. Then I buffed that with some very fine steel wool. Once nice and smooth I applied a Mr. Retarder'd layer of Mr. Surfacer 1000 for a fine smooth finish.
Once that was cured I sprayed all of the areas and parts that would be red, orange or yellow with white Tamiya as a base coat. That was followed up with the bright colors. and a thin layer of Future (FFA) to help seal it for masking. I painted the interior first with Neutral gray then weathered a bit and applied red, white and green to the lights. An ejection bar system was made from brass rod and extra PE panels were added for more interior detail..
Again, let it cure then mask for more paint. The next color was a khaki-like color to match my website and another coat of FFA. Once cured I applied masking tape squares and triangles to mask for the black fractal pattern also seen on this website.  I painted the black and applied another coat of FFA. Next I'll paint the black around the outside of the cockpit hull and the canopy along with some metal parts.
Okay, I'm back at it. While waiting for oils to dry on another kit I started assembling the VERY nicely casted and designed Markov Racer from Alb Labs. You can see an in-prog of his kit master here and can buy it here.
The kit has very little clean-up so as far as resin kits goes this one is relatively low-resin-dust from sanding which is a concern of mine these days. The fit is very nice as well and just required minimal Aves Apoxie Sculpt in a few spots to fill gaps. My only disappointment is the large thruster which was made in two halves. The detail makes it hard to clean-up and the halving it seems unnecessary. Aside from that it's awesome. I haven't touched the vac-form canopy yet or have ever tried one so that should be interesting. The female pilot is very nicely sculpted and a great change of pace.
Mine will have a custom decal scheme depicting a racers whose primary sponsor is none other than FichtenFoo.com. Jinkies! So expect a khaki drab base color with black fractals, orange and blue highlights and some cool little worker pillbots. Other sponsor logos were either sent to me in vector from the owners (Kallamity.com and Alb-Lab) or downloaded from SeekLogo.com to use on my custom decal sheet.
I'm waiting for Aves to dry then I'll start cleaning up the seams and thruster. Until then, here's some pics.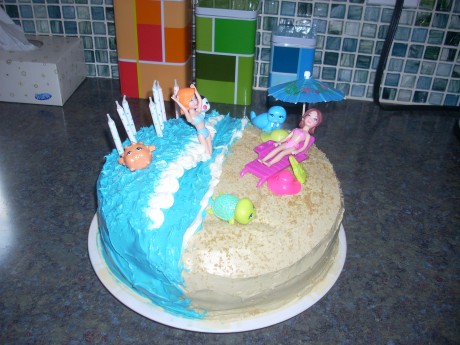 Been a while since my last update and I've gotten a few emails asking what's up and what I'm working on. Well, first I got sucked into Red Dead Redemption which was awesome.  I started the 1/48 AT-AT commission to go with the Snow Speeders, but the thing requires so much work that I'll have to work on it more sporadically in order to not choke on the resin dust. (spent a week with a little trouble getting a full breath, probably related to it) I also did a secret sculpture (more on that later), went to the beach for a week, planned/executed a beach-themed birthday party for my 7 year old, went away for a long 4th of July Weekend, and… got back to modelling.
Working on a 1/100 Frame Arms Gourai which is almost done and have also started Alb-Lab's cool 1/35 Markov Anti-gravity Racer which will have a great sponsor decal scheme. Mine! BTW, check out this great corporate logo download site: SeekLogo.com. Really came in handy here! The decals should arrive from the printer sometime after this week.
So watch for more on these in the next week or so and thanks for watching!