Posts Tagged 'Fractal Camo' »
It took a little longer than I had planned but I've finally took completed images of Alb-Lab's Markov Racer. As seen in the in-progress posts below, this particular racer was sponsored by this very website! Pretty swanky eh? You know you've made it when you can sponsor an anti-gravity racing event.
Once the final clear coats had cured and were wet-sanded with 6000 and 8000 grit micromesh, I polished the whole body with Tamiya Polishing Compound: Finish which gave it a fantastic mirror-like gloss. The only drawback of course is dust. Ugh… I dusted the model before pics and there's still dust in the pics. Oh well…
I added some damage to the left front intake as if it had hit another racer accidentally. Some metal, paint, and decal scraping can be seen and blue paint from the other racer stuck to this craft. Small clear blue and red lenses were added to the sides of the craft as lights. Here's the pics:
Been a few weeks since I touched this or updated, but I wanted to show the progress so far. Since the last update I first applied about 5 layers of Future then after a week of curing I used 6000, then 8000 grit micromesh to wet-sand it to a nice glossy polish. After the polishing of the clearcoat I applied the decals then another 5-6 airbrushed payers of Future. 2 weeks later (today in fact) and I repolished it with the 6000 and 8000 grit micromesh then polished it with Tamiya Finishing compound. The end result is almost glass-like, looks wet and impressive to me. I did accidentally go too deep with the sanding in a few spots, but it was on raised edges and I plan to ding and chip it during the slight weathering process. I want this Markov to look like it's in the middle of a very tough race.
Today I also masked the canopy with Parafilm "M", then spray painted it with cheap gloss black spray paint from Walmart. < $1 a can in fact, but nice stuff! 'Color Place' brand I think. Weeks ago I masked and sprayed the top three panels with clear blue as a sun tint.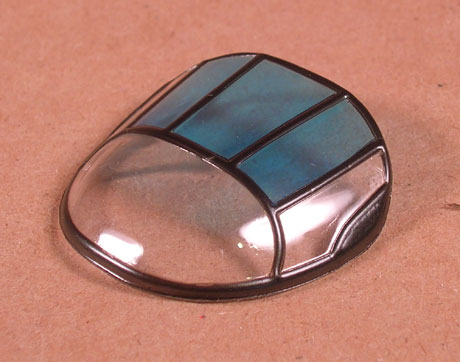 I also painted the thruster today using various Alclad II lacquers, oil paint, and Rub-n-buff.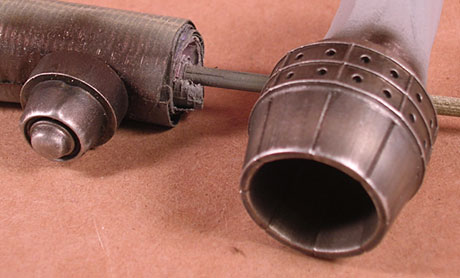 Markov progress continues with paint and primer. I initially primed all of the parts in Duplicolor Self-Etching primer in order to bite into the resin better than normal primer. Then I buffed that with some very fine steel wool. Once nice and smooth I applied a Mr. Retarder'd layer of Mr. Surfacer 1000 for a fine smooth finish.
Once that was cured I sprayed all of the areas and parts that would be red, orange or yellow with white Tamiya as a base coat. That was followed up with the bright colors. and a thin layer of Future (FFA) to help seal it for masking. I painted the interior first with Neutral gray then weathered a bit and applied red, white and green to the lights. An ejection bar system was made from brass rod and extra PE panels were added for more interior detail..
Again, let it cure then mask for more paint. The next color was a khaki-like color to match my website and another coat of FFA. Once cured I applied masking tape squares and triangles to mask for the black fractal pattern also seen on this website.  I painted the black and applied another coat of FFA. Next I'll paint the black around the outside of the cockpit hull and the canopy along with some metal parts.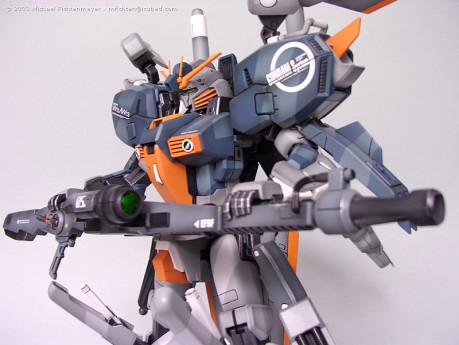 About the Build »
This was the second kit that I recieved for Christmas. Thanks Rachel! This kit took me almost a month to complete. I decided to stray from the "normal" color scheme for this kit. I'm glad that I did because I love the final results! Unfortunatly, this kit will never be transformed. Transforming it will scrape up my paint job and it's just not worth it.
For those of you out there who are considering this kit, I highly recommend it. It's a very challenging kit and has a ton of parts. The photos released by Bandai do not do this kit justice. They're taken at an odd perspective and make the kit look out of proportion. The head could be a bit smaller, but it really doesn't bother me.
Size wise, this kit is actually bigger than my MG FAZZ by about an inch.. It's heavy too! The extra core fighter system is cool too. The dry transfers had a clear backing to them to make the really small text transfer easier. No more missing letters!
I love the legs. I have it standing on my shelf for now until I build a stand, but lemme tell you, this kit stands VERY well. Bandai did something different with the legs on this kit. There are no ball joints. Right above the knees, the leg swivels left-right. The hip joints are solid. Overall, the new additions to the legs make this kit very sturdy and give it the ability to stand in a wide-leg stance.
Anyway, this is a great kit. Check out the images and see for yourself.