Posts Tagged 'Edmontosaurus' »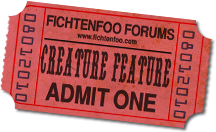 The Edmontosaurus kit and base are completed as my non-entry into our forum's Creature Feature contest. Since the last update chronicled the painting of the dino, this final update/galley will focus on the groundwork.
I took an unfinished round wooden jewelery box from Micheals and finished it with an Ebony Minwax stain. I wanted uneven terrain as most dino kits I see are on relatively flat and larger than the dino displays and  I figured I could do something cool with a small base that takes up less shelf space. I took the Dremmel tool to the box to make a sloped terrain then filled the box with plaster. While still wet I sunk and propped the dino (which had long screws sticking out of the soles of its feet) into the plaster leaving about 1/8″ of space between the plaster and the sole of the foot. When the plaster was cured and the dino in place I covered the plaster with a dry/thin Celluclay/grit mixture. The base has a very nice weight which makes the whole piece VERY stable and not likely to tip over without a lot of force.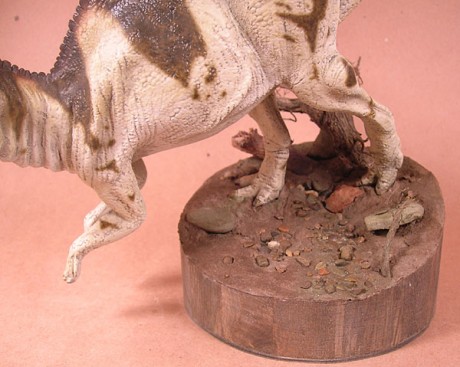 While the Celluclay was wet I worked in a few small rocks and some tiny pebbles sifted from concrete sand that look like scale river rock. I added a large piece of root I saved a few years ago as a  warped and chewed-up tree. When the celluclay was dry I painted it with a water-thinned Raw Umber "Americana" cheapie acrylic from Michaels. Great moist dirt color. The thinness of the paint worked well in that it tinted the rocks only lightly, but darkened the celluclay to the color I wanted with ease. Once that dried I applied some thin washes of Medium Hauser Green for the small mossy stuff in the dirt. For the water I merely brushed on a raw-umber tinted glossy acrylic medium then wet-sponged it off the tips of the rocks so that the glossy wet looking stuff stayed in the cracks.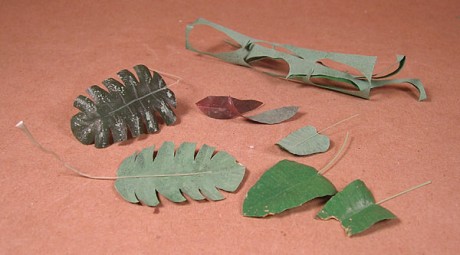 The foliage is where I'm really excited about this piece. I had made some paper leaves a few years back for a tree and decided to expand on that for this. Click here to view that as it has the basic technique and paper/paint products I used for the leaves. (and butterflies) This time, instead of a punch I had cut out all of my own leaf shapes. I lightly folded strips of the painted paper in half and cut the leaf shape in order to get them symmetrical. Then I used various dental tools to emboss them on a thickly folded piece of paper towel to get the bumps, veins and ridges. Then I applied any additional colors I need with sponge or brush such as the dead edges or the lighter mottled effects of the large elephant ear leaves. Plants were created a leaf at a time on the base using white glue. I think they turned out great and add a lot of visual interest. Moss was created by mixing fine ground turf with water and white glue, applying it, letting it dry, then lightly dry-brushing the tops. Ground-litter is composed of crushed up fall leaves and dried sheet moss.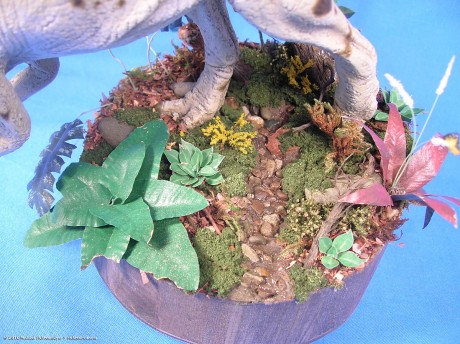 Enough chat, here's pics: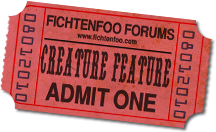 Despite some setbacks, the Edmontosaurus is just about done. My initial basecoat had melted away causing me to have to strip and reprime it. I had originally primed it with Duplicolor Self-Etching Primer then basecoated with Krylon Ivory. This looked great until my next step. I had applied a thick oil paint wash thinned with mineral spirits, then buffed it away with a spirit-dampened rag. To speed the dry-time I placed it in a sunny spot. Bad idea. The thinner made the Krylon (not the primer) bubble and melt away coming off in "sweaty" glops.If at first you don't succeed however….
So I stripped it, reprimed it in the Self-Etching followed up with a sandable white Duplicolor primer. Then I basecoated in a lightened Tamiya Deck Tan and then lightened the belly up with an off-white Tamiya mix. Next I sealed all that in a nice coat of glossy Future. I did the same oil wash to bring out the detailed shadows. This time I thinned it with odorless turpenoid and buffed away the excess with the same on a damp rag. That was a bit dark so I oversprayed that with a light coat of the basecoat colors. Next I used Golden Airbrush Colors (GAC) transparent "Red Oxide" for the tail and spines. I mottled that on then over it I mottled on some transparent GAC Naphthol Red Light to redden it up more. After that I sprayed on some GAC Shading Gray to shade some of the creases and such.
Next I began airbrushing on the stripes. For these I used GAC Transparent Raw Umber Hue which is a nice slightly green brown. I started off light in order to mark where I wanted the stripes then mottled them in darker. Over everything then I mottled on some GAC Transparent Yellow Oxide mixed with a drop of GAC Opaque White This blended in the colors nicely and gave a nice yellow tint to the whitish parts making it look more natural. Lastly I darkened parts of the spine and stripes by mottling on some more Shading Gray. A yellow/red oxide mix was used for the mouth areas.
Lastly I used a technical pen with black ink to color in the eyes then gave everything a coat of flat Future. The flat Future made everything too dull but not flat enough. Very unnatural look really so I ended up mixing a little of the Rust-All dead flat (#3 in their kit) with a few drops of pure future. I used a piece of sponge to apply it instead of a brush since I wanted it apply thin. This worked out really well and gave me the sheen I was looking for. Not too shiny, but not dull either. Almost a waxy lizard scale look. After that I brushed a tiny dab of Tamiya Clear onto each eye to make them look glossy and wet.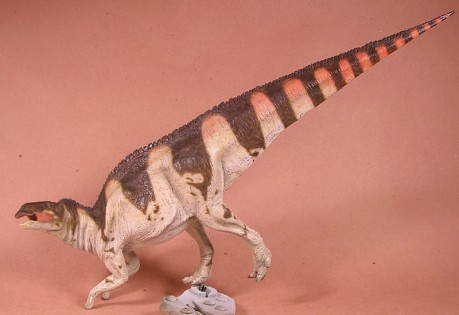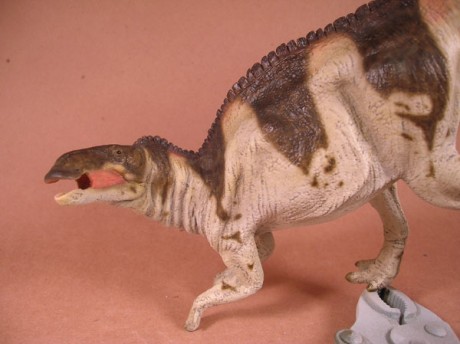 Next up I want to add a little wash to the mouth sides to make them pop a bit then make the feet look a little dirty for when I place it on and make the display base.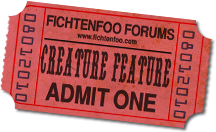 Here's the start of my non-entry into the FichtenFoo Forums "Creature Feature" contest. I've been considering trying a dinosaur kit ever since I happened upon a copy of Amazing Figure Modeler Issue #31 which happened to have dinos as the theme of the month. The work was pretty inspirational, but for whatever reason I never got around to doing one… until now! Well… soon anyway. See I'm waiting on my kit to arrive, but as soon as it gets here I'll post some shots of it and get the ball rolling.
In the meantime here's some color schemes I've been working on for the beastie based on some illustration I found online. A mummified fossil of this particular dinosaur, the Edmontosaurus, was discovered and scientists believe that it had stripes based on the variations in the scale pattern similar to those found in modern reptiles. Using that knowledge and what I read about modern reptile coloring, Google image searches on lizard patterns, and how other modelers and scientists believe those same colorations (lighter undersides, darker top, avian color patches for displays, etc…) would probably apply to dinos, plus my own imagination, I worked up the following.
1
2
3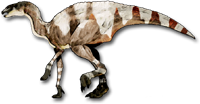 4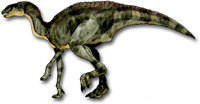 5
6
I'm leaning towards either 1, 3, or 5. Probably a mix somewhere between 1 and 5. Number 4 would be the "safe" one and 2 was fun. Six is blue… just because it could also be. I found plenty of blue-tailed/bellied reptile pics.  think 1 and 5 have a good feel though and love the reddish tail of #1.
The kit I'm building is the one from Rader Studios. It seems like a good one to start with. Simple sleek shape, detailed in resin as opposed to IP, and compared to others… not overly ginormous. This one is apparently 6″ high by 15″ long. More soon! Gotta finish up a MG GN-X first.