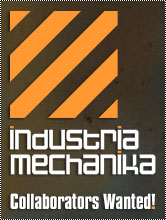 The big announcement is here! I've decided to start a garage kit production company who's focus is on original, non-copyrighted designs. We're known as Industria Mechanika. So far I've got several model makers lined up as well as concept artists looking to have their designs turned into cool unique kits.
First up I'd like to announce that I'm working with Ian McQue to create models based on his airship designs. I am a HUGE fan of his works and it turns out he's a big fan of mine as well. We've been working closely for a few weeks now on a never before seen airship design. More info on that soon!
I'll also be selling my steampunk kits through the Industria Mechanika online store. (Hornethopter reservations will of course be first served) More announcements to come so check out the IM fan page!
Check out the site here: http://www.industriamechanika.com