Honestly, since I started Industria Mechanika, I've been too busy to keep this site updated. I try, but work comes first. The best place to get updates is of course my facebook page. I have about a years worth of builds that I've posted progress for there and need to take final photos for for here. But enough about what I hope to find time to do… here's what I'm currently doing! (back to the Large Barge after this!)
Calum Watt's Hopper is a cool scout flyer 3D sculpted by Stefano Bernardi that I produced for Industria Mechanika. I try to paint up as many of my products as I can, but I'm just one guy. I did want to do up one of these though because it's particularly awesome as well as a quick, easy build. Clean-up of the resin parts took maybe 2-4 hours total. I'm going with a modified stock scheme for this changing the camo and colors to suit my whims. I wanted to make this more of a desert-use looking craft.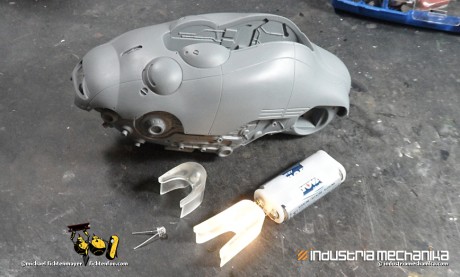 Also lighting this kit up since I had the instrument panels produced in clear resin to make that easier. The ship is hollow like a clam-shell so plenty of room for batteries!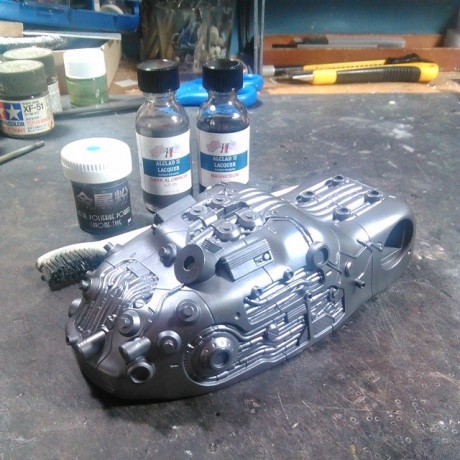 The base metal was painted with Alclad Magnesium and Dark Aluminum over dark grey duplicolor primer. The camo was an old custom Tamiya Khaki mix mottled over Deck Tan. Then I hand-airbrushed on the darker Khaki Drab "stripes. The blue is another custom mix made long ago and the formula long forgotten. I have lots of paint like that. hahah!
More to come!