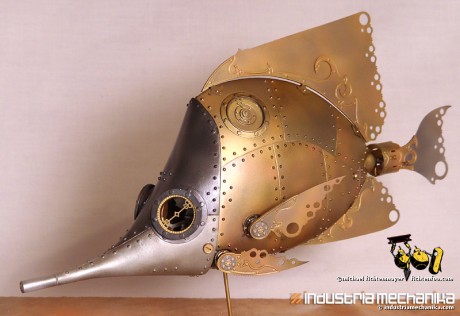 Moving right along, I painted all of the little details that needed done by hand. As you can see above, I tacked most of the kit together temporarily for photos.
Here is the Long-Nose shown with my original Fantastical Fish-Shaped Submersible build for size reference.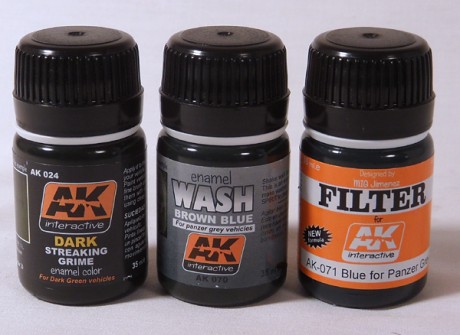 Now onto the dreaded weathering. When I started weathering the original copper sub, I was innundated with emails and forum posts saying "don't do it!" However, I like things to have a nice aged look… I love rusts and patinas and any opportunity to replicate one is a good thing! To start out, I airbrushed VERY thin mottled layers of the following AK-Interactive products:
Dark Streaking Grime (dark brown-green), Wash: Brown-Blue (muddy blue-green color), and Filter: Blue for Panzer Grey (dull blue). These are enamels so I made sure I first coated the fish in a coat of semi-gloss Future Floor Acrylic to keep it from interacting with the enamel metal colors.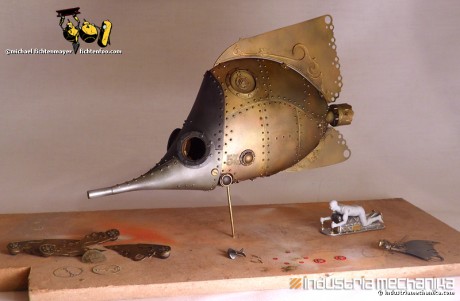 I then took a deerfoot-shaped brush wet with odorless turpenoid (because it's easy on the enamels, not strong or damaging) and tapped/blended the thin filter layers on the surface. This breaks them up and makes them look mottled, more natura, and also helps them act like a wash of sorts.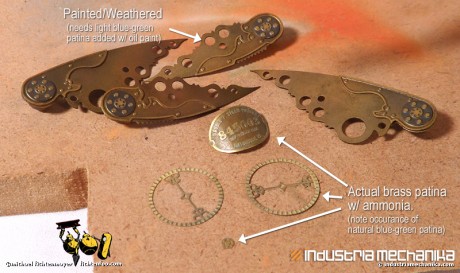 For some small photoetch brass parts I didn't use paint and instead suspended them in a jar with a little ammonia in the bottom. The fumes help speed up the natural patina process giving you a nice blue-gray patina as opposed to some products that will act as a blackening agent for brass. Both ways are good, just make sure you use whatever one is appropriate for the task/look at hand. YOu can see that my painting looks very similar to the natural brass patina except for the light blue-green areas. Those I'll need to add with oil paint next.
Also shown is the little PE brass valve wheels and the painted white metal propeller.