Moving right along I got a lot further tonight than I thought I would. Not bad for 3 hours of work! First after priming in white I sprayed the flesh with a Tamiya "Sky" like color. Then I airbrushed on faint lines of a slightly more saturated green which isn't visible in the pics. I then masked off the "red ears" with sticky-tack and airbrushed on the red. After I sprayed the chest and back with a medium brown color. The front was then highlighted with a desert yellow mix. The same mix was applied to the back to make the shell pattern. Then Khaki Drab was sprayed on the back shellover the brown color deepening the look. The same drab color was applied to the chest for the pattern.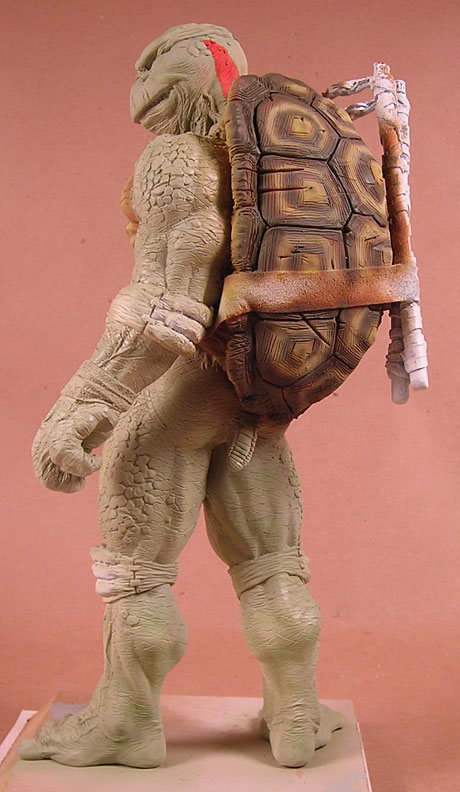 At this point I used Mig Productions Liquid Mask and masked off the chest and rear shell. I also masked off the stripes with the liquid mask so that Leo will have the light stripes like real Red Eared Slider turtles. Once the mask was dry I spattered Leo with more liquid mask from a toothbrush to get some light specks on his skin later. Next I used Khaki Drab and shaded all the shadowy recesses around the muscles. Then I used Tamiya Field Gray (military green) and lightly oversprayed all the skin. The mask was rubbed off and darker stripes were hand painted on with JGSDF Drab Green. Lastly the more thin paint was spattered on and blueish veins were applied with oils.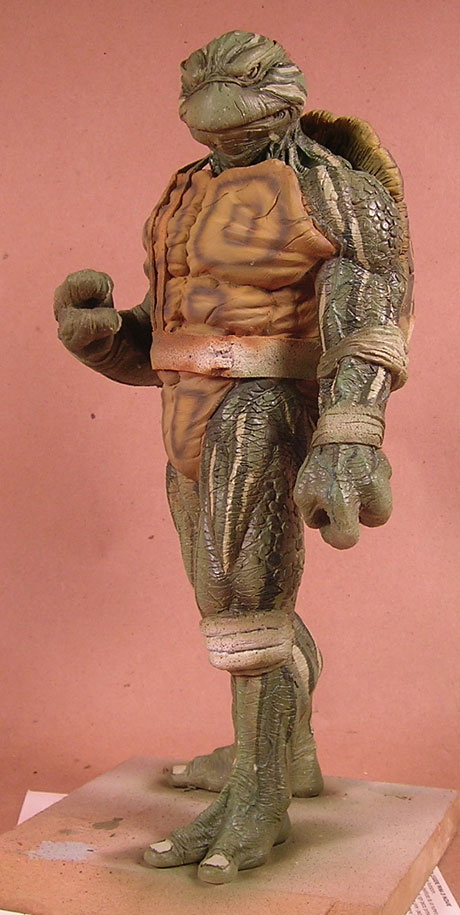 Next I'll start painting the flesh with a thin glaze of oil paint to further highlight and shadow the figure as well as apply detail to the chest and toe nails. The straps and mask will be painted after all the skin and shell is done.