While typing out that copper test tutorial, I was also masking and painting the copper portions of the fish sub. Before that however I painted the engine and periscope. I started out by painting portions of the engine and periscope in Mr. Metal Color Bronze. I buffed these parts with a toothbrush, gave them a satin clearcoat of FFA, then masked and airbrushed most of the brass. After removing the masking I hand painted portions of the brass (and copper pipes) such as the trim of the big ballast tank and other smaller details.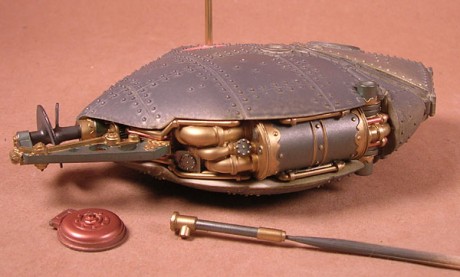 I set these aside and began work on the main copper-clad fish submersible body. The painting is based on a colorscheme which I posted on the FichtenFoo facebook page a few days ago and now seen below:
You can see that my intent is to make some of the copper panels lighter and darker and in various patina-forming stages adding more depth and shading to the sub. The fins will eventually be some sort of tarnished brass/bronze alloy. At least that's my barely feasible explanation as to why I want them that greenish brass tone. Mainly I just think it looks nice.
After finishing cleaning up the mounting rod hole I gave the sub another coat of dark gray Duplicolor primer, then a coat of the green self-etching primer.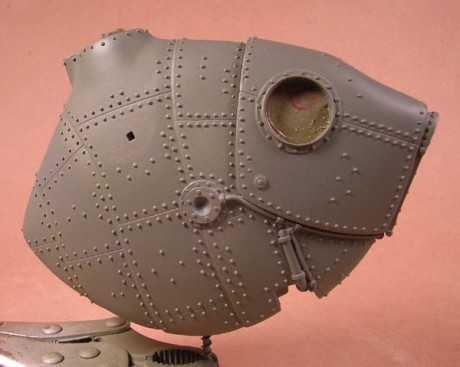 Once cured I airbrushed on a mixture of Alclad II lacquers I call "bronze". It's a mixture of Steel, Copper and Aluminum which I first mixed up years ago for the Briegel. This gives me a nice dark metallic base to start from.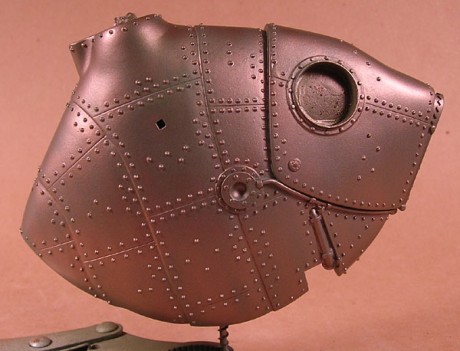 After the "bronze" dried I masked and randomly airbrushed on in vertical streaks some Alclad II copper which is pretty dark. Over that I streaked on some Mr. Metal Color copper which is a lighter tone and buffable to make it very shiny and natural looking.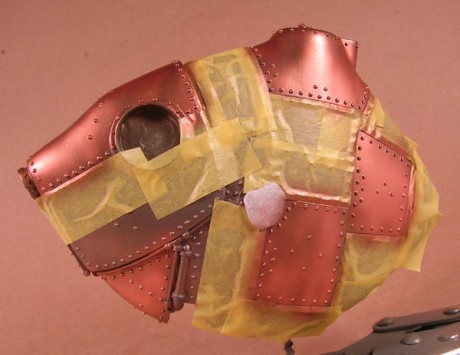 Here it is at the first stage without the masking. It's an interesting look, very cool for another project, but only halfway done for this one.
More masking and color applications and I got it to this stage. It's hard to see the streaking and panel tone changes however in the image. Still not quite there however…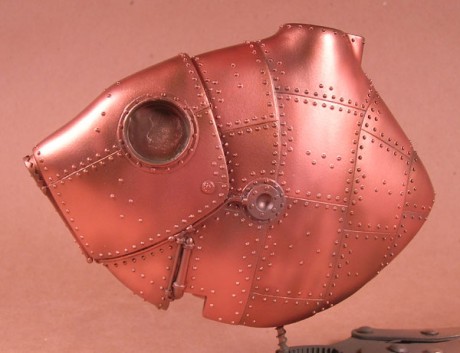 I wanted the panel color changes to be better defined so I masked again and over-sprayed some Alclad II Jet Exhaust. You can now see the improved panel definition.
And to show it off better, here it is in different lighting:
Next I'll air and hand-brush the brass onto the porthole frame and other pipes and fittings.