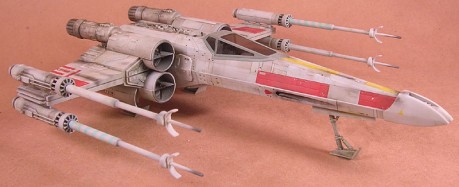 Why semi-final? Well, because if it was just an X-Wing model without being submergeged in swamp-water and muck then I'd be able to call it done. I still need to add the "seaweed" and such to the surface and will probably add some greenish muck-colored streaks using the  502 Abteilung oil paints.
Between this and the last update I applied the discoloration with 502 Abteilung oil paints and turpenoid. I used blue, rust, brown, and several shades of muck-green. Once cured completely I applied scorck and soot marks using "Rocket Exhaust" pigment from the Mig Productions Fantasy Pigments line. Then a final thin flat coat of FFA was applied to seal that in before later applying the wet effects.
Here's some pics. Click on them for larger views.