Completed » MG Chars Zaku 2.0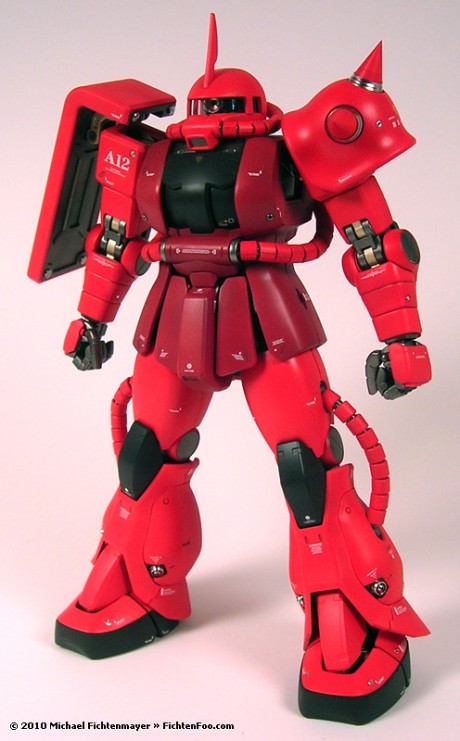 This makes three in my MGX4 challenge. (click the logo) Now I just need to do one more before April 30th and I win nothing but the satisfaction of building a bunch of kits in a short period of time. Yay me.
Anyway, this is the Master Grade Zaku 2.0 in Char Aznables custom colors. Originally I was going to do this for myself in a different scheme, but I got an offer on it to build it as a Char version and it turned into a commission. I snapped some quick images without any pose because I don't want to accidentally scratch the paint before shipping it out.
As for what I did to this one…
Replaced all bells with Mechaskunk and Ako Creations Aluminum thruster bells.
Replaced pipe bead insides with springs.
Applied Ako Creation Metal Transfers (awesome BTW!)
Added vernier to front chest.
Replaced eye with SP Eye metal part and Aurora Sticker
Replaced weapon lenses with Aurora stickers
Internals painted in mixtures of Mr. Color (Gunmetal and Titanium/Brass)
Bandai and HiQ decals
Mechaskunk screws for shield inside
Aluminum shoulder spikes