1
« on: April 23, 2010, 03:18:18 PM »
Hei, thought of posting this here also.

This is my second submission for the same UC GB that I previously entered my Guncannon. Just an OOB MG Qubeley built w/ some added details & paint experiments. Wanna make a Q w/ a dark steel appearance & have a Haman Karn personality (The Red Flower of Zeon).
Metallic Red (Chest): Gaia Bright Silver & Gaia Clear Red
Silver (Internal frame): Gaia Bright Silver, candy toned & white pearl
Gold (External Armor details): Brass Liquid Leaf, candy toned, yellow & brown pearl powder.
Gunmetal (Abdomen, feet soles): RJ London Silver & enamel black
Black Steel: Junior 66 enamel black & Kosutte Gin Sun
Bandai decals & automotive cutting sticker
Adlers Nest Small thrusters
Had a pretty rough time painting this one, especially when handling w/ dust & scratches, not to mention my old AB that gave some obstacles.
Some Details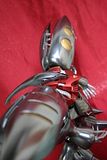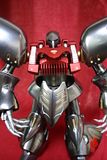 Thanx for viewing, Guys.