Hooray! It's working as I hoped it would! What is working you may or may not ask? The jute twine I used for the smallest dangling roots is what. In all of the images I have seen, the larger roots are covered in a lot of small vine-type roots and whatnot which really adds to the distinctiveness of Dagobah's scenery. I wasn't sure if the Jute Twine would work or not however and I really didn't want to use natural materials that could rot/break in time. I use Jute for grass from time to time and am used to coloring and working with it… my concern was if I could get it to pull apart in long enough strands and blend into the trees convincingly. After taking my photos and checking them against the referenes (with the help of a little photoshop coloring) you can see I'm pretty close. Whew!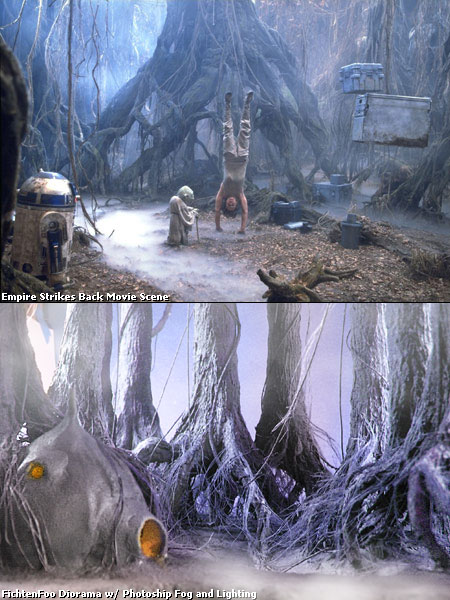 You can find a tutorial on using Jute Twine for making grass here on my blog. For the roots I colored the Jute with a very dark black-brown mixture then a slightly lighter version of that for some variety. I also didn't need to brush it. Just twisting and teasing it out worked great.
After I finish adding the jute roots and cleaning up some cracks on the groundwork I filled with modeling paste I'll put down a fine mix of crushed up leaves over the ground then maybe pour some muddy resin water.