1
« on: January 02, 2008, 12:24:50 PM »
I don't see that many G Gundam or Gundam X kits despite the presumed underground popularity of their shows.
So, let's fix that shall we?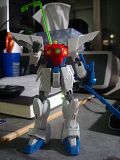 Mobility of these old kits comes off pretty bad, so most of the stuff I'll be doing will be so it can do those kick ass fighting poses.
1st thing I'm going to do is make the torso mobile, so I cut the torso into 2 sections.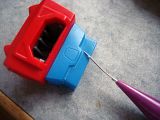 Yes that's a needle in a broken mechanical pencil I used to cut it.