I get many requests from fellow modelers as well as other people regarding website design. They either do not have a website or would like their current website improved upon. To cater to the needs of these individuals I've decided to offer a WordPress website design service with plans starting at $300 USD.
WordPress is a blog-tool, but is very customizable in order to make it fantastic for anyone's web needs. It allows the site owner to easily add and edit content without having to be or hire a web designer. Whether you need a website for your business or just a personal site to show-off your hobbies and keep in touch with friends, this tool can be customized to fit those needs.
What Can I Do For You?
Custom theme design (graphic design and implementation)
Set-up and testing of custom theme.
WordPress and Database set-up on your webhost. (Or ask about hosting through me for a small additional fee)
Help via email or IM to get you started with WordPress use.
Additional Services
These services can be added for an additional cost. Email me for a quote!
Forum Set-up and Design (Can use your existing site design for consistency
Gallery Design and Set-up
HTML/CSS Design
Addtional Graphic Design beyond initial site design
Addtional illustrations beyond initial site design
WordPress Site Design Examples:
RmOS v 1.0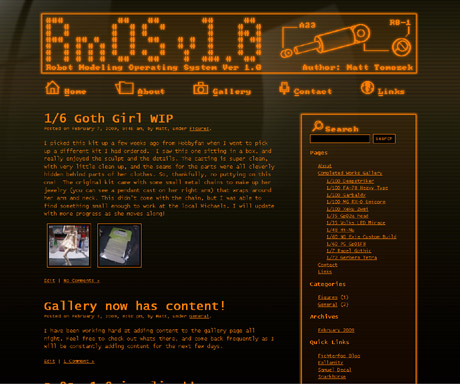 Screengrab | Live Site

PlamoWarrior-DX


Screengrab | Live Site
Scale 1/20


Screengrab | Live Site
FichtenFoo Blog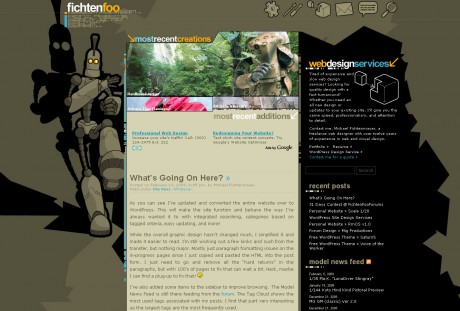 Screengrab | Live Site
Free WordPress Themes:
As a promotion for my new service I am offering some free themes for those who already use WordPress. The thumbnails below will take you to their respective preview and download pages.
*This includes a basic layout and set-up. More advanced designs which require additional time and resources require a modified quote.