Posts Tagged 'Wedge Antilles' »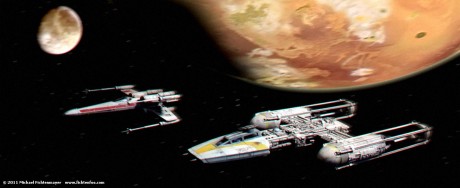 Here's a duo of 1/72 Fine Molds starfighters for the upcoming Death Star 2 diorama. Wedge's Red 2 X-Wing and Gray Leader's Y-Wing. These were painted just like the Millennium Falcon whichg is why there's no how-to's or in-progs. The markings were all painted on. The only decals I used were for the R2 units. These were lit with white 5mm LEDs dipped in Red for the X-Wing (which has a pinkish hue) and Red-Orange for the Y-Wing. The wires will be hidden in tubing when applied to the final diorama.
EDIT: Forgot the yellow on the X-Wing thanks to Fine Molds incorrect instructions. Added it with yellow oils. Added a new image below and the rest to the gallery. Here's the updated pic + one with all 4 Rebel ships.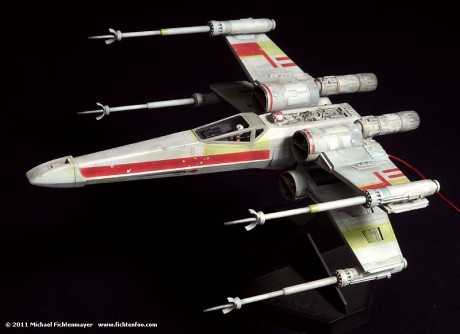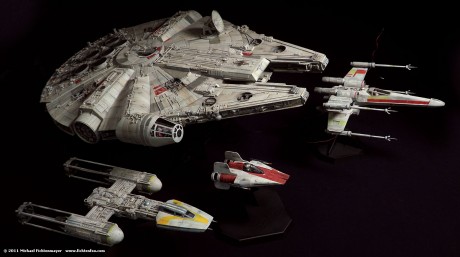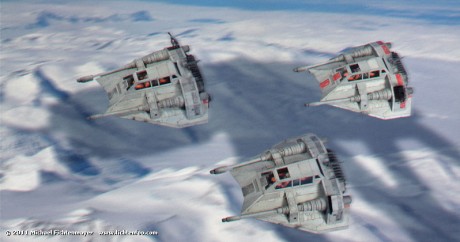 I've had these 1/48 scale Fine Molds Snowspeeders almost done for a while now, but just needed to paint the pilot figures. I started painting them last week since I needed to paint a couple 1/72 Rebel pilots as well and finished them a few days ago. These were painted with Tamiya Acrylics, 502 Abteilung oil paint, and Pigment powders. Basically the same techniques I used for the Millenium Falcon.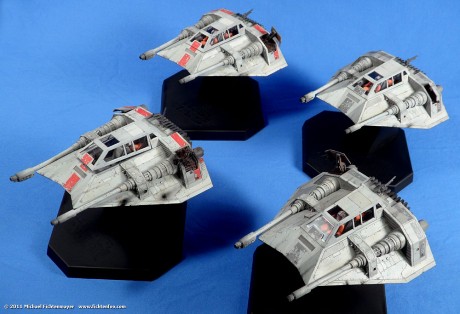 The two orange speeders are for a client's diorama. One will be in flight while the other is downed with a pilot being rescued. The two grey "Luke" speeders are for sale if anyone is interested. I can sell them as-is or make a small Hoth display base with the Rebel Turret kit I mastered. Just send me an email if interested for a quote.
As seen in a few of the images, the canopies don't want to stay completely closed as-is. This can be easily fixed by gluing them shut, but I wasn't sure how potential clients might want them, so for now, they're unglued and open-able.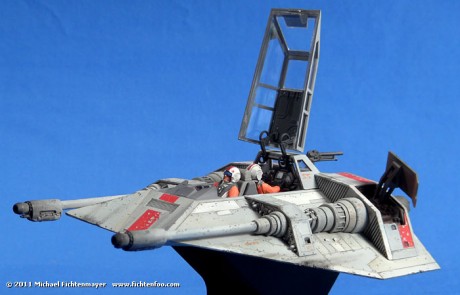 Here's pics of all four speeders:
Here's the latest on the build-up of the four Snowspeeders. First I airbrushed some German Gray onto the rear engine parts to darken them up as per the reference. Then I applied a clearcoat of Future and the decals. Those went on quite smoothly except that since I wasn't using the kit-supplied stripe decals I needed to carefully cut out the orange boxes on the gray speeder on the sides of the air-breaks to remove the gray.Once the decals were done I applied a thin flat coat for the next steps.
I applied the paint chips using neutral gray with a very fine brush then afterwards added more with some sponge to get the finer masses of chips and scrapes.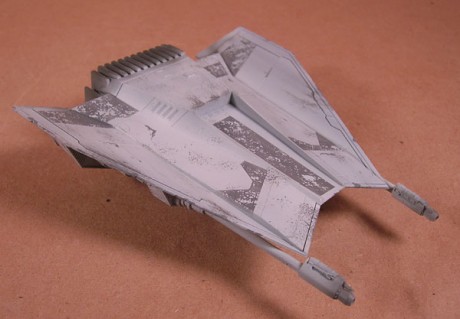 After the chips I added an warm buff colored filter in order to warm up the cool gray of the initial painting. After that I applied the discoloration with oil paints. This is done by adding small dabs of oil paint (I use and love the 502 Abteilung brand… very fine and smooth!) then blending them and streaking them with clean odorless turpenoid. For this I used Dark Mud, Navy Blue, Buff, and Dark Rust colors. Below you can see the difference between the discolored speeder (left) and the one with just a filter applied (right). Notice that it gives you subtle variations in the surface color making it appear more worn.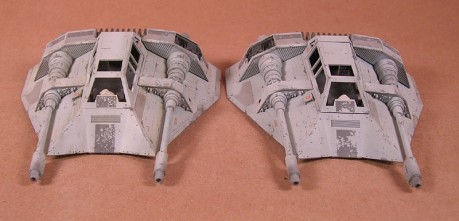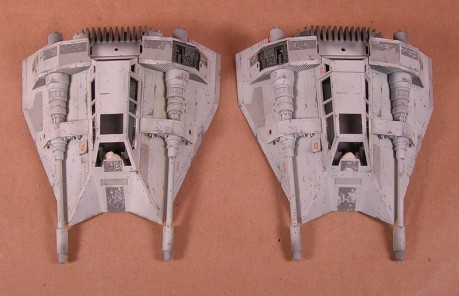 Once that dried overnight I went back and added more Dark Mud oils to the gun crevasses and engine parts. I also applied slightly thicker filters of either Dark Rust or Snow White 502 oils to further accentuate panels.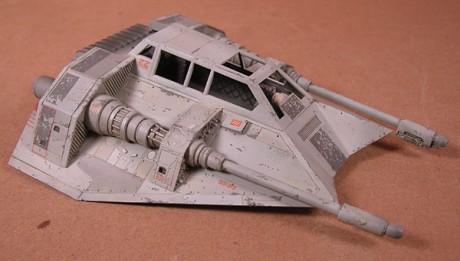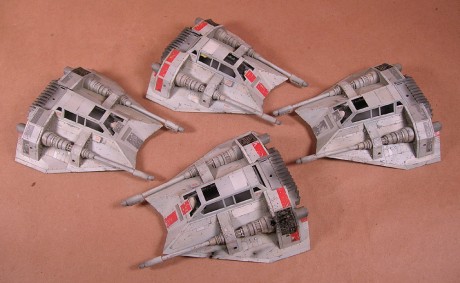 Next I'll use some thinned 502 oils and apply a thin wash to just the panel lines. No need to get sloppy with a thick wash covering all the color variations. After that I'll apply another flat coat and then do the soot-streaks, rust, and grime with Mig pigment powders.

Someone had asked about there actually being a gray Snowspeeder in the Empire Strikes Back. Frankly I wasn't 100% sure either so I loaded up the DVD and took some screen shots. Indeed there is a gray speeder and from what I could tell, the only one I saw flying about was Lukes. Here's some shots of that and of the 1:1 set pieces:
Here you can see Luke's speeder in gray and the standard orange model.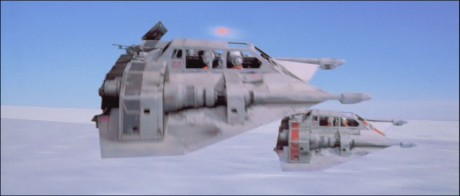 Look close and only one is gray. (hint: largest in foreground)
This I found interesting… looks like they used the same model a LOT. Were there more than one model used for the filming?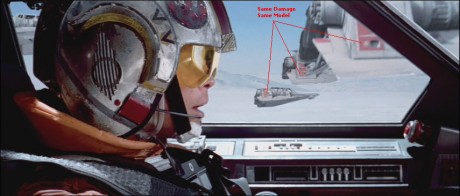 Here's a shot of the large set pieces. Man these things were dirty!
And here's more shots:
As it turns out, what was to be a HUGE diorama has turned into two dioramas… one pretty big and one smaller. No worries and just as fun for me! When it was released I purchased four 1/48 scale Fine Molds Snowspeeders with two earmarked for these dioramas and two for fun.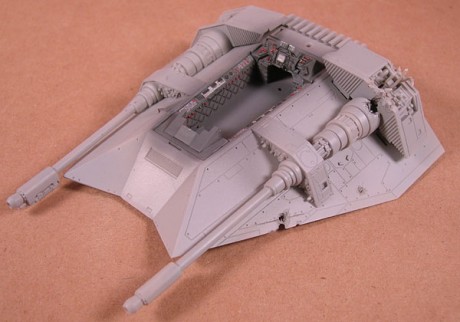 I opened the 4 boxes and started construction on this quartet on Sunday morning. By Monday evening I was priming the kits. They're very simple and straight forward to build with only a few easy areas needing seams fixed or gaps filled.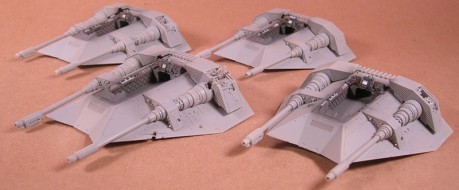 Once the primer had cured I sprayed the interiors with Tamiya Neutral Gray then using a small brush painted in the details. After a quick spray of Future Floor Acrylic to seal it I applied a wash of thin 502 Abteilung blue + black oil paint to pop the control details. After that I applied tape to the insides of the canopy frames to mask the interior and set about painting the exterior.
At first I was going to use the hairspray technique, but after looking at references of the studio models I decided that level of chipping would be excessive. Instead I started by painting all four speeders in Tamiya Neutral gray then painted over that with a very light gray… almost white, but not quite. When that cured I went about painting on the markings instead of using the provided decals. While I love orange on the speeder, nothing I've seen, studio models or film shots seem as orange as Fine Molds decals do.  If anything it's red-orange (to me) so that's what I did for two of them.  The other two I mimicked the gray scheme of Luke's speeder as seen on the Master Replica version which I had lots of pics of in an old issue of TMMI since I couldn't find shots of the actual model used.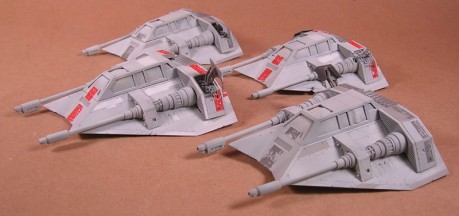 To paint the markings and chips I first masked everything with Tamiya tape. Then using Mig's Liquid Mask and a sponge I dabbed on what would be the chips after painting. Then I painted the markings, rubbed off the mask, and repeated as needed for the different colors. It was a LOT of work! LOL!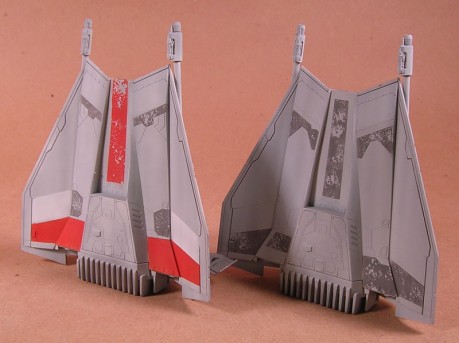 Next up, airbrushed dark soot and darker chipping.