Posts Tagged 'Weathering' »
Now that the Tantive IV is done and I'm feeling refreshed and inspired to model again, I've come back to the Millenium Falcon build. "Come back" you say? Yeah… I started this in August and got it almost ready for paint, then something happened and I put it aside for a while. I had posted pics of the beginnings of Facebook, but not in the site. No worries as I'm reposting those pics here as well. This build will eventually go into the large Death Star 2 diorama. Here it is compared to the A-Wing, also to be in the diorama.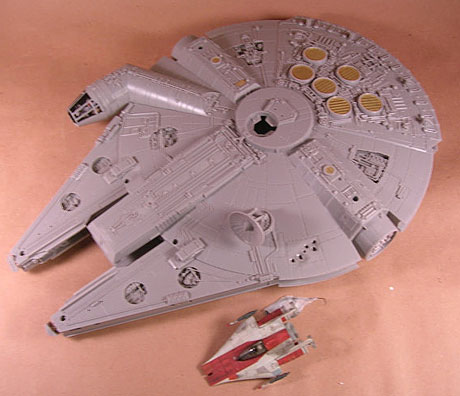 My client and I decided that this beastie needed to be fully lit. Wiring was the usual pain in the ass having burned myself several times and melting a few LEDs in the process causing some rework. I'm not used to soldering but I wanted everything to be very robust. The usual wire wrap I use is too brittle to risk inside of this.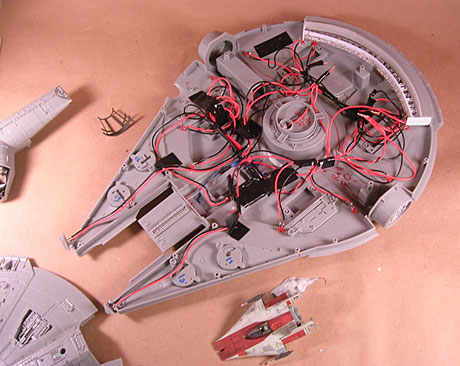 Using the Acreations photoetch update set I was able to easily do the cockpit lighting. The set is awesome and has all the holes to backlight the consoles ready to go. Just paint and add the fantastic decals and the cockpit is about ready.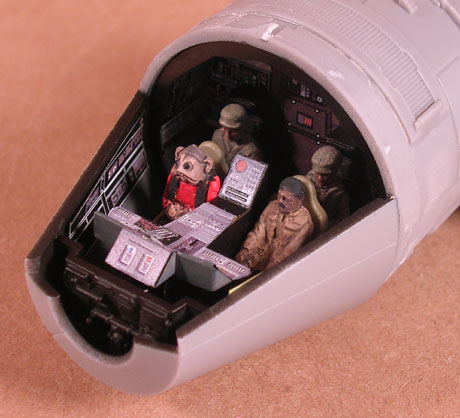 The figures with the exception of Nien Nunb the copilot were modified from the kit figures. Basically I just added rebel hats to Luke and Obiwan made from Aves and modded Han to make Lando. Nien Nunb is from a Studio Starforge resin figure set.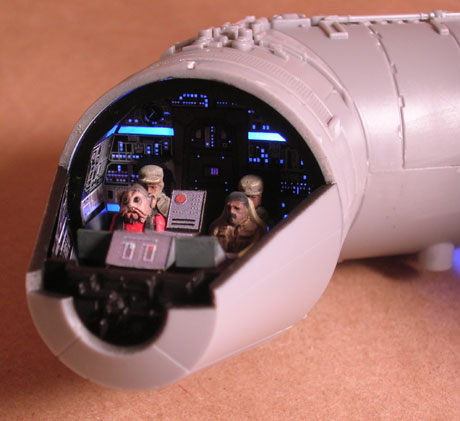 Lincoln is huge.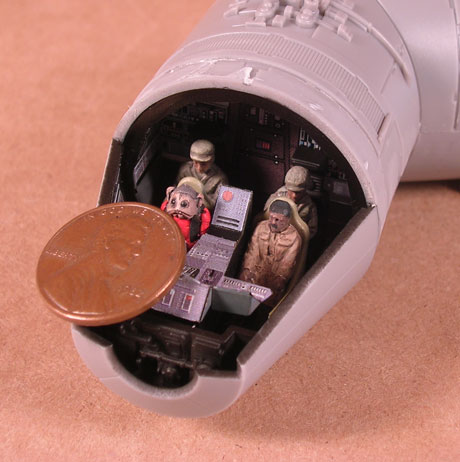 And now onto the good part… the kit construction was finished yesterday so what you see below is todays progress. I decided to do a short step-by-step on the painting process since there was a lot if interest in how I did the Tantive IV paint.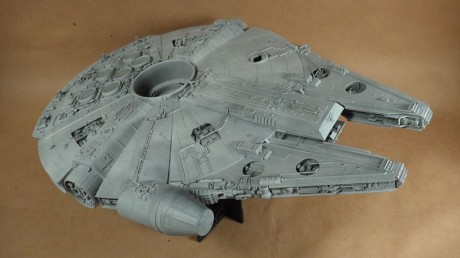 I started off by priming the kit. I didn't have any typical gray primer, but I had dark gray and white Duplicolor primer. So I first primed it in the dark gray primer, then applied a second coat of the white. This had a slight shading benefit and came out the base primer gray I wanted. Windows were masked with Parafilm "M".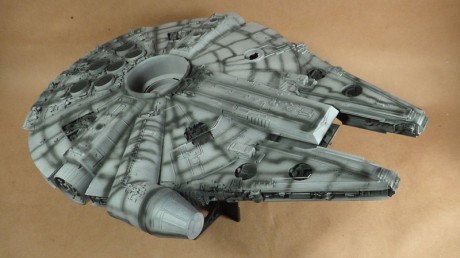 Next I preshaded the panel lines and recesses using Tamiya German Gray. No need to be precise as the effect will be pretty subtle after the top-coat. If not… you're not doing it right. If you're having trouble, your top-coat may be too thin or your pre-shade may be too dark. Experiment with different color preshades. For a tan vehicle, try a brown pre-shade, etc…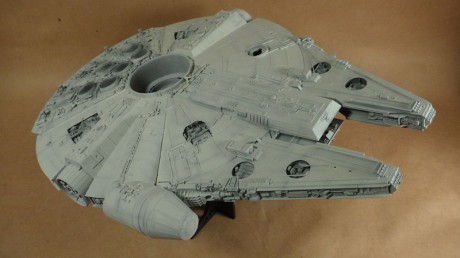 Next I applied the top-coat. This was a mixture of Tamiya Flat White (1 jar) + Tamiya Gloss White (1/3 Jar) + Tamiya Flat Earth and Neutral Gray. Apply it uniformly on the tops and bottoms and spray at an angle over detail areas to retail some of the pre-shade in recesses.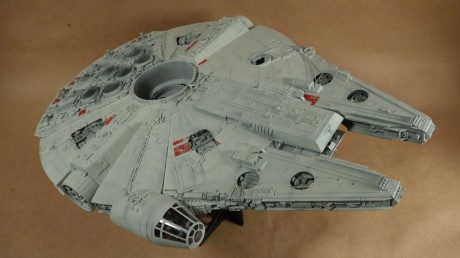 Once the top-coat cured a bit I masked and painted the dulled red markings. I would apply tape, then sponge on some 502 Abteilung Liquid Mask for the chips. Once sprayed and cured a bit rub the mask off to reveal the chips. After that I sponged on some light gray chips. This will show up as chips and texture in the end. Mostly be careful not to over-do it. I concentrated on areas in the reference that were chipped as well as masses of raised detail parts. You may notice I did not mask the dark gray or yellow panels. This is because I plan to hand-paint these with oils during the later modulation phase. I did this with some of the darker panels on the Tantive IV with great results.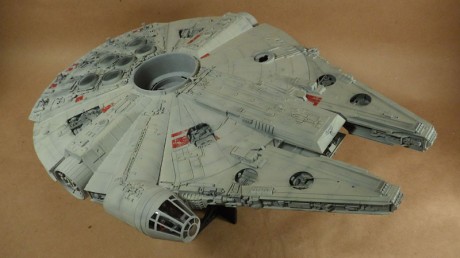 When the chipping is done immediately apply your first filter. I used a 502 Abteilung German Ochre oil paint thinned with odorless turpenoid. This is thinner than a wash, but not applied like a wash. Just dampen your brush and paint it onto the kit. If it's flowing into panel lines and pooling you're brush is too wet with filter. Depending on your thinness or desired color you may need a few layers of filter. You should wait 4-12 hours inbetween. The filter soaks into the flat paint quite nicely so try to do it before any clearcoats.
The filter will slightly modify your paint colors. You may be asking: "Why filter it at all? Why not paint it the right color from the start". Well, sometimes it's hard to get the right paint color as they tend to look different after sprayed from an airbrush and dry. The filter is like using Photoshop on your model to tweak the color. It also has the benefit of being uneven enough to act as the first signs of weathering and to tie unrelated colors together so that they look like they belong on the same model/saw the same conditions.
And finally for this update, some pics of the lighting. I still need to install the clear engine parts casts and the covering "grill".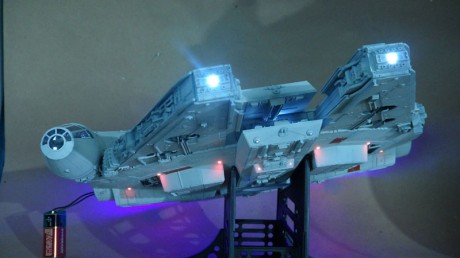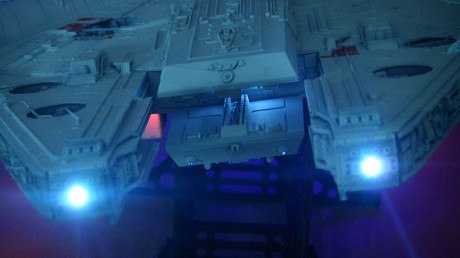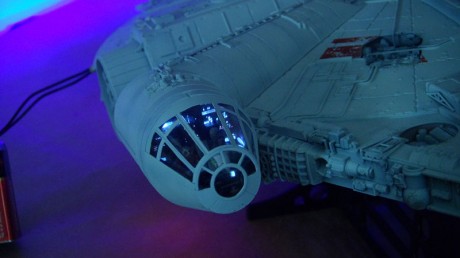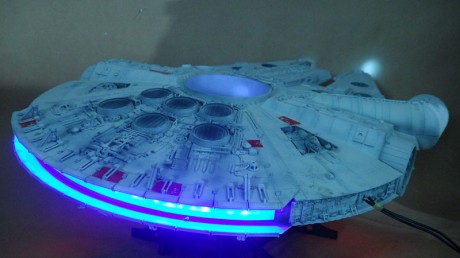 Well, I actually finished this model way back in August 2010, but needed to make a small temporary base for it before photographs. In an effort to finish some stuff up, I painted and constructed the small temporary base today and took the pics. This A-Wing will be part of a much larger diorama along with 6-7 other ships in 1/72 scale. Without further adieu…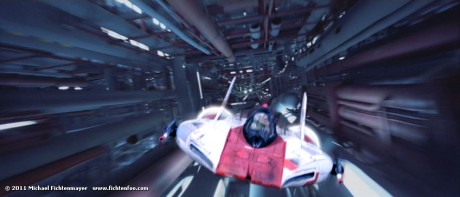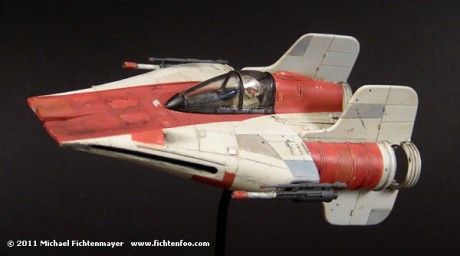 Since the last update I've gotten through almost all of the weathering steps. Here's a breakdown of what I did.
First I applied a few tan filters then a gray-brown one. This warmed the color tones and gave it a nice dirty worn start to the finish.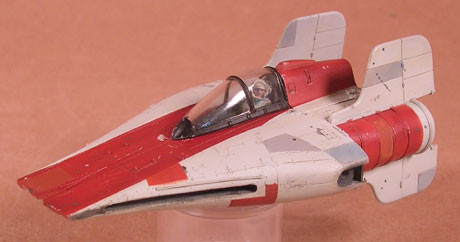 Once the filters had dried I used various oil paint colors in order to highlight panels, alter tones and add the greasy grimy weathered look around panels and the engines. This enhances the worn look.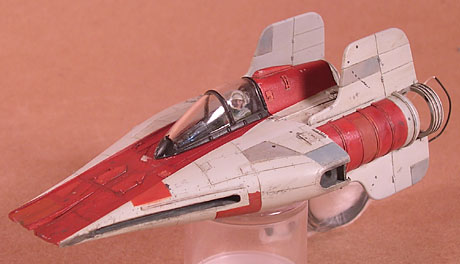 For some reason the lights look blue-ish in the images where in person they look yellowed. Not sure why this is, but I'll try to adjust the camera settings for the final images. No matter though as in different movie sceens the engines appeared either yellow or purple.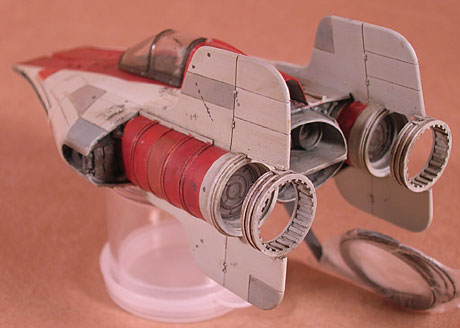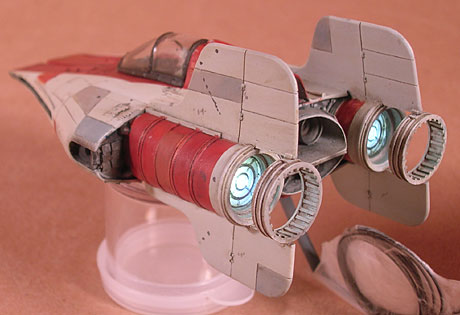 Once it dried overnight I sprayed on a flat coat of FFA. Tomorrow I'll finish it up with some pigment powders. I still need to finish the canopy once the new one arrives, but this gives you an idea what the final will look like.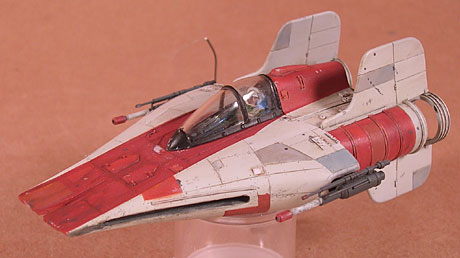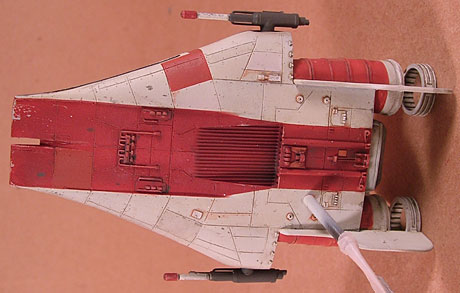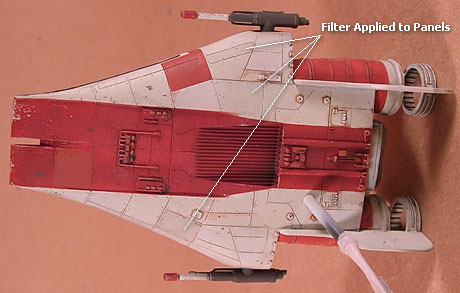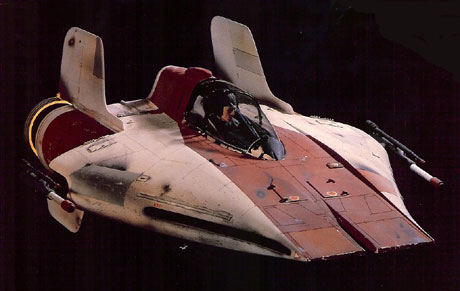 I got this little gem a few days ago from rb26 at SSM. The size of the A-Wing (from Return of the Jedi) as you can see is small at this scale, but the amount of crisp details packed into this thing are fantastic. It looks like an injection plastic Fine Molds kit rather than a resin GK which is awesome. I have to wonder if it was made on a computer and 3D printed, that's how nice the details are. (UPDATE: Nope, all done by hand. Amazing!)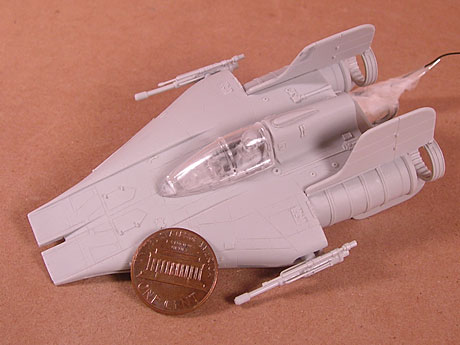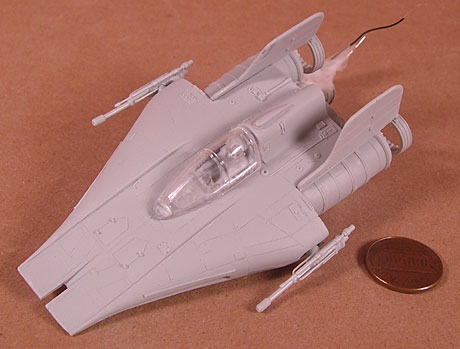 Anyway, as awesome as it is there's a few VERY minor things worth noting. The first is that the mold likes on the sides of the hull (at least on my copy) are not as flush as one would like resulting in some rescribing of a couple panel lines in the area. Using a scribing saw and a pin to recreate the rivet holes makes quick work of it however with only a small amount of putty required. The other issue is a few air bubbles in the clear resin used for the canopy. (UPDATE: rb26 saw this and is sending me a replacement canopy. Yay! Thanks man!) Like I said though, those issues are minor considering how fantastic a kit this is otherwise. I would definitely buy another SW kit from him if he were to do one. Here's some great studio model pics for reference.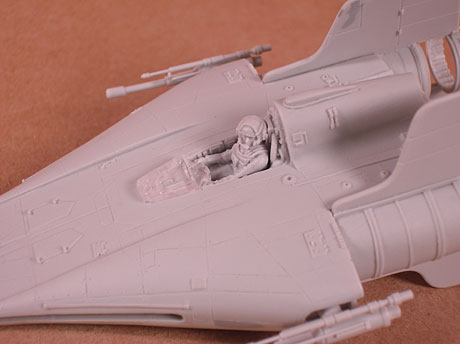 Since this build will be for a later diorama I needed to light it up. This part was not too difficult as the sculptor had this aspect in mine with the addition of clear parts to go inside the thrusters as well as a clear dash. I drilled out the holes to place 2 clear white LEDs in the two large thrusters then drilled a hole through the hull to connect the wires and finally a hole in the bottom to mount the craft using a hollow brass rod in which the wires will run through. A little clear golden oxide paint on the LEDs makes them appear more incandescent and yellow as seen in the film.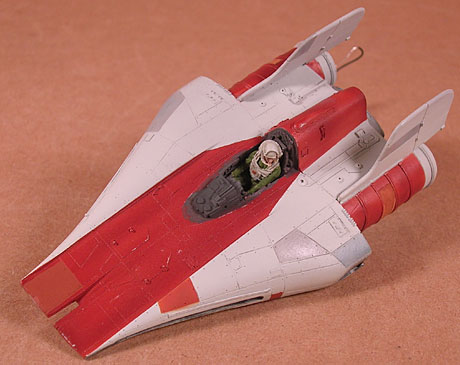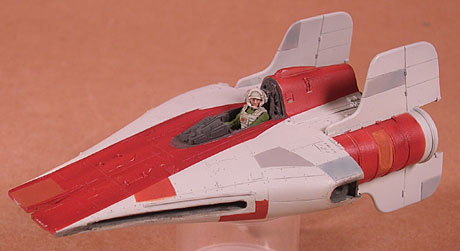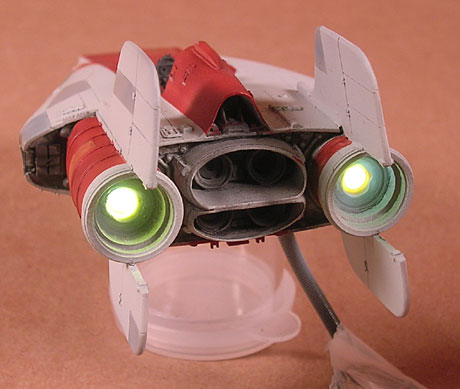 Painting is a simple affair as long as you've plenty of masking tape for all the little discolored panels. My colors are a little cool and bright for the moment, but some filters and weathering will bring it more in line with the reference colors. The pilot included is modeled from the A-Wing pilot costume rather than the studio model fig so it's got much better detail and accuracy IMO.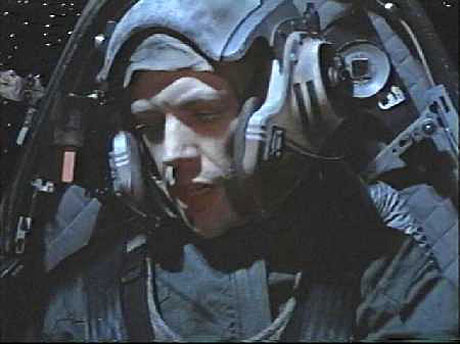 Next up is more chipping then the weathering begins.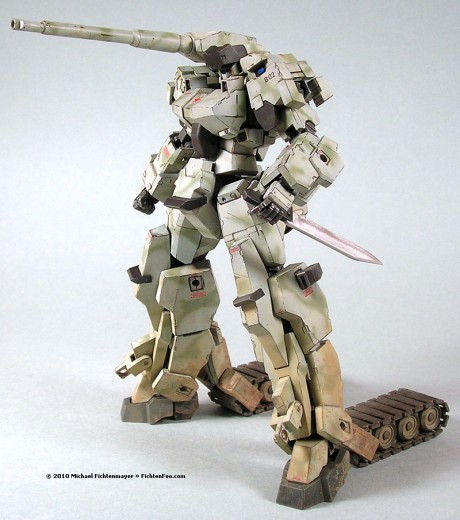 Here's one I've been working off an on with for the past month: The Frame Arms GouRai kit by Kotobukiya. The kit is 1/100 scale but a little larger than a typical 1/144 Gundam kit. Regardless of the size, the detailing is great and the frame was a breeze to work with and makes it really posable. (even though there's only one pose in the pics)
I decided to forgo my usual 1/100 scale mecha clean look for a more weathered AFV feel. I modeled this just like I would a tank with washes and oil discoloration. The only change was in the chipping where I used a blade to scratch the light paint off showing the dark gray primer, and I didn't use pigments as this would be handled more than a tank. Instead I weathered and muddied it up with acrylics and oils.
So I'm near the final stages of the Snowspeeder painting and am waiting for oils to cure before my final flat coat and pigment applications. This is the perfect time to bust out the sculpey and start on some more Hoth diorama figures.  Next up is a 1/48 scale Tauntaun. I downloaded a bunch of reference pics and using the riders as a size reference figured out how big it'd be in 1/48 scale.  I was shocked to find out it would be smaller than I thought it'd be. That makes it a little more difficult to sculpt in details, but no matter… it needs done!
All of the pics show these guys with their tails on the ground when moving. That seems odd to me given what's known about dinosaur movement these days. (probably a necessary evil on the part of the model makers to get it to move neatly) Since they have the same basic shape I decided I would modify the pose a bit to show it running a little harder than seen before in the film with the tail in the air.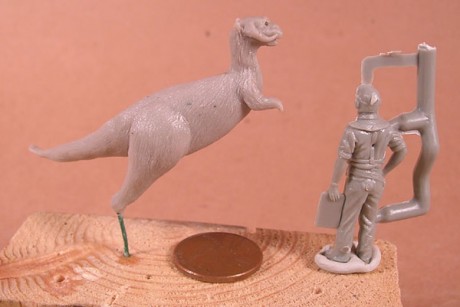 I started out with a wire armature and bulked the chest area up with a small ball of foil and then covered that in some wire mesh. Over that I started applying sculpey to get the basic shape down. I started by sculpting and detailing the head since that would be the hardest part. I figured I could hold the body if necessary for extra support while sculpting. Glad I did! After that I started applying the rest of the shape and arms.
I think this is as far as I can go for now before I need to bake it to add more details and the other leg. The leg will need to be removable for casting. I'll also sculpt the saddle and straps then. After another bake I'll do the rider and it'll be ready to go!
EDIT: Couldn't resist so I added the saddle. You can also see the start of the left leg and where it will be cut off.
Here's the latest on the build-up of the four Snowspeeders. First I airbrushed some German Gray onto the rear engine parts to darken them up as per the reference. Then I applied a clearcoat of Future and the decals. Those went on quite smoothly except that since I wasn't using the kit-supplied stripe decals I needed to carefully cut out the orange boxes on the gray speeder on the sides of the air-breaks to remove the gray.Once the decals were done I applied a thin flat coat for the next steps.
I applied the paint chips using neutral gray with a very fine brush then afterwards added more with some sponge to get the finer masses of chips and scrapes.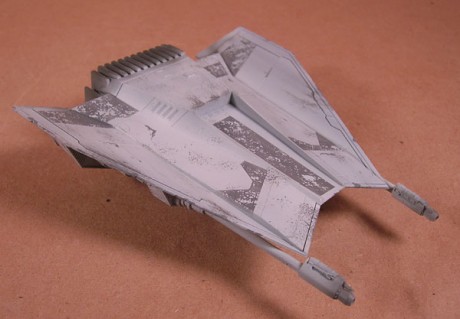 After the chips I added an warm buff colored filter in order to warm up the cool gray of the initial painting. After that I applied the discoloration with oil paints. This is done by adding small dabs of oil paint (I use and love the 502 Abteilung brand… very fine and smooth!) then blending them and streaking them with clean odorless turpenoid. For this I used Dark Mud, Navy Blue, Buff, and Dark Rust colors. Below you can see the difference between the discolored speeder (left) and the one with just a filter applied (right). Notice that it gives you subtle variations in the surface color making it appear more worn.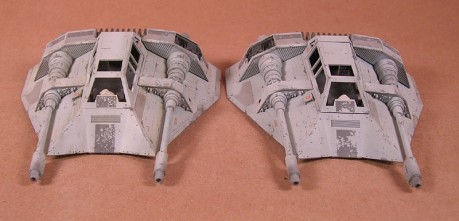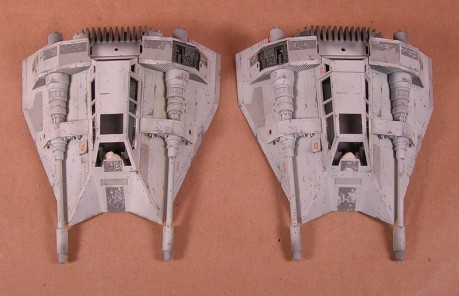 Once that dried overnight I went back and added more Dark Mud oils to the gun crevasses and engine parts. I also applied slightly thicker filters of either Dark Rust or Snow White 502 oils to further accentuate panels.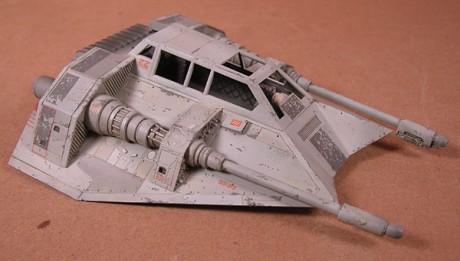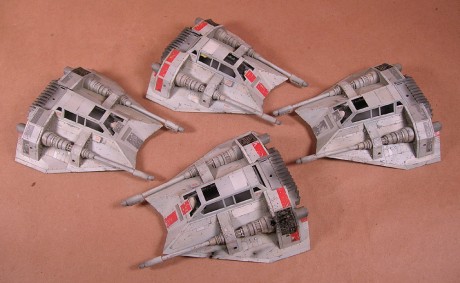 Next I'll use some thinned 502 oils and apply a thin wash to just the panel lines. No need to get sloppy with a thick wash covering all the color variations. After that I'll apply another flat coat and then do the soot-streaks, rust, and grime with Mig pigment powders.

As it turns out, what was to be a HUGE diorama has turned into two dioramas… one pretty big and one smaller. No worries and just as fun for me! When it was released I purchased four 1/48 scale Fine Molds Snowspeeders with two earmarked for these dioramas and two for fun.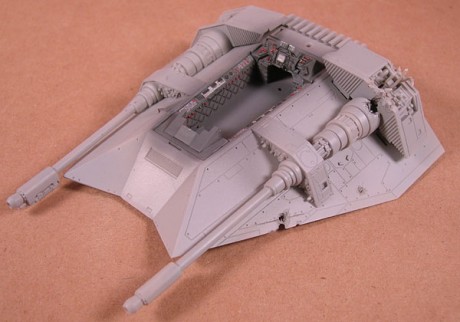 I opened the 4 boxes and started construction on this quartet on Sunday morning. By Monday evening I was priming the kits. They're very simple and straight forward to build with only a few easy areas needing seams fixed or gaps filled.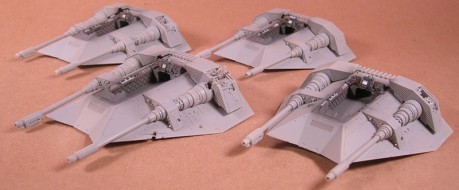 Once the primer had cured I sprayed the interiors with Tamiya Neutral Gray then using a small brush painted in the details. After a quick spray of Future Floor Acrylic to seal it I applied a wash of thin 502 Abteilung blue + black oil paint to pop the control details. After that I applied tape to the insides of the canopy frames to mask the interior and set about painting the exterior.
At first I was going to use the hairspray technique, but after looking at references of the studio models I decided that level of chipping would be excessive. Instead I started by painting all four speeders in Tamiya Neutral gray then painted over that with a very light gray… almost white, but not quite. When that cured I went about painting on the markings instead of using the provided decals. While I love orange on the speeder, nothing I've seen, studio models or film shots seem as orange as Fine Molds decals do.  If anything it's red-orange (to me) so that's what I did for two of them.  The other two I mimicked the gray scheme of Luke's speeder as seen on the Master Replica version which I had lots of pics of in an old issue of TMMI since I couldn't find shots of the actual model used.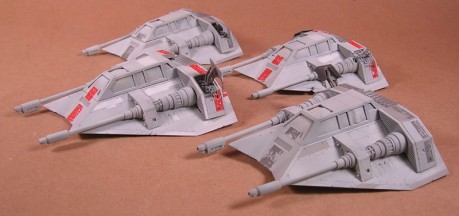 To paint the markings and chips I first masked everything with Tamiya tape. Then using Mig's Liquid Mask and a sponge I dabbed on what would be the chips after painting. Then I painted the markings, rubbed off the mask, and repeated as needed for the different colors. It was a LOT of work! LOL!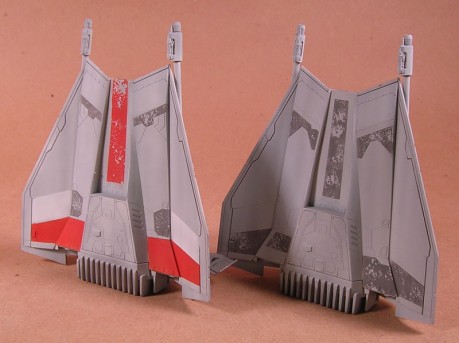 Next up, airbrushed dark soot and darker chipping.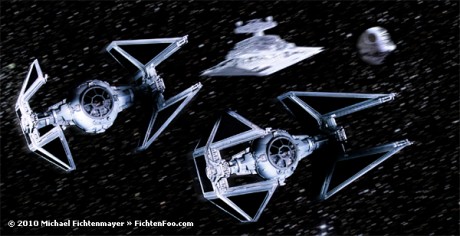 Slacking again… I had actually almost finished these months ago, but due to other commitments I had put them aside for a bit. Today I spent 20 minutes finishing them up and now they're ready to be shown and shipped to my client. Eventually these two 1/72 scale Tie Interceptors  by Fine Molds will be paired with my Y-Wing for a chase-scene diorama. For now though they'll be enjoyed sitting on my client's shelf until I'm ready to tackle the project.
Because I did these a few months ago and didn't do an in-prog report I can't recal much of what I did, paint-mixes, etc… I know I used some Tie Fighter canopy masks I purchased at Starship Modeler. They were decent, but left way too much residue on the canopies. To keep them from ebing a boring solid color I used oils for discoloration and to highlight panels.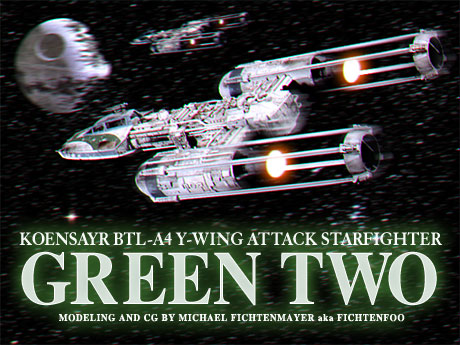 The Y-Wing is complete. The plan is for this to be part of a larger diorama down the road, so not a ton of images or a detailed base. The base is the stock one that came with the kit spray painted in matte black. The last step was to apply various Mig Pigment powders to do the scorch marks and engine burn. For the engines I used both "Plasma Burn" (blue) and Rock Exhaust" from their Fantasy line. To seal the pigments I sprayed the Mig Fixer lightly onto the kit with my airbrush. This seems to be the best way to use it unles your pigments are in piles. Then the airbrush would blow them away. Anyway, here's the pics!