Posts Tagged 'Resin' »
I love doing groundwork and scenery. Of course I love modeling in general, but this is one of the areas where experimentation and ingenuity really pays off. Case in point, leaf litter, moss, and fallen leaves.
First up, the leaf litter. This is basically plain dead leaves that I scavenged from my yard. It's the end of summer so a few of the trees are starting to yellow and I always have leaves saved from past autumns for things such as this. Get a good variety of colors, but mostly brown for simulating prior years dead fall. Crush these (when dry, otherwise dry in 250 degree oven for 5-10 minutes if needed) with the back of a screwdriver as fine as you need. What I did in this case was to sponge on a mixture of Burnt Umber acrylic and Matte Acrylic Paste (a mud color similar to the basework) and sprinkled the leaves onto that. Then after a few moments I shook off the excess and repeated as needed.
Now for the moss. Moss at this scale is really fun and you can get some nice effects with only 4 materials. Fine Green Turf, Fine "Earth" Turf, White Glue and Water. That's it! You'll need to make two batches, the first is a mixture of mostly green with a little earth turf, plus enough glue and water (40:60 glue:water) to make it into a light squishy dough. Scoop out small bits of this and place as needed, then sprinkle a little of the green on top for the "fuzz" growth.Blow a little earth turf underneath for the roots/dead moss.
Next mix up another batch that's mostly the Earth turf with a little green. This is for the deader portions. Add this next to the green the sprinkle green closer to the fresh moss and earth onto the dead to make for nice transitional blends between the two areas.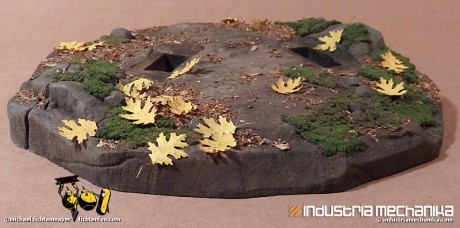 Finally the leaves. This part is fun and you can get some great effects. Takes some time to do, but well worth the trouble. For these I sponged some yellows and tan acrylics onto some gold copy paper. Make the back lighter than the front. Then I lightly sponged on some tan and greens for mottled portions. Use a leaf punch from the scrapbook section of your local craft store (in a close scale to your project) and punch out what you need. Next you'll want to sponge some brown/tan acrylics around the edges for more dead leaf effects. Lastly you place the leaves onto a layer of 4 paper towels (or 1 folded into 4) and using implements emboss the front of the leaves veins and crinkles. Add some stems if you want from jute fibers. Glue onto the base with white glue as naturally and randomly as possible.
Check out this Edmontosaurus base work I did for more paper plant ideas.
Next up » More paper greenery.
First off, not too many Frankies left so click here to order Adrian Smith's Frankenstein!
Lots to go through as I posted a shot of the feet on Facebook today and got a lot of SBS requests. Metal, rust, dust, then finally the mud.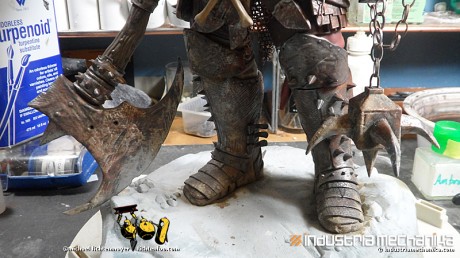 Metal: I posted this before, but once again so it's all in one place… For the metal I first hand-painted the parts with water-thinned Tamiya Flat Black. Then I drybrushed Mr. Metal Color Iron. When dry I buffed it with a toothbrush. Then I drybrushed on a layer of Mr. Metal Color Aluminum (little goes a long way) and buffed that in with a soft toothbrush as well.
Rust: The rust can be tricky and I tried something new here. I made a thin slurry of water and Microscale Industries "Micro Flat". Now usually I don't use this product as if brushed or airbrushed on, this particular bottle is more of a satin at best and at worst a semi-gloss… but it's here and it worked for this. I took a small piece of auto sponge and dampened it with the thinned flat mixture. Then I dabbed that into some AK-Interactive Medium Rust Pigment powder and dabbed it on randomly and thinnly. Thicker in spots for effect, but thin for an overall rust. You want the metal to show through. As soon as it starts to look dry, take a stuff brush and or toothbrush and blend it in a little.
Now once you've done all of your rust like this it looks okay, but it's all the same color. Next take some lighter rust pigments from AK or Mig Productions and apply them sparingly to the existing rust dry. When you've got the desired effect, use some thinner to set it into the initial rust layer.
Finally you need to  apply a wish. I used AK-Interactive's "Dark Wash" and first applied it with a thin brush in lines, corners, etc to make those areas pop/recede. Then after that dried I applied a "filter"… a very thin wash of 502 Abteilung (oil paint) Shadow Brown which darkens and mottles some of the rust.
Dirt/Dust: The dust is fairly easy. Using your airbrush, first spray very thin layers, almost invisible at first, and focused more on the feet of AK-Interactive "Dark Mud" and "Light Dust" liquid effects. When done, take a deerfoot brush, dampeded with odorless turpenoid and stipple/push the dust and dirt around. This will cause it to look less airbrushed and more naturally blended and set into recesses/mottled on. (This also works great for applying their streaking products and blending with downward strokes for streaks)
Mud: In a small container, mix dry plaster, pigment powder (70/30) then moisten with the AK-Interactive liquid effects. I used Light Dust and Fresh Mud. Stir this with an old crap brush then stipple this "mud" where needed around the feet and such… wherever you think mud would go. Then for randomness and additional dampness you can use more washes and liquid effects to darken the dried mud making it look damp.
That's pretty much it for that! Hope that helps!
Now onto the base work's first few steps. After priming the chunk of base with black primer, I used the following sponge techniques (I already wrote this so click here) on the rocks.The difference is after I added some washes and Slime Green effects.
After that was dry I used the same mud mixtures above and applied that to the rest of the base. I first applied a dark mud, then a light mixture stippling it with a stiff brush. Next I airbrushed on some AK-Interactive Dark Wash, then Slime Green. Finally I took it to my table and stippled the surface with a deerfoot brush and odorless turpenoid to blend it together nicely.
Next up is some leaf litter.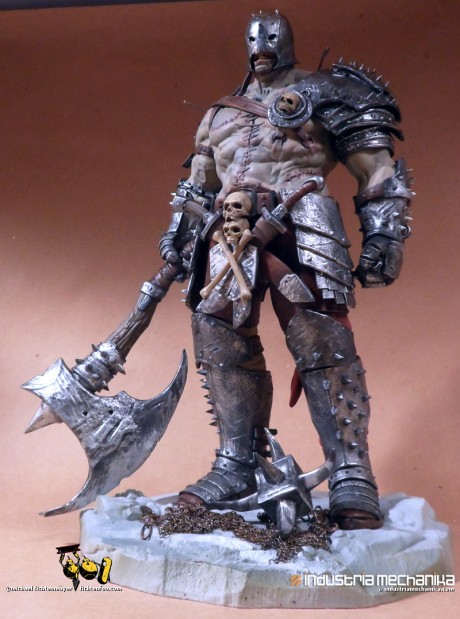 The "base coats" are almost done. I call them base coats because they still have a few layers to go in regards to weathering and such. All I have left to base coat is the little metal studs dotted throughout the figure. After that I'll start weathering and rusting him up and once that's done I can start on the basework. The base itself isn't bad at all, but I like to take things further when possible. In this case I'll be adding much vegetation to it, but more on that when the time comes. For now here's the latest pics.
Since yesterday I focused on some of the scabs and stitching. For the scabs/cuts I used a mixture of 502 Abteilung oil paint; Coagulated Blood and Shadow Brown thinned when needed with odorless turpenoid. The stitching is also done with the 502 A. oils which I just love… great colors, perfect for (and made for) modelers.
For the leather straps, I first hand brushed on some water-thinned Tamiya Flat Brown. Over that I applied "Wash Brown" oil paint and smoothed it on the straps. Then I shaded with Shadow Brown and highlighted with Buff.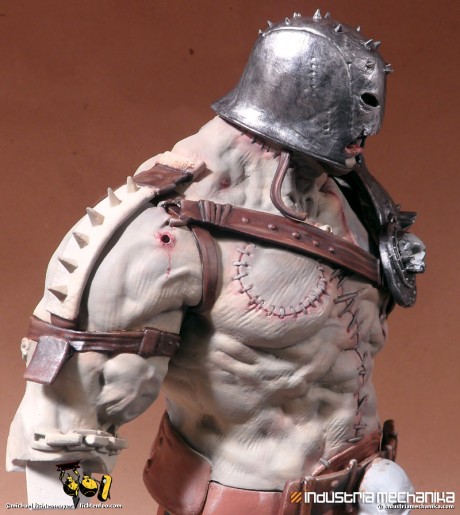 I also started the metal… sooner than I anticipated, but really wanted to see how it looked with the rest. For the metal I first hand-painted the parts with water-thinned Tamiya Flat Black. Then I drybrushed Mr. Metal Color Iron. When dry I buffed it with a toothbrush. Then I drybrushed on a layer of Mr. Metal Color Aluminum (little goes a long way) and buffed that in with a soft toothbrush as well. I really like the look, but this is just the first of several layers. Later I'll add rust over this (I want some shine to show through the rust) and some dirt layers for extra realism/weathering.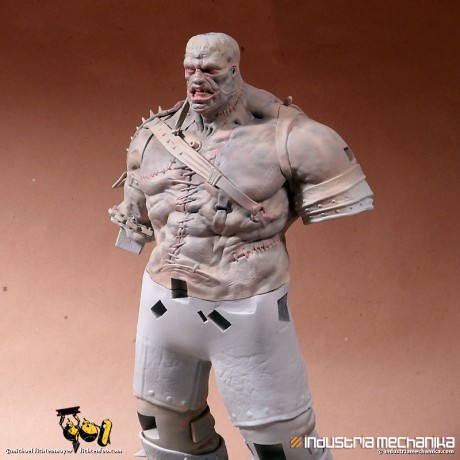 Continuing with the Frankenstein, I first primed all of the parts with Duplicolor self-etching primer (olive green) then with Duplicolor white sandable primer. I figure that the somewhat dead/decayed flesh is a good place to start so I first airbrushed a gray-brown from the bottom-up to add the shadows, then got in closer in some of the indents where that couldn't reach. Then I mixed a pale green-gray with some flesh tone (All Tamiya Acrylics BTW), over-thinned it and covered the beastie all over, but not so thick that the shading disappeared. Next I added some white to the mix and sprayed from the top down for highlights, again focusing on certain areas. After that I mottled on some brown-gray, blues and reds mixed with satin Future Floor Acrylic to make it more transparent. I think I got the look I was going for. Dead pale flesh with a little blood starting to run back through it. Camera doesn't show it right… Just the one pic today. More soon! I'll be touching up the flesh with oil paint next.
I feel like I never have time to post here anymore. Industria Mechanika keeps me very busy indeed! But here's my current build-up of the pre-production sample of Adrian Smith's Frankenstein. (Click Here To Order Frankenstein, Ships 8/7/2012) Normally I don't build figures, but this one is REALLY awesome. Lots of armor to rust and weather, and no worries about getting flesh tones correct. Just need to make him look patchy and partially decayed.
I'm of course a tad biased, but honestly this is a really nice kit. It went together very easily despite having 49 parts, and I didn't have the benefit of the instructions I made AFTER this! The resin is a light gray which I insisted on because it's easier on the eyes to clean-up than white or cream. And let's face it, most of us will prime it in white anyway afterwards anyway. It's also pretty easy to work with. Sands and scrapes with an exacto easily for the minor seam clean-up. Putty use was minimal, in fact I only needed it in two spots to make clean-up easier in some cloth folds. (back of right leg)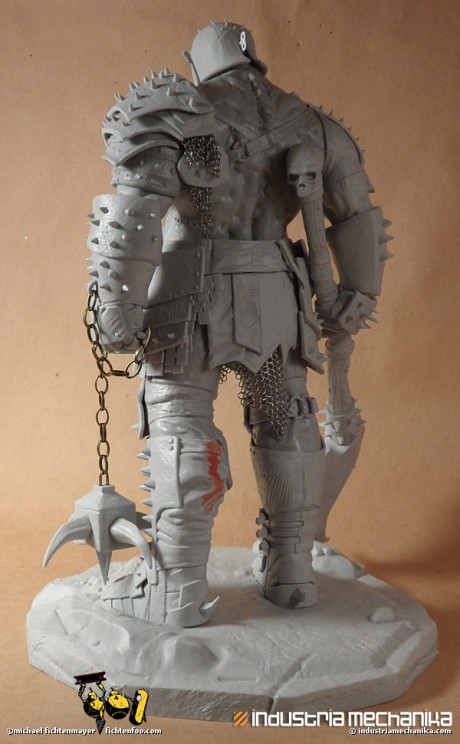 The kit comes with real chain mail and is easy enough to work with provided you have some sharp pointy wire cutters. I used a cheap purple-handled pair from Michael's for example. There's plenty in the 3″ square to detail the kit based on the instructions with some extra left over to add elsewhere. The included chain for the mace is very easy to bend the links for adding them to the resin parts.
Without the base, the figure stands 12″ tall. The best way to describe it is "beefy". Really muscularly thick, armored, and menacing. (Click Here To Order Frankenstein, Ships 8/7/2012)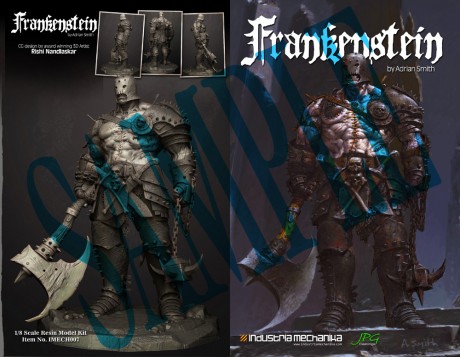 I finished up the Kastor a few days ago so here's the pics of the finished build-up. Overall it went together very well, especially considering it was a preproduction sample. The base is plaster poured thin over plywood then stained with AK-Interactive products. Weeds are silflor horsehair foliage and fine turf. Rubble is plastic shape scraps, plaster scrap embedded with steel wire then broken for the rebar look, and ballast/talus.
You can purchase the Kastor when it comes back for 2nd Edition preorder in a few months at Industria Mechanika.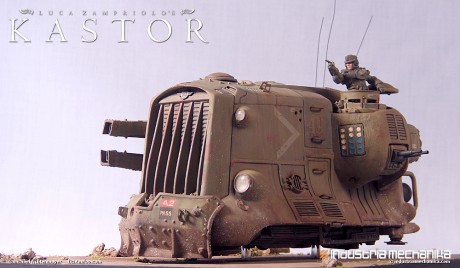 I recently was commissioned to do a quick paint-up of the 1/350 Scale Radiant VII resin kit. THis will be on the Starship Modeler table at Wonderfest in a few weeks as a sales display so check it out if you're there. Same techniques I used for the Millennium Falcon so check there to see a how-to and videos. Very nice kit and a breeze to put together. No major issues of which to speak, except the masking… the paint masking was a pain in the butt and took forever!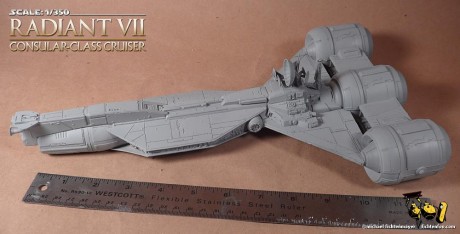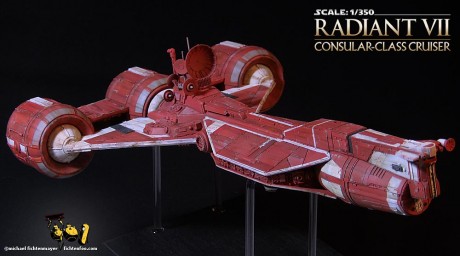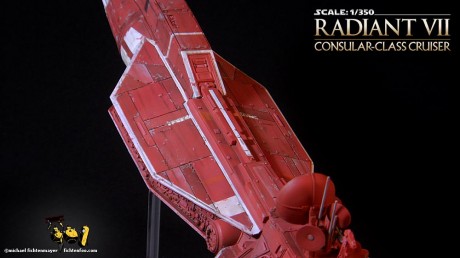 The Industria Mechanika/ Kallamity Kastor progress continues with the weathering steps. First up I hand-painted almost all of the smaller details that would need weathering such as vents/piping and additional rust chips. The additional rust was Vallejo applied with bits of sponge.
After that I applied a filter of German Ochre 502 Abteilung oil paints thinned with odorless turpenoid. This gives the surface a warmer tone and also creates a nice base for additional weathering layers.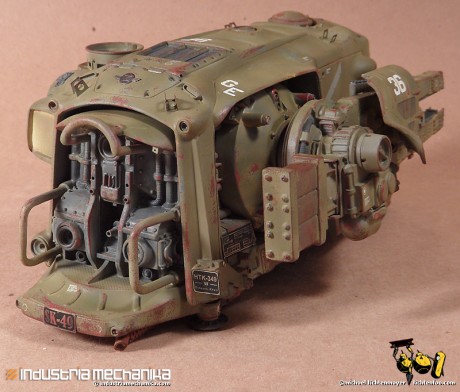 Powdered graphite was applied to all of the engine details to give it a metallic look. In the next discoloration step, that powder will be blended in for a really nice grimy metal appearance.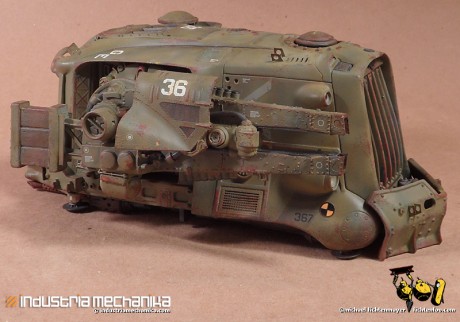 After letting the filter dry overnight, I applied the first or two discoloration steps. The first is for faded color streaking. I applied white, blue and rust 502 Abteilung oils in dabs then blended them up and down using a flat brush dampened with odorless turpenoid.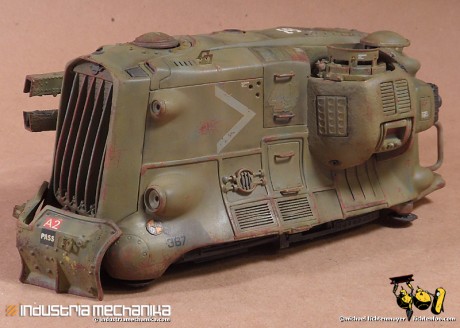 Once that dried overnight in a hot-box (large wooden closed box with a 40 watt lightbulb for heat) I applied the next layer of dicsoloration which involves using "starship filth", blue and rust oils to highlight and darken panels giving the craft more depth and age.
Then finally rot this update I used AK-Interactive's Streaking Grime and Streaking Rust as well as their OIF wash products to add streaks and small pin-washes where necessary.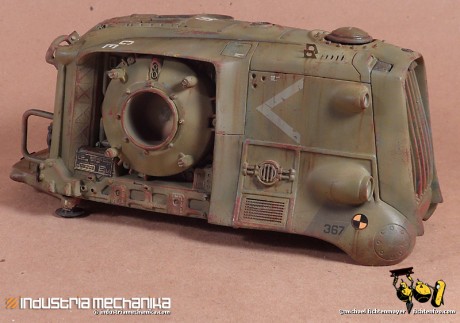 Next up I'll be applying more of the AK-Interactive products, mainly their Dust Effects to create rain mark streaking and some wind generated dusting along the lower chassis.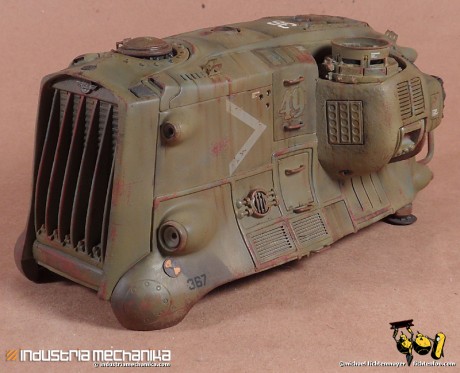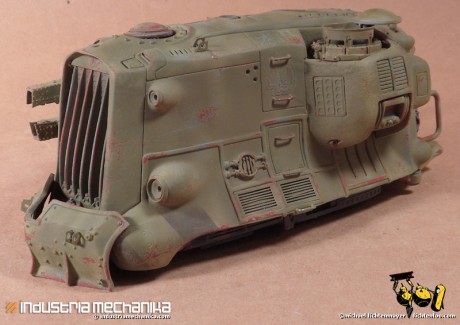 Over the blue and chips I applied another satin coat of FFA, then more hairspray. Over the hairspray I sprayed on several layers of khakis and drabs and then masked and painted the stripes. Oncedone I immediately set to chipping with a stiff wet brush.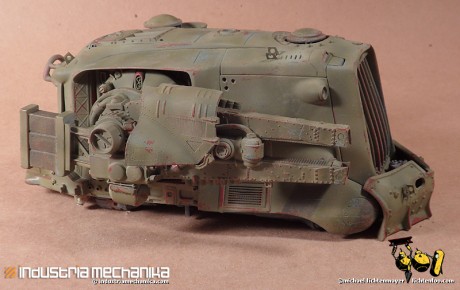 The resulting chips are not only rust toned, but blues and brighter greens chips appear giving the craft a much more worn and reused appearance.
Once that was done I gloss-coated it all with Future (FFA) and then applied decals. The kit does not come with decals, but I have LOTS of spares (as most of us do) from aircraft, tanks, gundams, etc… Once the decals were done I applied a flat coat. Next I'll hand-paint the mall details, add more chips via a sponge to the delicate parts such as the PE hooks, then start weathering!