Posts Tagged 'Oil Paint Discoloration' »
I recently was commissioned to do a quick paint-up of the 1/350 Scale Radiant VII resin kit. THis will be on the Starship Modeler table at Wonderfest in a few weeks as a sales display so check it out if you're there. Same techniques I used for the Millennium Falcon so check there to see a how-to and videos. Very nice kit and a breeze to put together. No major issues of which to speak, except the masking… the paint masking was a pain in the butt and took forever!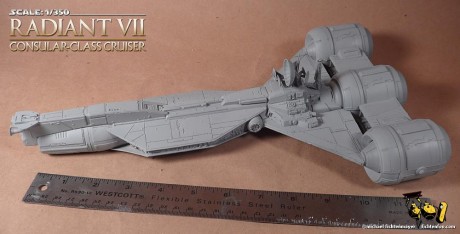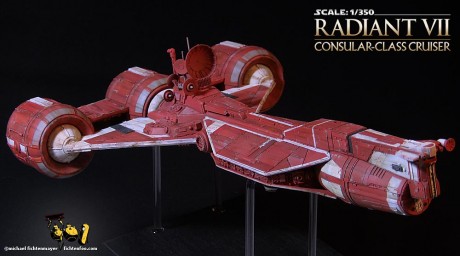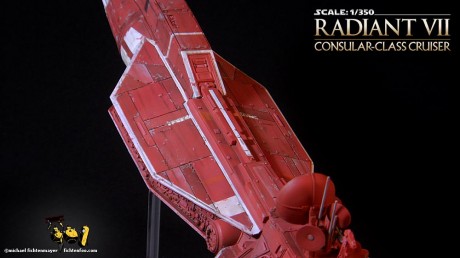 I'm not sure where I left off in the progress report, but this has been done for well over a month. About time to take some pics! This is just the robot for now. The rest of the diorama will be completed at a later date. Since this Chubu was found rusting on an old farm, I decided to do that as a wallpaper. Enjoy!
Plugging right along. I got a nice big box of samples from AK-Interactive last week and started putting them to the test on this build. For this progress report I'll focus on their streaking products, but I've tried some of their others since these pics were taken and REALLY like them so far.
Since the last update I've focused on the rust chips. I had started doing a few streaks with oil paint, then the next day the box from AK arrived with samples of just about everything as well as their Washes, Fading and Oils DVD which after watching, I learned how to use these products and just how easy they are to use to get very nice results quickly. I decided to give the bottle of "Rust Streaks" a try first. Basically, you shake up the thinned enamel mixture, paint your streaks on with a thin brush, wait a few minutes, then "stump" (blend/blur) them with a brush dampened with "White Spirits". And that's it. After that dried (I gave it a few hours) I went back and added more streaks with the "Streaking Grime" mixture. Same method and same simple good results. I really recommend the products, but also the DVD as it was very helpful.
My only problem is one that has more to do with the kit than the AK products. The Chubu is all curves… and not only curves, but curves at an angle. Since I want to depict a machine that's been sitting in a farmers field for quite a while, the streaks had to follow these contours. That's a little more difficult than the flat sides of most tanks and AFVs. However I quickly figured out a simple method of determining the angle streaks should flow. Just use an eye-dropper and water and let gravity be your guide. Nothing simpler than that!
I had to take my chipped areas one step further however due to the large scale. The chips looked decent enough, but were missing something. I discovered on accident that some "rust bleed" around the chips makes all the difference. It looks as if the chips are rusting and the resulting rust is creeping beneath the chips into the surrounding paint. I was applying some rust-toned oil paint to some of the larger chips and over-thinned a few resulting in the bleed. After that I just refined the method a tad. Just paint the chips with slightly thin rusty oils (I used the 502 A. Dark Rust) then using a thinner-dampened brush, feather the rust paint around the chip.
Now I'm onto the pigment dust and fuel/oil grime and stains phase. Pics on that in a few days.
Yes, yes… I'm all over the place. The Core Fighter is coming along, but I find myself going back and forth between projects more and more. (I'm also scratchbuilding a 1/20 scale diner with full interior, but see my facebook fan page for that info) The past few weeks I've been working on the 1/12 Chubu Mechatrobot. I wanted this thing as soon as I saw it, but it took me quite a while to locate a shop in Japan willing to sell one outside of Japan. Thanks to Walter for the tip! I am a sucker for good, realistic mecha designs from the 1950′s.
I had sculpted a few mechanics for this piece as I'll be doing a garage/workshop diorama. Yeah, I know… workshop/hangars are a dime a dozen and about overdone, but it gives me an excuse to play with many aspects of modeling I enjoy such as lighting and scratchbuilding. And hopefully I'll do something inspiring and different from all the other garage dios out there. Hopefully!
The kit itself is very nicely done. Only a few issues such as placement of mold-lines, but overcome simply enough. The parts that gave me the most trouble were the white metal parts. Unfortunately they're not as clean as one would like. I polished them up to a beautiful chrome sheen, but they were too pitted to work. So I had to use some putty and filler primer then paint them. I also rebuilt my own control sticks, knobs and foot-rests. The sticks and foot-rests were made using MechaSkunk's brass knurled tube. Cool stuff really!
I went with a pale yellow to do something different from the blues and greens, but still have that old car paint look. I used the hairspray technique to do the paint chips on the yellow. The internals were painted with a Tamiya Dark gray, then sponged over with water-thinned sea gray. Then a few thick dark filters were applied to blend them in, followed by some discoloration and rubbed with powdered graphite for the metal sheen. The sponging gives it a nice worn metal look.
I had some photoetch made for the 1/12 scale tools I need, so I added a few Chubu emblems to the fret as well since the kit had no emblem decals. The red/chrome adds a nice pop as a "car" emblem should. I also made a photoetch "1958 MECHA PA" license plate to use. Looks great and adds something different from the resin/sticker Japanese plate the kit came with.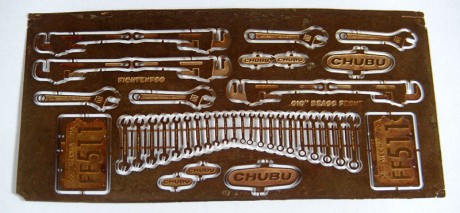 Anyway, I've a ways to go yet with more weathering, dusting and rusting to be done. I want it to have a used, somewhat worn look to it. More soon!
Oh, and for more on the Chubu, check out the creators blog here. MODERHYTHM
After some finishing touches, the Tantive IV is all done. As of now, this kit will be on display at Wonderfest in Kentucky this May (2011). If that changes, I'll let you know. It's also making a trip to the guy the commissioned it shortly after. So check it out if you get a chance and let me know what you think. Till then, here's pics: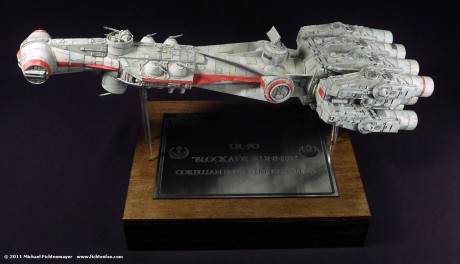 My next step in a variation on the "modulation" technique. I'm basically using thin oils to blend in shadows, filter panels, and highlight raised areas give the model a more dimensional look. For this I used Faded Navy Blue, Starship Filth, Dark Rust, Yellow (on certain yellow panels based on studio model) and Snow White. Next I'll apply the modulation to the red parts. I did not yet as I didn't want to accidentally "pink-up" and of the other parts. And still… NO WASHES! Those will be thin and after the reds and just sporadic at best where the other discoloration and modulation effects did not do enough to make small things or panel lines pop. Gotta apply that window decal too.
Continuing on, I applied medium gray chips to the ships hull using first a small piece of sponge, and later a thin brush for larger areas. Then dry I applied a filter of very thin German Ochre oil paint mixed with odorless turpenoid to warm up the base coat.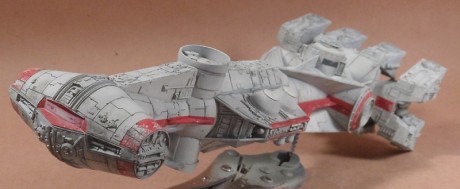 After letting that dry overnight I applied the oil paint discoloration technique using more odorless turpenoid and blue, burnt sienna, dark mud, and buff oils. Apply small dabs then blend them in. This makes the surface look varied and worn without resorting to the typical awful looking thick wash of black paint. A pin-wash will be my last step, however it'll be very thin and applied only to certain panel lines as needed with a very thin brush.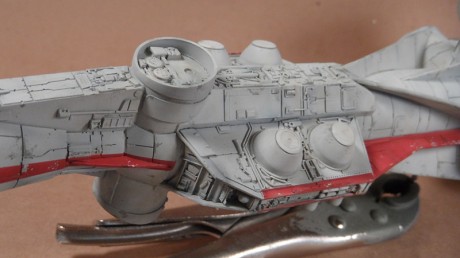 My next step once this dries will be to further enhance the look with more oil paints. I'll use lighter colors to make raised panels and detail pop and blend some darker blues and grays (The Starship Filth oil paint color by 502 Abteilung works great) Click the "Star Wars" tag below this post to see how I used these steps on other builds. The Y-Wing and in-progress Snowspeeders are favorite examples of other times I've done this.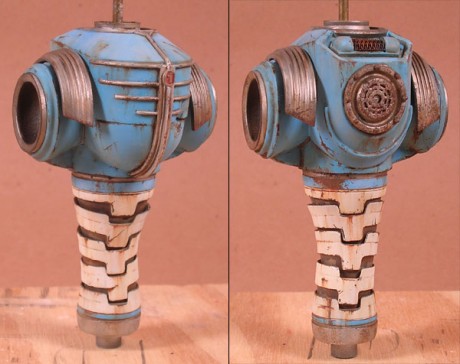 Since the last update I've been applying the various fading, discoloration and rust techniques using oil paints as well as chipping up and aging the chrome finish. First a flat coat of Future Floor Acrylic was applied over all the parts including the chrome. This seals all the prior layers and significantly dulled the chrome. A fine sponge was used along with Vallejo dark rust, red leather, and dark gray to apply the small speckled chips to the chrome. Once that was dry I applied filters (tan) and then oil paint discoloration using white, rust, dirt, and blue oil paints.
Once these had a few days to dry I sprayed on another flat coat and began applying the rust streaks with 502 oils Light and Dark Rust and Shadow Brown. A little ochre was added in some of the larger rust areas for more variety to the tones.
The next day (today) I put a cotton swab in my dremmel, and on the lowest speed buffed the chrome pieces lightly to get some of the shine back. This worked really well as long as you keep moving and keep the spin as slow as possible as to not eat through the paint layers. Occasionally I applied some SnJ aluminum powder to the swab for some extra shine.
Next up pigment effects, but the paints need till Monday at least to dry. Wahhh! Here's before the rust/polish.
At this point I'm about 95% done with the base. All I have left to do is to put a nice wooden edge around the plywood base and add some "to be determined" effects from Vincent when he's done. He'll also need some holes drilled to pin him to the base.
I decided to fill in a small block of space with a steel parking barrier filled with concrete. It was a brass tube which after painting/weathering was filled with a little bit of my plaster/grit mix. The reflector was made from a slice of clear sprue which I grooved the back of and painted to get the diamond texture reflectors have. Weeds were added to the retaining block box. The bottles were made from clear stretched sprue and acrylic, then painted/decaled.
Toilet tissue was used for the wads of paper and the red cloth. Paper cups were printed out and glued together. The stray and cigatete butts were made from 1/2 round and rod styrene. plastic sheet trash was plastic wrap sprayed with a mixture of flat FFA plus Tamiya Earth. Lightbulbs are BB shot painted and dusted. And lastly, bird poop is acrylic paint. Lots of pics:
Continuing on with the sign and weathering, I applied some oil paint discoloration to the sign. Blues, rusts and light dirt colors were applied to the blue circles while reds, pinks, light dirt and rust were applied to the red circles. These dabs of oil paint were then blended in with a brush wet with odorless Turpenoid. I started to apply some Mig Filters to the pole, but quickly discovered that the thinner in the filters attacks the spray paint primer underneath viciously. The Turpenoid is fine however. The letters were attached and neon glass tubes were made from bent steel wire, painted with a gloss white spraypaint then yellowed with Tamiya Clears.
I applied some mold/mildew stains to the base of the white painted block retaining wall with oil paint. The small electrical outlet was made from styrene shapes, rods, and strips. I added the marquee sign plug to the outlet already, but have not attached the wire yet. I did however make a chain and padlock that will wrap around the maquee sign leg and motel sign to keep it from being stolen. Weeds will be added in and around the wall and in the pavement cracks soon. The little loose rocks are talus and ballast.
The marquee sign is almost done. All I have left to do is attach the electrical wire from the outlet to the underside of the sign and dist it up a little more. Oh… I forgot that I need to get some small bearings and paint them up for lightbulbs as well. For the sign letters, I laid out a sheet of letters and took them to FedEX Office to be printed on transparency film. I hit the letters with my soda blaster (air eraser) to dull the gloss and weather them a bit, then cut them out and fit them in the grooves. I decided to make it more fun and real by mismatching letters. I've only one side of the sign filled in so far.
More to come…